Holistic Principles For Performance Support Applications 
A quote that resonates with designers is:

As eLearning designers, our years of experience, practice and study enables many of us to look at projects and know which rules to follow or break.  The growing prevalence of the Experience API, the Internet of Things (IOT); and mobile and wearable devices may soon challenge this confidence.  We may soon be required to design and create performance support applications to support these technologies, rather than relying on our traditional eLearning solutions.
This may seem daunting as designing apps for wearables and other mobile devices is probably a new area for many of us. Don't let a lack of experience, practice, or study in these emerging areas get you down. You can succeed in these environments by adopting a holistic perspective to your design decisions.
By approaching your design from a holistic perspective, i.e. the whole users experience with your product, you can gain some key insights into what you should do as opposed to what you can do.  Below are some holistic principles that can provide this direction and guidance.
1. Present.
We've all experienced the family, couple, or group disengaged from each other as their mobile devices are out and in use. Even when alone, we all too often tend to disengage ourselves from our immediate environments by busily documenting and sharing our experiences for online consumption rather than remaining "present" in our environments. How many experiences are diluted because participants are only partially present or engaged? Our performance tools and apps will need to consider this dilemma as they disengage our users from their immediate environments. This represents a problem as they will interrupt interactions and lead to multitasking. These weak experiences will not create satisfaction or high outputs from our users.
Keeping your users engaged and in their present activities should be a key focus of your apps.
Ways to do this include:
Alerts and notifications used within your performance applications have to be relevant.
Limit distractions and interruptions from your app so that users can live in the present.
Use the appropriate level of alert and type for your performance application.
Some alerts are more intrusive than others and should only be used for high priority information.
Key information in your application needs to be represented via the UI (user interface), rather than communicated through notifications.
In this regard, if the information needs to be actively monitored, a notification every 5 seconds isn't useful— the user needs to be actively monitoring that information through an interface item.
Include Do Not Disturb and other features within your app that limit interruptions.
These features have to be straightforward to activate and deactivate.
Use context capabilities to make your apps aware of user activities and preferences.
These features should be used to make your app adaptive and evolving. In particular, you should use Gottfredson's 5 moments of learning need to guide your context needs.
Enable self-monitoring and automation abilities within your app.
Add IFTT recipes or similar technologies and allow users to set up custom recipes will limit distractions and improve efficiencies.
Use your recommendation engines for more than just present activities.
Being able to see ahead and prepare your users for future environments will help them live in the present for those activities.
2. Diverse.
Recommendation engines are used to facilitate content distribution. These engines look at user preferences as well as histories to identify content that users might want or need. As organizations get better at connecting data profiles, our performance apps will employ these tools to identify gaps in performance and their associated learning opportunities.
A problem Netflix, Facebook, Spotify, and others continue to face with their recommendation engines is diversity. In this regard, using simple algorithms or relying on Subject Matter Expert (SME) curation can create filter bubbles where users only see/access a narrow set of content options. In business this could polarize environments and limit ideas. To innovate and form deep understanding, users have to be exposed to divergent thoughts, ideas, and voices.
If your learning solutions are providing content in the form of articles, videos, and other media to address learning gaps, you need to challenge your users by giving them different viewpoints, levels of content and types of content. Exposing users to a variety of sources should be a key focus.
Ways to do this include:
Identify rich content streams that provide multiple sources, viewpoints and perspectives.
Enable user submitted content to create new sources, experts and categories of information. 
Monitor and update aggregators, filters and analytics to address evolving needs. 
Ensure aggregators and filters parse and highlight required content.
By providing quick summaries and metadata users will be able to quickly self-filter content.
Add filters and options that allow users to include or exclude content streams.
Letting users decide what information is important to them will allow them to customize content.
Identify experts and influencers in your user's networks and tailor content around their use.
Highlight what it is that experts like, respond to, or submit.
Distribute a variety of content to your audience.
Your aggregators shouldn't solely focus on articles, posts, and other traditional content. Use your tools to identify events, mentors, and other experiences.
Distribute differing levels of content to your audience.
Content needs for your users will vary. Make sure you mix up the content levels so that novices, normal users, and experts remain engaged.
Use analytics to identify user preferences and needs.
This can create opportunities for adaptive learning environments, e.g. take a user who prefers videos (they watch them more frequently) but performs better after using forums (they complete work faster). With this knowledge, you could update that user's stream to highlight forums over video.
3. Reflecting. 
Performance support tools like job-aids, help files, and wizards are designed to bypass the learning function. Their use is appealing as they allow users to perform their primary tasks without having to internalize a large amount of information.
This e-memory has great potential in making our employees efficient and productive; however, problems occur with these tools when true expertise is needed. With their use, deviations or new variables can throw off a user's outcome. In addition when time is critical, searching for and using a performance tool may not be appropriate.
With apps and devices, a goal of our performance tools should be to move users toward mastery. To do this, your apps will require more than just alerts, notifications and aggregation. Moving your users toward mastery will require practice, repetition, and feedback.
Ways to incorporate these activities include:
Provide simple user input features by allowing users to rate, comment, share and submit new content.
Participation in these activities requires some level of reflection and judgment on their part and will help them organize and internalize information.
Provide complex user input features by allowing users to record or livestream their performance.
These activities can allow for rich feedback opportunities from mentors or crowd-sourced communities. Wearable devices may limit your options in this regard. To lessen this issue, examine how your apps can work in conjunction with wearable and other mobile devices.  For instance, a wearable may provide the alert, which triggers the user to interact with the app on their mobile device.
Incorporate interface features to analyze information and provide meta-cognitive support/responsive coaching.
Innovative examples of responsive coaching and feedback include Watch Me Write, 94Fifty, Pplkpr.
4. Attentive. 
Increasingly our expectation of technology is that it is attentive to our needs and wants. Technology needs to be responsive to what we are doing and where we are at. In this regard, an app on a device is no longer a user's final destination or experience with that app data.
Users may start a search on a smartphone and then complete a purchase of that item on a laptop or tablet. In this multi-screen world, apps work in conjunction with each other across devices.  Expectations are that the data within these apps will seamlessly follow each user. Part of this transition is updating app interfaces to support the limitations of certain device types (watch, phone, tablet, and laptop) or to highlight specific advantages of certain device types.
For example, a complex UI can't easily be created for an app on a smart watch, but that app can serve to collect relevant data that may be used by a different device. At a later point in time, a tablet or laptop might be used to render that data in a format that is attentive to that user's goals for that moment.
Your users will often use multiple devices to accomplish their goals and your performance apps should support this need.
Ways to do this include:
Let mobile and wearable use cases define interaction needs within your applications. 
Where appropriate design for sequential tasks. 
Your app may use wearables as a tickler to get users to jump into their phone/tablet. To support this, let users save their progress or automatically synch data across devices.
Responsive design needs to be used appropriately.
Don't try to make your apps responsive to devices that do not meet your core interaction requirements.
5. Secure. 
Data will be a critical component of your performance support applications—collecting, organizing and acting on this data will drive your apps. As such, organizations should focus on protecting user data as well as using it ethically.
If this fails to happen, users may not embrace your applications or your organization may be open to legal disputes.  Ways to make security a focus include:
Only collect data that is needed.
Any data collected should be tied to business decisions or used to drive recommendation engines.
Ensure that your analytics are vetted against unfair bias.
Protect your organization against inequality claims or disparate impact.
Give users access to their data.
Provide them with easy and quick ways to access their data.
Clearly define data use and minimize revisions.
Your terms of use should minimize jargon and change only when absolutely necessary. In this regard, your users should always be aware of what you collect, how you collect it and how the data will be used.
Make opting in and out of data collection activities quick and easy.
Ensure that user ratings and values are meaningful and validated.
Remove features that would allow users to easily game the system.
Follow labor and work laws.
Don't collect data, send alerts or engage in any activities during off hours as this may break labor laws.
Coordinate with your IS groups to ensure that any collected data is protected, secure and meets internal system requirements.
Putting It All Together
A holistic perspective can help you take a bigger look at the user experience. This 10,000 foot view can help you see what a user will try to accomplish with your tool.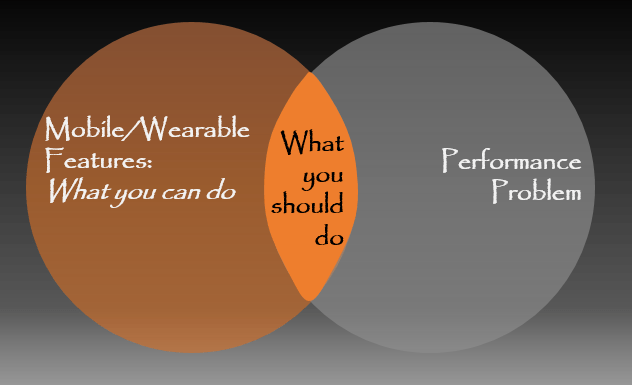 Rather than adding a plethora of new features and functions within your apps just because you can, a holistic approach will keep you focused on what your users really care about.
The ultimate success of your performance support tools will depend on their ability to meet your unique performance problems. As you analyze these problems, you may find the need to place greater emphasis on particular holistic values covered in this article, e.g. Security vs. Reflection. Regardless of whichever values you choose to focus on, considering and using holistic guidelines can help you answer the fundamental Can I versus Should I design dilemmas.