How To Vet An Augmented Reality Company Before Creating Your AR Training Program
A few months ago, Danielle Hart, Director of Marketing at SweetRush, published a piece on how mobile sales enablement can create brand loyalty in sales associates. She says, "Knowledgeable customers have high expectations for sales associates. Customers expect associates to be one step ahead of them and to fully grasp the product as well as make recommendations for their specific needs." There's a good reason I bring this up in the context of vetting an Augmented Reality company. As customers, whether we're shopping brick-and-mortar or online, we're far more prepared than we used to be. We're doing our homework: researching, reading reviews, speaking to people we trust. If you're thinking about partnering with an Augmented Reality company for Learning and Development (L&D) programs, consider this article to be a start on your homework. Here are 3 tips to help you pick an Augmented Reality company as your preferred vendor.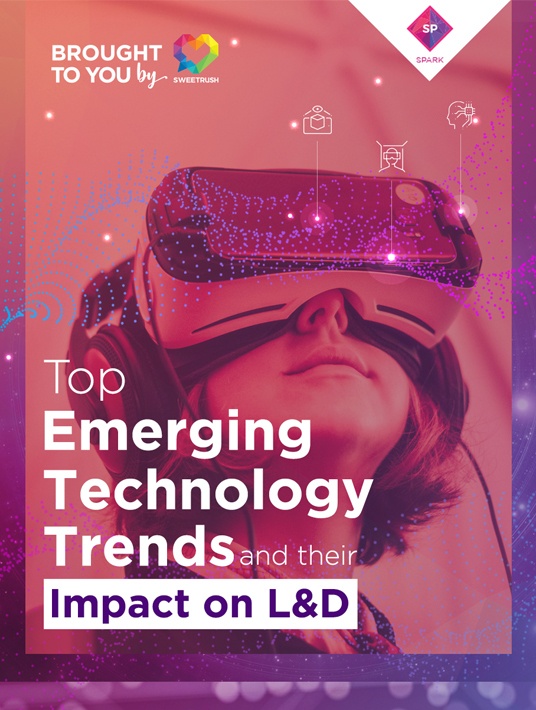 eBook Release
Top Emerging Technology Trends And Their Impact On L&D
Discover the benefits of incorporating emerging technologies in your Learning and Development programs.
1. Does The Augmented Reality Company Have L&D Cred?
If you're looking to develop a learning program as opposed to pure entertainment, you'll want to seek an Augmented Reality company with L&D bonafides.
Think of it this way: If I want to renovate a bathroom in my house, do I look for a plumber who knows how to install a sink, toilet, and tub, or a contractor who understands design and will explore the bigger picture of how this bathroom will work in the context of my house? Both can create a bathroom, but the contractor/designer is going to be more attuned to me and my family's needs. (Happy wife, happy life.)
When the project is finished, you'll want an Augmented Reality learning program that's highly engaging, instructionally sound, and effective. Your chosen Augmented Reality company should have staff on board who can analyze your business drivers and audience, create learning objectives, and design a program that considers knowledge transfer, practice, reinforcement, and evaluation.
2. Is The Augmented Reality Company A One-Trick Pony?
The famous Abraham Maslow quote "nails" this point so beautifully: "I suppose it is tempting, if the only tool you have is a hammer, to treat everything as if it were a nail."
If a company you're vetting offers only a limited set of capabilities, such as Augmented Reality development, guess what? All of your problems will be solved with Augmented Reality—and Augmented Reality only.
Companies with a broader toolkit and breadth of capabilities (just like the contractor/designer) will tend to look more critically at your challenge and bring a wider range of solutions to the table.
"When you have more tools available, you can find a solution that works best for the project and for the client economically and technologically," says Justin Mitchell, a Creative Engineer at SweetRush.
Pick a company that is going to ask you—and themselves—the hard questions:
Why Augmented Reality? Is it the right choice for this learning program? Are there other and possibly better alternatives?
How will the Augmented Reality work? How, where, and when are users going to interact with it? Why should they interact with it that way?
Mitchell adds: "You ask these tough questions and take time to do your research because you want to make sure that Augmented Reality is the right option for the client and their learners. Maybe it's not. Maybe it should be Virtual Reality. Or Artificial Intelligence. Or something else entirely."
When you're vetting an Augmented Reality company, ask questions to determine if they've got an overreliance on a limited subset of tools, or if they can customize their approach by pulling from a wide array of capabilities to meet your objectives.
3. Can Your Augmented Reality Company Go Custom?
Authoring tools, templates, and stock assets have their place. Sometimes, you need to get the job done fast, and the level of interactivity and sophistication required is not that high.
But often, and particularly with emerging technologies such as Augmented Reality, you need a company that can create an entirely custom program or custom elements, with features that you can't find out of a box.
Custom development may take more time and investment up-front, but vendors that embrace custom development tend to have a library of assets and features to draw upon. Libraries can save time and money, and result in a higher-quality end product with a stronger ROI.
When you're using assets that are built by others, you also need to beware of being beholden to licensing fees, which can be a real drag on your ROI. Recently, when the provider of an off-the-shelf component we used for Augmented Reality increased their fees, we decided to part ways and build our own custom component to avoid charging our clients the pass-through costs.
Companies that offer custom development tend to have a higher level of creative capabilities and polish, resulting in a solution more appropriate to your vision and brand. Augmented Reality is poised to transform User Experience (UX) design, and an Augmented Reality company that offers custom development will likely have more depth of experience designing interfaces, interactions, and the flow of the User Experience. These are critical capabilities for this newly emerging toolset.
"When we deliver a program to our client," says Mitchell, "it's important that their product works for their unique circumstance. Every client we work with has different needs, learners, culture, brand, and learning objectives, and we need to be able to deliver a program that is relevant to their unique circumstance."
Ask about the company's mix of off-the-shelf and custom components in their technology and their multimedia and design assets; ask about their UX capabilities; make sure they are able to create an Augmented Reality program that will work for you and your learners.
Choosing an Augmented Reality company as a preferred vendor is a big decision. These 3 tips should get you on your way to asking the tough questions and finding the right partner for you.
Download the eBook Top Emerging Technology Trends And Their Impact On L&D to see how the emergence of virtual reality and augmented reality can open up new ways of working for L&D professionals. Learn why they are new powerful tools in teaching and affecting behavioral change and how they can help you achieve your business objectives.
If you want to discover more fantastic features you need to implement Virtual Reality in your organization, check out the webinar Virtual Reality: Real-World Hilton/SweetRush Project Case Studies. It is brought to you by SweetRush and teaches everything you need to know to run an exceptional VR learning program.

SweetRush
Our job is to help you achieve your objectives and be successful. Engage us at any point, from analysis to custom development (including e-learning, mobile, gamification, and ILT) to evaluation.