How To Choose The Best Augmented Reality Company To Build Your Training Program
Since launching our team dedicated to emerging technologies for learning last year, I've had the pleasure of talking to many Learning and Development (L&D) professionals about Augmented Reality training programs. They tend to be, I suspect like you, forward-thinking, open to new ideas, eager to experiment. I also suspect, however, that not everyone on your team is like you. When I first experienced Augmented Reality years ago, I immediately saw the potential for L&D. But I'll be honest: It was a challenge convincing some of my own team members that it was not just a "shiny object". The tide has definitely turned since those early days, but I empathize with our client-partners who face the same scrutiny from their peers and colleagues. Yet scrutiny is good. It forces us to make thoughtful decisions and not get swept away with excitement. Choosing a Learning and Development vendor to partner with for an Augmented Reality engagement is a big decision—you'll invest time and money, after all, to create your training program—and you deserve for it to be done successfully. You want your forward thinking and risk to pay off with reward: an effective, engaging learning program that excites your learners, achieves your business objectives and turns skeptics into believers. There are many reasons why I, humbly, believe that SweetRush is the best Augmented Reality company to build your training program. Here are 3—and, viewed another way, these are factors you should consider when you evaluate any Augmented Reality company.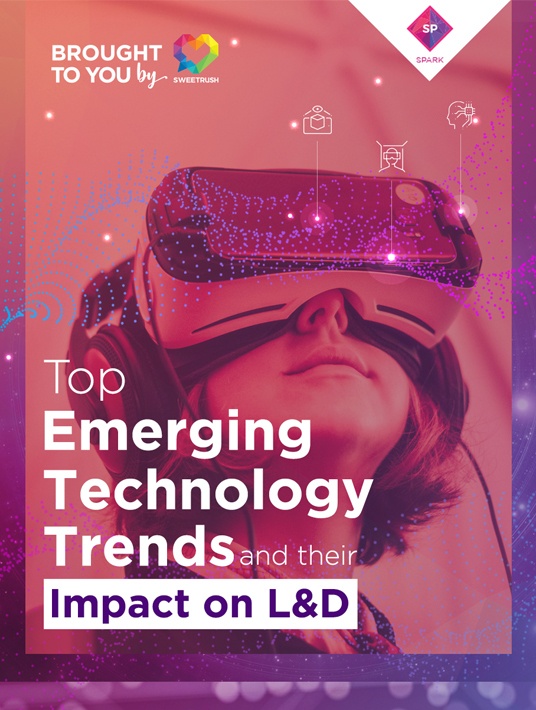 eBook Release
Top Emerging Technology Trends And Their Impact On L&D
Discover the benefits of incorporating emerging technologies in your Learning and Development programs.
1. Extreme Focus On User Interface (UI) And Learner Experience (LX)
Augmented Reality is poised to transform UI and User Experience (UX) as we know it. As you're evaluating vendors, you'll want to explore the UI, UX, and LX capabilities of their team. The last major shift in UI, the smartphone, introduced us to new ways to interface with devices through touch: tapping, pinching, swiping. These movements are all well known to us now. My two-year-old tries to tap TV screens and magazines! Other elements, such as the "hamburger" menu, have become ubiquitous and allow us to more quickly create intuitive experiences for mobile learning.
With Augmented Reality, we're working in a whole new environment with more possibilities and depth, which allows designers to explore and experiment with new UI and UX conventions. An article by the team at Proto.io [1] highlights some of the factors influencing this transformation: "Conventions will change radically and may fragment for a while. But over time, innovative designers will develop new conventions, with the right balance of voice, kinesthetic, gesture, and peripheral controls to make Augmented Reality UX as intuitive as any 2D app." Everyone is on the same journey exploring this new landscape of interaction design. So how do you choose the best Augmented Reality company to work with? Seek a vendor with a demonstrated track record of capabilities in designing great User Experience.
Over the years, being at the forefront of combining creative arts with instructional arts, we have experienced and risen to the shifts in UI and UX: from introducing higher levels of interactivity in the early days of eLearning to creating standalone learning games as engaging as those in the app store, pioneering responsive design for mobile learning, and creating custom interfaces tailored to each device. Every step in the evolution of technology-enabled learning has required an extreme focus on UI and UX so learners can focus on learning content and activities, not getting accustomed to a new interface.
And keep your eyes out for 3D capabilities. With immersive technologies (Augmented Reality, Virtual Reality, and Mixed Reality), strong 3D capabilities are essential for creating objects, environments, and interactions. SweetRush, uniquely, has been actively producing 3D for years to foster storytelling, avatar development, and animation, and now our 3D team has seamlessly shifted (and expanded) to support our work in emerging technologies. "Very few L&D companies have a robust 3D team; it's just not the norm in Learning and Development. But because of our focus on storytelling and video, we've developed a team of 10 people dedicated to 3D modeling and animation", says Arturo Schwartzberg, SweetRush Chairman, and Cofounder. UI and UX apply to all design and technology, but the more focused Learning Experience (LX) design refers to the experience and flow of learning, creating an optimal environment in which to learn. The best Augmented Reality company to develop your learning program is going to be one that brings experience specific to both the User Experience and learning, not simply entertainment.
2. L&D Capabilities That Complement Augmented Reality
It may seem counterintuitive, but the best Augmented Reality company to develop your training programs is one that doesn't focus exclusively on Augmented Reality. It's critical that your vendor bring the full complement of L&D capabilities to the table. The reality is that most learning programs are not single-faceted. To effectively engage learners at all stages of the learning journey, we're often crafting a blended experience that combines several modalities. There may be prework, reflection, performance support, assessment, and ongoing reinforcement. There may be a need for marketing communications to introduce this new, innovative learning experience to your employees. "If I'm an Augmented Reality company, and a client comes to me asking for a solution, I'm going to say the solution is Augmented Reality", says Schwartzberg. "If you come to SweetRush, our team is going to propose the best solution to meet your objectives, which might include Augmented Reality. And maybe that is only part of the solution and you might also need a job aid or a 5-minute promotional video along with a 10-minute eLearning course. You get the idea… It's always about the right solution, not focusing on only one delivery modality." As Arturo suggests, an L&D vendor's capabilities should absolutely include the ability to conduct an up-front, robust analysis. At SweetRush, we know the projects we take on are critically important to our clients and we will work our hearts out to make them happen. Doing the necessary breadth of pre-project analysis ensures the solution we all land on will address the business drivers and engage your learners. More food for thought: Even if your first project does not require other capabilities, your next one will. Bringing on a new vendor is a serious decision requiring a significant investment of time to evaluate capabilities, negotiate contracts, and align cultures and processes. It's to your advantage to work with a vendor with more capabilities—a vendor you can grow with.
3. The Best Augmented Reality Company Is One You Can Trust
If you're exploring emerging technologies such as Augmented Reality, you're stepping out. You're being bold. And you need the training program you create to be successful. You need to win. The reality of all significant learning engagements is that not everything can be 100% defined up front. That makes trust an essential element of a thriving client-vendor relationship. When we're talking about emerging technologies, trust comes into even sharper focus, because we're entering a somewhat unknown journey together. The best Augmented Reality company is one that you can trust to deliver, and trust that they'll be committed to your triumphs and the success of the project. In everything we say and do, we put trust front and center. We always say who we are is just as important as what we do. Trust is the reason we have long, sustained working relationships with clients. Trust is the reason so many clients turn to us to take on their complex challenges and deliver out-of-the-box, innovative solutions. "When you choose SweetRush, not only do we have all the expertise in Instructional Design and creative. Not only do we have a strong technology muscle. We are also a vendor that commits and is absolutely dedicated to your success. Yes, this is business, but it's also personal, and your success and ours hang in the balance. We take that responsibility seriously", adds Schwartzberg. The new capabilities of Augmented Reality, along with Virtual Reality and Artificial Intelligence, are exciting for all of us in Learning and Development. Seeing how they fit into the toolkit, we jumped in and are doing very exciting work with clients. We'd be honored to hear from you and prove that the capabilities we offer, and the trust we inspire make us the best Augmented Reality company for you.
Download the eBook Top Emerging Technology Trends And Their Impact On L&D to see how the emergence of virtual reality and augmented reality can open up new ways of working for L&D professionals. Learn why they are new powerful tools in teaching and affecting behavioral change and how they can help you achieve your business objectives.
If you want to discover more fantastic features you need to implement Virtual Reality in your organization, check out the webinar Virtual Reality: Real-World Hilton/SweetRush Project Case Studies. It is brought to you by SweetRush and teaches everything you need to know to run an exceptional VR learning program.
References:

SweetRush
Our job is to help you achieve your objectives and be successful. Engage us at any point, from analysis to custom development (including e-learning, mobile, gamification, and ILT) to evaluation.