Microlearning Escape Plan With Rapid eLearning
Advancements in technology have certainly made our training efforts rapid; we expect rapid development, rapid training delivery, and rapid application of learning. And this is why rapid eLearning solutions make a great choice for developing training courses.
But for certain skill-based or behavioral training, you might have to look for a learning solution that's beyond "rapid." You probably might need a training solution that enables "learning on demand," offers scope for quick practice, and can be consumed by learners within a few minutes.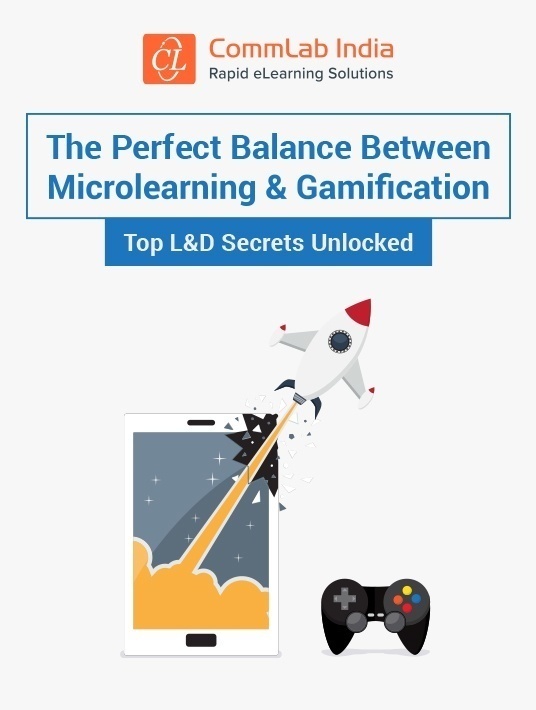 eBook Release
The Perfect Balance Between Microlearning And Gamification
Discover why microlearning is important for today's learners and why training managers should care.
In other words, you need a microlearning escape plan.
While the concept of learning on demand sounds attractive, is it as easy to develop as it sounds? Unlike computers that can be completely rewired to process complex information with the help of technologies such as AI, machine learning [1], and deep learning, the human brain can only learn at its own pace. So, what can you do to create learning that's on-demand, rapid, and provides sticky learning experiences? Let's find out.
Designing Strategic Microlearning For Training Courses By Leveraging Rapid eLearning Solutions
Let your microlearning design plan take a leaf from rapid eLearning design and accelerate learning. Here's how you can start designing small nuggets for maximum, rapid impact.
1. Leverage Rapid eLearning Authoring Tools
Microlearning, as you are already aware of, delivers focused content. It's not simple slicing and dicing content; there's a lot of thought that goes into extracting the right content to address a single performance-based objective. Does that mean development is going to be cumbersome? Not at all, as you can rely on rapid authoring tools such as Articulate 360, Adobe Captivate, iSpring, and Lectora to develop microlearning modules quickly.
The same authoring tools used to develop rapid eLearning solutions can be used to develop microlearning as well. Choose an authoring tool that best fits your project requirements.
Rapid authoring tools help design small nuggets of training courses by:
Supporting a variety of content formats (videos, quizzes, games, simulations, podcasts)
Facilitating quick development through integrated assets such as templates [2], background music, and interactivities
Offering an online library of themes, images, and characters
Providing technical support
2. Go For A "Mobile-First" Design
Instead of asking if microlearning needs to be designed for a mobile experience, ask if it even needs to be enabled for desktop access. If you want training courses that facilitate learning in the flow of work, a mobile-first approach is the way to go!
A mobile-first approach in microlearning lets you:
Leverage the touchscreen feature of mobile devices
Make learning "social" through easy sharing of videos, infographics, and compelling stories
Design vertical (portrait mode) videos to fit the mobile screen
According to a research from Snapchat [3], completion rates of their vertical video ads were 9× higher than their horizontal video ads. If you're considering designing microlearning videos, why not make them vertical to boost completion rates?
Like responsive rapid eLearning solutions, a mobile-first microlearning design enables learning anytime, anywhere—something that's considered an essential for modern learners.
3. Convert Rapid eLearning Elements To Microlearning Assets
Training courses that are designed for rapid eLearning are devoid of frills and fancy elements. Instead, they are based on robust Instructional Design to provide an effective learning experience.
When your learners need to learn on-the-go, you can quickly repurpose media elements from your rapid eLearning courses to deliver microlearning nuggets on learners' smartphones.
Here are a few examples of microlearning formats that can be created by repurposing existing rapid eLearning content, using authoring tools.
Micro-videos from a webinar
Infographics from a checklist
 Audio snippets from a lengthy podcast
Micro-quizzes from existing formative or summative assessments
Game-based nuggets on safety or compliance practices
Rapid eLearning elements used in formal training can be quickly repurposed as performance support through microlearning. Think out of the box and you should be able to come up with a lot of creative microlearning strategies to enhance learning.
4. Follow An Agile Development Process
One of the reasons for the success of rapid eLearning solutions is its agile methodology. This agile process allows iterative development, rapid prototyping, continuous feedback, and evaluation until the final product is ready to be rolled out.
Go for an agile process in microlearning development, too! If you've been tasked with quickly rolling out bite-sized learning nuggets, work with your internal team or eLearning vendor to follow an agile development process. Doing so can help you and the team:
Accept and respond favorably to change, as an agile development process allows frequent iterations
Give more opportunities to incorporate feedback during development, rather than wait until the module development is complete
Fully meet—if not exceed—stakeholder expectations as they are involved in each step of the agile process.
Identify functionality issues through frequent testing
Promote good communication and collaboration, increasing team cohesion
5. Rely On The Architecture Of Rapid eLearning Solutions
"eLearning architecture" refers to a learning framework that meets the needs of the learners as well as the business.
When you are the intermediary between the stakeholder and the learning development team, remember you need to focus on both the learning as well as the business side to learning.
On the learning side you need to think of effective eLearning:
Design
Development
Implementation
And, on the business side, you need to think of:
Quality
Ease of use
Reduced cost
Speed of delivery
Value add offered by the learning solution
Rapid eLearning manages to achieve this balance in training courses while retaining creativity and strong Instructional Design principles, and the same can be applied to microlearning as well.
A widely prevalent misconception about rapid eLearning solutions is that there would be no scope for creativity in it. But that's not true at all! Here are a couple of tips to help you be creative and build engagement in your microlearning efforts.
Use a story to grab attention. It can be something as simple as a picture or a short animation, or a few words.
Pay importance to context as it makes content sticky.
Encourage reflection as it helps learners relate learning content to prior knowledge.
Use gamification to create actionable learning goals.
It's A Wrap
When your training courses are too lengthy, take a long time to develop, or are too expensive to develop, your training ROI takes a hit. Microlearning is a great choice for cost-effective, learner-driven, informal training programs that focus on instant application at the workplace—which automatically boosts training ROI [4]!
For best practices on using microlearning and more, grab your copy of our eBook The Perfect Balance Between Microlearning And Gamification. Also, join the webinar The Ultimate Guide To Implementing Microlearning to find out how microlearning can boost learner engagement!
References:
[1] A Simple Guide to Understand AI and Machine Learning
[2] Rapid E-learning Development Made Easy with Templates
[3] Horizontal VS Vertical Videos: Which Video Format Should I Use?
[4] Informal Learning Through The Lens of Microlearning Solutions
CommLab India Rapid eLearning Solutions
Working with multiple outsourcing vendors can be stressful, and a waste of time & money. With CommLab India Rapid eLearning Solutions, all your online training needs are taken care of, rapidly and economically.