Custom eLearning Trends: Make The Most Of New Technologies To Enhance Learning Delivery
Learning and Development strategy is followed by a company to ensure that it reaches the desired organizational goals, now and in the future. Companies are on the lookout for new and different ways to make learning more engaging in order to gain maximum returns. A Learning and Development strategy should always be people-led, considering the needs and aspirations of the employees for them to learn and grow. If we can achieve this, we will make it to the set organizational goals. Here are a few custom eLearning trends that can help enhance an L&D strategy: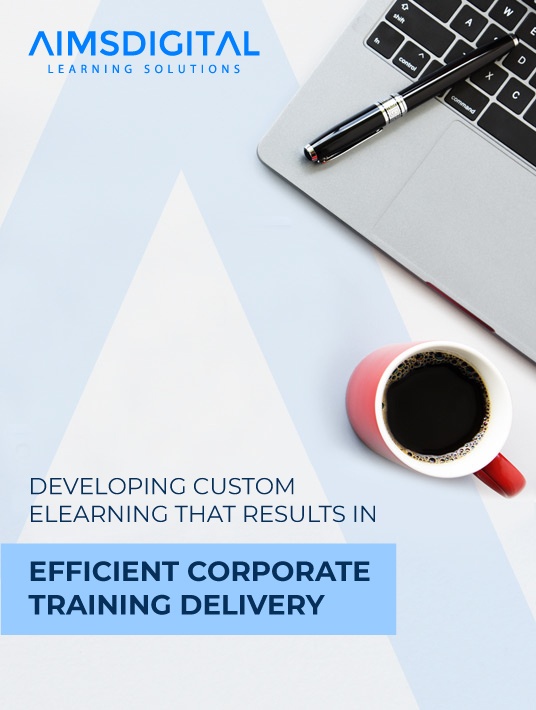 eBook Release
Developing Custom eLearning That Results In Efficient Corporate Training Delivery
Understand the whole picture of all the complexities involved in planning and developing effective learning material.
1. mLearning
We have evolved from the trend of 'e' to 'm'. Mobile learning is not an option anymore, it's a must. Today, every learner needs the flexibility of time and place. A recent survey conducted on a social media service showed that most learners engage at the point of need, meaning that they view their courses only when they need the information. Others do it while traveling, in their free time or when at their desk. When it comes to microlearning, mobile learning is the best option and one of the most significant custom eLearning trends as it offers just the right amount of information within a short span of up to four minutes. Mobile learning also takes the learners' attention span into consideration.
2. Informal Learning
We can't always depend on training sessions for learning new concepts. In the professional world, we learn more through interactions with our colleagues, feedback from the bosses, clients and its implementation in our work. The training profession follows a 70-20-10 principle of learning. This principle tells us that a learner gains maximum knowledge through their experiences on the job which accounts to 70%, 20% of the knowledge is gained through discussion and interactions with their peers and only 10% of the knowledge is gained through formal training. Many organizations have not structured their approach to suit and support formal training. In that case, usage of Performance Support Tools (PSTs) is the best fit. PSTs can be used to support formal training as well as help the employees at the application level.
3. Invisible Learning
Apart from formal training, PSTs and all the advancements in the field of eLearning, invisible learning is a concept that works in the background. Instead of treating learning as a task, we can turn it into a mindset. With no gap between your work and the learning process, learning becomes invisible and becomes integral to work. Turning learning into a mindset leads to an environment that inculcates knowledge invisibly. This makes the process of learning easy, natural and less tiresome for the employees. Implementation of invisible learning is something that every company should strive for.
4. Micro Video
Video is no novelty in the field of eLearning today. Video is the most engaging part of the media, and it's more likely to grab the learner's attention faster. It is one of the best sources of on-the-go learning, a field where most mobile learning takes place. As the average attention span dips lower and lower every day, shorter videos trounce the popularity of the longer ones. Videos spanning less than a minute work wonders for most of the learners. Also, shorter videos are a convenient facility for busy learners as they save a lot of time. All these factors have pushed the eLearning industry experts to focus on producing effective and visually impressive micro-videos.
5. Content Creation
According to new findings, employees find it difficult to learn not because of the lack of content but because of its abundance. Too much content can confuse the learners as it becomes difficult to look for the important parts. So yes, "plenty is a problem." That's why most of the organizations are adopting content curation as part of their L&D strategy.
Content curation is most effective if the following strategies are followed:
Focus on your audience's need
Determine what topics would be most relevant to them.
Link Database
You can link curated data in your course. The links can be internal or external.
Use visual curation
People love images. Capitalize on image curation by using photos that show the customer using the product.
Evolve continuously
Keep refining your strategies and implement learner feedback.
6. Gamification And Game-Based Learning
Games have always been everyone's favorite! Adding games in a course works wonders, and it makes the learning experience more engaging for the learner. Rewards for each level that the learner reaches act as an incentive. Providing feedback can even enhance the experience as it will help the learner progress. Organizations have begun implementing game-based solutions in their products as value-adders for organizational learning whilst ensuring that the game doesn't overshadow the content.
7. Virtual Reality And Augmented Reality (VR & AR)
Virtual Reality and Augmented Reality are the two stunners in the eLearning industry today. These two technologies have aided in providing an engaging and realistic learning experience. Virtual Reality requires a huge amount of investment. It provides realistic scenarios through simulations. The learner is immersed inside the virtual experience where the user interacts with the 3D world. Usage of VR is very helpful in preparing the learner for real-life instances requiring preparedness. Augmented Reality, on the other hand, enhances the natural environment of the learner by adding pop-ups, overlays, and images to it. Content can be augmented to make it more engaging for the learners. A learner's experience is enhanced as the objects residing in the real world are enhanced through computer-generated information. Implementation of AR works amazingly with mlearning. Some examples of AR are the famous game "Pokémon Go" and the social media application, Snapchat, etc.
8. Artificial Intelligence (AI) As Part Of Custom eLearning Trends
Artificial Intelligence is yet another trend to watch out for. It is the "ultra-change" in the eLearning industry. AI can be used to make the learning process highly personalized which will ensure automatic engagement of the learner. AI can also be used as a part of the L&D strategy.AI technology has been paving its way through different fields of businesses. From retail to hospitality to healthcare, AI is taking up a substantial industry space. The most common examples of AI that we come across every day are Google Search, Google Assistant, and product recommendations that you see when you visit an online shopping website. On the same lines, AI can be used to tap the learner's behavior and grasping capacity thereby customizing the learning experience for them. Download the eBook: "Developing Custom eLearning That Results In Efficient Corporate Training Delivery" or watch this webinar to delve into the complexities involved in overcoming these pain points!