Choosing A Great eLearning Authoring Tool: 8 Must-Have Features
When choosing an eLearning authoring tool it's easy to feel bewildered in the face of so many options, especially when your requirements are likely to be complex and unique to your workforce. There are lots of authoring tools out there, reflecting the varying needs and learning content of companies.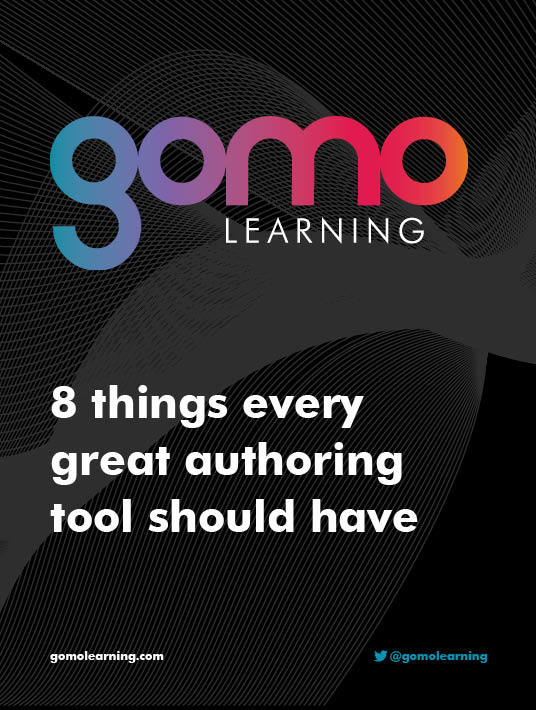 But it's also a chance to make it easy for your Learning and Development teams to create great learning content, no matter the scope of your challenge.
If you want to find the right solution to transform your learning to scale, it's important to be clear about what capabilities your ideal tool will give you and your users. Fortunately, a checklist of key areas can help you to decide whether an eLearning authoring tool packs enough powerful features to give you an allround, scalable solution for your learning needs.
To get the best from your authoring tool, make sure it can offer these features:
1. Enhanced Teamwork
Learning and Development teams are no longer as static as they once were. Subject Matter Experts are now working with dispersed learning teams, often on opposite sides of the world. Traditional desktop-only authoring tools are bought and then installed on devices like desktops and laptops, but this makes collaboration difficult. If you're 'stuck' with a desktop authoring tool, you'll probably already know the frustration that occurs when courses are tied to one location or even a single computer – this results in storing the files locally and offering limited sharing options.
But what do you do if your L&D team is scattered across multiple locations or offices, or if people work from home?
With an authoring tool like gomo, teamwork is a breeze, even if teams of colleagues are on different sides of the world. Instructional Designers, authors, and other reviewers can all access the same course in real time, and make comments and suggest changes to the material instantly.
Fact: gomo has consistently been named as one of the world's leading cloud-based authoring tools by several independent learning experts and groups.
2. Design Consistency
Desktop tools can provide a lot of design flexibility – and that's not necessarily a good thing! This could count against you if it means the results look and feel inconsistent, with different fonts and schemes from one course to the next, or even between single slides in an eLearning course.
gomo offers eye-catching, adaptable design templates—we call them themes—to solve the challenge with ease and eliminate any risk of your courses deviating from your brand guidelines. The idea is that you can apply any theme to any course or groups of courses. The themes which come as standard with gomo have been designed to help you express the uniqueness of your brand and create layouts that are unmistakably yours. You can enter exact colors on a palette according to your own branding guidelines, and tweak/choose everything from fonts to colors and alignment yourself.
Our learning suite is perfect for achieving this without all the hassle of having to intricately design and implement every aspect of your pages.
3. Branding Made Easy
You shouldn't have to compromise your branding when you work with your ideal authoring tool. At gomo, we understand the importance of your branding and the need for clear design in engaging learners who often won't return to your courses if they don't find them visually appealing on first use.
You can configure our themes to a level of detail that makes learning feel and look uniquely like yours. Plus, if your brand ever changes, you don't have to spend hours changing hundreds of course pages one by one – simply customize your theme to reflect any brand changes once and the new look and feel will roll out across all your courses instantly.
Rebranding Made Easy
When an organization with more than 250 heavily-branded training courses decided they wanted to revitalize their learning, their small training department expended nearly 400 hours of hard work on the redesign. Had they been working with courses created using gomo themes, it would have taken one person less than a day to carry out the rebranding. The themes would have been separate from their content, so they would have been able to simply switch the colors, fonts, and other background elements around each page.
4. Ease Of Use
In the early days of digital authoring tools, at the start of the 21st century, the learning curve required to understand an authoring tool tended to be steep. Modern tools make that learning process much simpler, with content management made easy and templates to create visually appealing content without needing a great deal of technical knowledge.
gomo is a really versatile authoring tool, producing responsive HTML5 output that's compatible with almost all devices and operating systems. As gomo is cloud-based, you can log in to gomo from anywhere with just a web browser. It wouldn't make sense to have to carry out hours of training for a tool your Subject Matter Experts might use once or twice a year. gomo is designed so that it's easy to learn how to use its features.
Client Success Story
Before they began to work with gomo, one major global organization faced real difficulties in facilitating collaboration on the creation of training programs among its L&D team. Their authoring system lacked the functionality for multiple editing and was slow and difficult to access on a daily basis.
gomo has dramatically reduced the amount of time the team spends on each program, because editors no longer have to create separate mobile and desktop versions of their courses. As well as significantly cutting down on production requirements, the company has been impressed by the level of creativity they can apply while seamlessly creating multiple courses at speed.
5. Seamless LMS Integration
Traditionally, organizations have faced a long 'gestation period' when building a learning course.
Once all the text, audio, and video has been added and your L&D team and other stakeholders have reviewed the layout, you might have to zip and transfer a huge volume of material—sometimes as much as 250 megabytes in size—to your existing LMS. You might even have to put it through a quarantine before your IT team will let you transfer it.
With gomo, there's a little piece of magic we call our LMS wrapper. This takes your giant course, shrinks it down to a tiny micro-file (usually a mere 13 kilobytes) and it's this that's sent to your Learning Management System. The LMS wrapper points your LMS back to your live course on gomo. This allows you to upload a huge course to your LMS in less than a tenth of a second. If your LMS charges you for storage, you can make huge savings in cost as well as time.
6. Instantaneous Updates
But what about making changes to live courses? The ability to refresh material or add new content based on stakeholder feedback is important for L&D teams, especially when changes need to be rolled out urgently. If you need to make changes to your courses, you should be able to do so with the knowledge that your users will immediately see the latest version of your training.
At gomo, we work with many large organizations who have multiple LMSs. If the L&D teams at these companies need to individually update each LMS each time they want to make changes, the process could take up a great deal of time and resources. The gomo LMS wrapper negates this inefficiency by making everything supremely simple. All you need to do is go into gomo, make the changes and publish.
Your LMS instantly sees the new version. No more SCORM, ZIP, FTP and constant 250MB uploads.
Once the content is uploaded, it is syndicated around the world via Amazon Cloudfront's ultrafast servers, distributed from the nearest point to the learner's location. This gives all users fast access to your courses.
Client Success Story
The speed at which gomo users can update their LMS with the wrapper can be a very pleasant surprise. For one organization, the wait dropped from three weeks to under 30 seconds. The L&D team can now refine content right up until the last moment and easily make edits after publication, vastly reducing the time and effort it takes them to organize updates.
7. Multiple Distribution Options
There are lots of ways you might want to distribute your course, and many of these could be outside of a traditional LMS. You might opt to embed it in a website, set it within your company's Intranet site or simply email it to people as a link.
A direct link also means you can promote your course on social media or by direct message. You can also easily share your courses with your colleagues for review processes and testing.
Learners can swiftly get started with their training by logging on to gomo central, our mobile eLearning app. You can even provide a QR code to let people transfer your courses straight to their smartphone or tablet. With gomo, there are six great distribution options to get content to your learners quickly.
8. Output That Works On Any Device
According to the 'State of the American Workplace' report from Gallup, "most workers, many of whom are Millennials, approach a role and a company with a highly defined set of expectations. They want their work to have meaning and purpose. They want to use their talents and strengths to do what they do best every day. They want to learn and develop. They want their job to fit their life."
Most adults carry a smartphone – especially Millennials, who will make up 75% of the workforce by 2052. While this may not be news to L&D professionals, the industry is still trying to work out the most effective ways to offer people the self-paced, ongoing, mobile-friendly learning they can carry out on their phones. Meanwhile, the implications for content designers and Instructional Designers are significant. While "mobile first" is a buzzword in the industry, in reality courses often look very different on a mobile device. Something which might look great on a laptop can look squashed on a smaller screen, and people are far less likely to want to complete courses if they have to constantly pinch and zoom in on the text or tap and swipe at buttons that are too small to work.
gomo is built with responsive and adaptive HTML5 capabilities, which means it will fit the screen and look beautiful on any device, with text which is easy to read and includes responsive buttons.
For European banking giant Santander, gomo's responsiveness allows them "to make web-ready content that goes out to 7,000 smartphones and 1,000 iPads. Because gomo outputs responsive mobile content, everything just works on all of our devices," they say.
Few people work in the same office at the same desk every day, and an even smaller proportion have the time or desire to learn in the same place every time. More than a third of business leaders expect the majority of their company's workforce to be working remotely by 20203 – and anyone with a busy working life is likely to find it more convenient at times to learn while they're on the move.
The gomo central app is great for online and offline learning. When learners know they are going to be traveling or in a location with a poor Internet connection, they can download a course to the app and carry out all the training – whether they're offline or not. The app tracks all of their activity and communicates it back to the gomo servers once the learner is back online.
Better still, xAPI (also known as Tin Can) tracking lets L&D professionals analyze more than just the modules they took and the scores they got. With xAPI, you can see exactly what pages someone looked at, what they skipped and what answers they got right, wrong, or avoided. This detailed learner path and display of key indicators lets you build a better picture of the learner experience and formulate more effective ways to improve your learning.
Choosing The Right Authoring Tool For You
From a completely new end-to-end solution to a system that integrates seamlessly with your existing learning architectures, an authoring tool can play a vital role in your learning strategy.
You want something that's easy to use and doesn't make huge demands on organizational resources, but also makes it straightforward for you to quickly produce beautiful courses that make a great first impression and create widespread engagement at scale.
At gomo, our customers range from companies with no eLearning infrastructure to multinational corporations managing lots of LMSs and a Bring Your Own Device policy.
As well as the features we've mentioned in this article, gomo offers a huge range of further benefits, from multilingual and localization capabilities to randomized question banks in assessments.
Related Articles: