5 eLearning Must-Reads From Our Top Contributors
How do you avoid dull compliance training? What is feature fatigue, and how does it impact productivity? What are the best practices for creating a stellar employee experience? The guest posts below have all the answers. In no particular order, here are the best eLearning articles from guest authors published last month.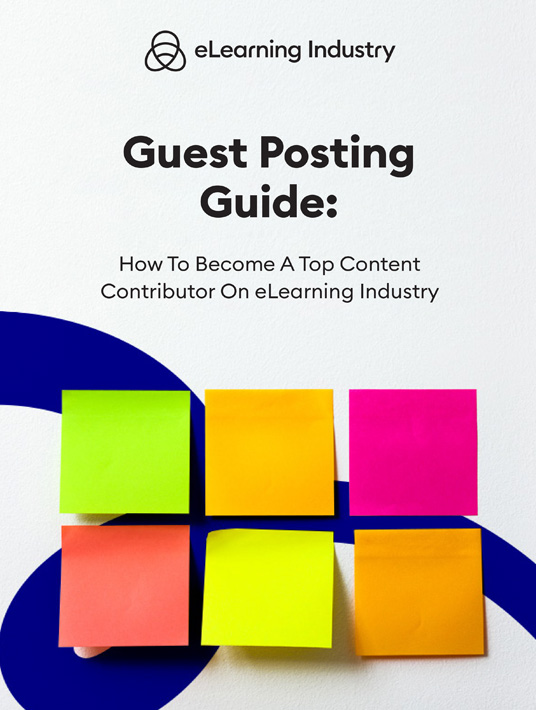 eBook Release
Guest Posting Guide: How To Become A Top Content Contributor On eLearning Industry
Discover what you gain by guest blogging and what are the basics of writing a guest post for eLearning Industry.
The Best eLearning Articles Penned By eLI's Guest Authors
When you need to have your training courses translated into multiple languages, it's crucial to know the requirements and challenges involved in the process. In this article, Sergio Atristain highlights three of the most common mistakes made when translating a course and provides insights on how to avoid them.
Compliance training can be a real snooze-fest, but it doesn't have to be. Learn how to make your training engaging and effective with these tips. Emily Gore also explores creative compliance training examples from companies, including Microsoft and Google.
Amid a rapidly evolving working landscape, L&D pros must rethink their approach to finding the right employee experience solution. Sean Stowers offers tips on preparing for the future and highlights why organizations should focus on the employee experience.
Effective team collaboration is crucial for the success of any project. However, finding the right collaboration software can be a daunting task. Mindaugas Gluchovskis explains what feature fatigue is, how to manage it to keep productivity levels high, and what indicators to look for.
Dive into the world of leadership development challenges! Vartika Kashyap outlines precisely how you can connect theory with real-life application, unlocking the tricks to help your employees become successful in managerial positions.
Would You Like To Be Featured In Our Next Guest Author Showcase?
Congratulations to all the authors who were in the spotlight this month! We'll be featuring our top eLI guest posts every month in our Guest Post Showcase. If you'd like to be considered for our next list, submit your article to build thought leadership and connect with our eLearning community.
You can also subscribe to our guest author newsletter for tips, hot topics, and exclusive promo opportunities.