Generate More Leads For Your eLearning Solution In The eLearning Industry Directory
Listing your eLearning solution in the eLearning Industry directory helps you connect with your target audience. However, there are ways to generate even more leads and boost conversion rates. For starters, you can add PPC to your directory listing to optimize performance. Geo-bidding starts at just a few cents and you set your own spending cap, so you don't have to worry about going over budget. There are also built-in metrics to track KPIs and outbound links to drive more traffic to your product page. Below are 8 insider secrets to attract qualified leads for your eLearning company list.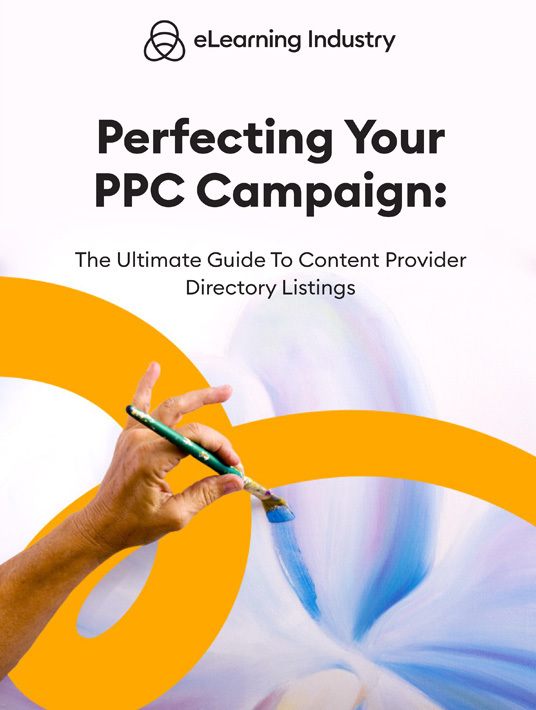 eBook Release
Perfecting Your PPC Campaign: The Ultimate Guide To Content Provider Directory Listings
Learn all the insider tips you need to launch a successful PPC listing.!
1. Get A Top Spot In The Exclusive Directory
You already stand out with an eLearning solution listing, but adding PPC gets you premium placement in the directory. You move to the top of the page so that leads are more likely to click on your eLearning company instead of competitors'. There's also an embedded filter that allows them to narrow their options, for example, they can only display eLearning content providers that cater to their industry or offer specific online training solutions.
2. Evaluate Conversion Stats To Shift Your Marketing Focus
Conversion stats allow you to zero in on areas for improvement. For example, most of your traffic comes from a certain region or industry, thus you can adjust your marketing strategy to tap into this demographic or you can expand your keyword list to reach audiences that aren't converting as often. A PPC listing includes detailed reports to help you track performance and shore up the gaps.
3. Drive More Traffic To Your Online Portfolio
Your online portfolio is typically what seals the deal, or at least, prompts clients to submit RFPs for more info. An online directory listing helps drive more traffic to your landing page so that you're able to display all your achievements and prove your niche expertise. You can even mention work samples in your directory listing or CTA. Invite them to visit your website if they want to evaluate your design skills and insider knowledge. Consider using a website builder for a more professional approach. Make sure to include objectives, obstacles, and use cases that provide context. That way, clients know that you're up to the task and have experience in the field.
4. Learn Marketing Tips From Your Personal PPC Advisor
Every listing with PPC comes with a personal advisor. They can offer their insights to optimize the list and customize your PPC campaign. You also get an account manager who can address your questions or concerns, as well as a targeted landing page consulting to help you make the best first impression. They've worked with countless eLearning companies, so they know how to avoid the most common marketing mistakes and achieve the best results regardless of your budget or goals.
5. Include A CTA Button To Increase Click-Throughs
One of the most notable benefits of implementing an eLearning company list with PPC is a CTA button. This drives more visitors to your website so that they can reach out for personalized estimates. Leads are more likely to click on an attention-grabbing button than an embedded link. As such, you can improve click-through rates. The secret is to give them a solution to their problem, whether it's improving employee engagement or reducing L&D costs. You need to identify their pain points then tell them how your eLearning company can eliminate them. For instance, your online training solutions will inspire their staffers and foster real-world application.
6. Build A Proven eLearning Solution Track Record
Buyers look for eLearning content providers with a solid track record. They want companies with positive reviews and ratings to mitigate risks. The eLearning directory of companies lets you build social proof and improve your online reputation. There's a built-in review system that allows clients to share their experiences, such as what they liked best and least about the collaboration. Positive ratings enhance your credibility, but even negative ones can give you constructive feedback to improve your business strategy.
7. Highlight Your Standout Services In The eLearning Company List
Ultimately, prospects are looking for content providers who deliver all the items on their wish list, whether it's compliance training JIT support or gamification courses for customer service. The directory allows you to showcase all your online training solutions in one place. There's even a pre-built list, so you simply select the solutions that apply to add them to your listing. You're also able to highlight your specialization areas and industries you prefer to work with, for instance, the health care or retail sector.
8. Use The Search Filters For Reference
The directory search filters are there to speed up the selection process. As such, you should use them as a reference tool when creating your listing. For example, which industries should you try to attract? Which specialization areas should you include based on your skills and expertise?
Conclusion
Even a free eLearning Industry directory list gets you qualified leads and improves site SEO. Upgrading to a PPC listing makes it even more worthwhile. It's also easy to customize your campaign and budget. Unlike many other marketing tools, you don't have to wait weeks or months for it to pay off, as flexible reports give you the power to measure success and adjust your approach on a daily basis. Create your niche directory listing today to boost conversions and tap into your target market.
Our niche-specific directory for eLearning companies can help you build your brand and stretch your marketing dollars. It also gives you the opportunity to promote your specialization areas and online training solutions.
Download the eBook Perfecting Your PPC Campaign: The Ultimate Guide To Content Provider Directory Listings to launch your listing and achieve PPC success.