Tips For L&D Professionals On How To Use Microlearning
The concept of microlearning is not new. It has been around forever, and we have all experienced instances of being taught with the aid of microlearning. For example, kindergarten teachers apply microlearning practices to teach new words and concepts to young children. How do they do that? By showing flashcards for example, or by hanging posters on the walls with the word of the day, or the weather. This is a small example of microlearning, of course. What about the adult world, when things tend to become more complex? While this is definitely effective for kids, can we implement the microlearning theory into corporate practices? How can L&D professionals benefit from what microlearning has to offer?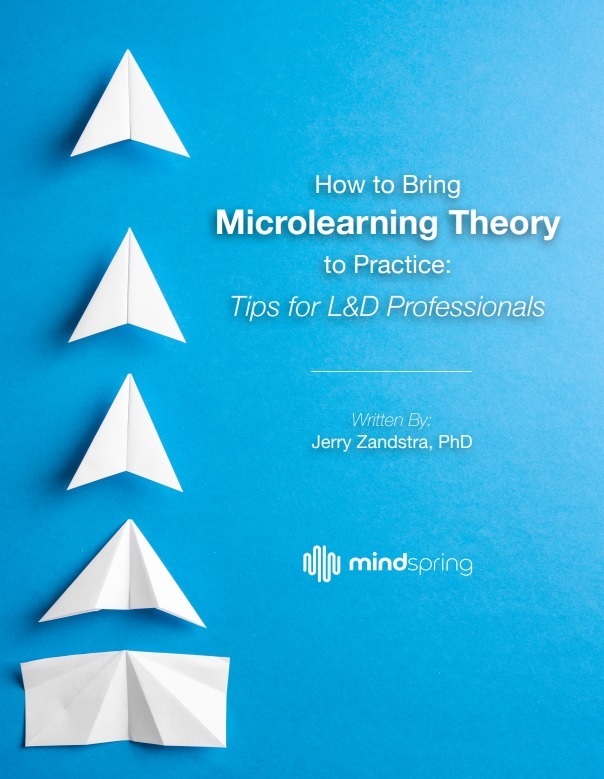 eBook Release
How To Bring Microlearning Theory To Practice
Discover enticing microlearning tips for L&D professionals.
Microlearning From Theory To Practice
Before we delve into microlearning's implementation in the corporate world, let's examine a bit what microlearning entails.  It comes from the Greek word "micro," which means small. You receive training in very small bits that you can grasp in a very short amount of time unlike macro learning, which demands tons of content and hours of studying. While it might seem a bit vague as a concept, it has a few points that are solid and demonstrate what it has to offer.
As we said, microlearning is not time-consuming and does not require a lot of effort on the part of the employee training participant. It can be used to teach both easy and complex concepts, and a wide variety of topics too. Microlearning for corporate training can be delivered in video format, through mobile devices, it can be synchronous or asynchronous, and much more. It definitely comes with a lot of perks.
Explore And Discover The Amazing Perks Of Microlearning
This is why the experts at Inno-Versity have put together a resourceful eBook, How To Bring Microlearning Theory To Practice: Tips For L&D Professionals, which thoroughly explains from A to Z all about microlearning theory. More than that, in this eBook, you will discover how microlearning can be used by L&D professionals to boost the corporate training game. Below you will find out more about what is in the eBook's chapters.
What Is Microlearning? Critical Characteristics And Benefits That Can't Go Unnoticed
As microlearning has been around for a long time, this chapter analyzes what microlearning is with all the characteristics it bears and all the advantages it has to offer. We've all had someone next to us saying, "not like that, like this," teaching us how to proceed at just the right moment.
Why A Micro-Content Strategy Works And How Brain Science Supports This Learning Method
The attention span of the average person is declining so this is a key driver to implement microlearning practices. This chapter explores why some studies support this perspective and why others don't.
When To Use Microlearning: Microlearning Examples And Learning Modalities To Leverage Your Learning
Even if microlearning is popular, it is not always the best solution. By exploring circumstances in which microlearning is the ideal option, this eBook also reflects on equally important cases in which it is not the best go-to solution.
A Practical Microlearning How-To Guide To Elevate Your Training And Facilitate Knowledge Retention
In the journey of encouraging learners to develop a will for learning, it is necessary to put together a list of microlearning qualities as a reference guide. This is Inno-Versity's own microlearning approach to offering tips, tricks, and techniques.
Microlearning Case Study: How A National Research Organization Uses Microlearning Content In Training
A case study is always useful in examining in-depth how a microlearning approach can be implemented. Find out how Inno-Versity managed to tackle several challenges in updating old eLearning content and making it more engaging in the eBook How To Bring Microlearning Theory To Practice: Tips For L&D Professionals.
Case Study: How A Global Manufacturing Leader Has Made Microlearning The Core Of Its Learning Program
Another case study that demonstrates another common challenge: spending a lot of money on eLearning content that was not effective. Discover how Inno-Versity dealt with such situations faced by their clients.
Retail Training Case Study: How A Retail Giant Put Microlearning Into Practice
In this chapter, a global retail company approached Inno-Versity to find a solution with a lack of engagement and adoption. Find out how they helped increase the participation and implementation of new team operational principles in great detail.
An In-Depth Interview On How Learning Leaders Use Microlearning Every Day
Learning leaders know that microlearning is one of the most powerful tools they possess, which provides countless opportunities for employees to develop their skills. If you are looking to do rapid eLearning design, learn why microlearning is invaluable.
Conclusion
Given the fact that microlearning is one of the hottest trends at the moment, it is essential that we remain well-educated on the topic. Times are challenging, information is vast and it comes from literally everywhere; remote working is at its peak and burnout is right around the corner. Every dedicated L&D professional and eLearning expert should gain all the information necessary on how to successfully and effortlessly engage employee training participants and the workforce. Maybe microlearning is the best solution, but maybe not. This amazing eBook by Inno-Versity covers all you need to know. Microlearning theory and practice blend together so there is no way that you won't win this round in creating engaging learning for your organization!
If you want to find out more about microlearning, download the eBook How To Bring Microlearning Theory To Practice: Tips For L&D Professionals. Discover all the enticing microlearning tips for L&D professionals.