How To Set A Realistic Employee Development Strategy Timeline
You can't foresee unexpected delays or collaborative roadblocks. For example, you're using new software to create interactive content, and the UI is more challenging than expected. It's even more difficult to plan for these scheduling slip-ups when outsourcing is involved. Since, in many cases, the custom content provider is in charge of their team's productivity, workflow, and task delegation. They're in the driver's seat regarding the final outcomes. However, there are certain ways to mitigate those risks and create a more accurate timeline for custom eLearning design processes. Spoiler alert: feedback, frequent recap meetings, and flexible milestones are part of the package. And, of course, you need to find a custom learning solutions provider that prioritizes CX.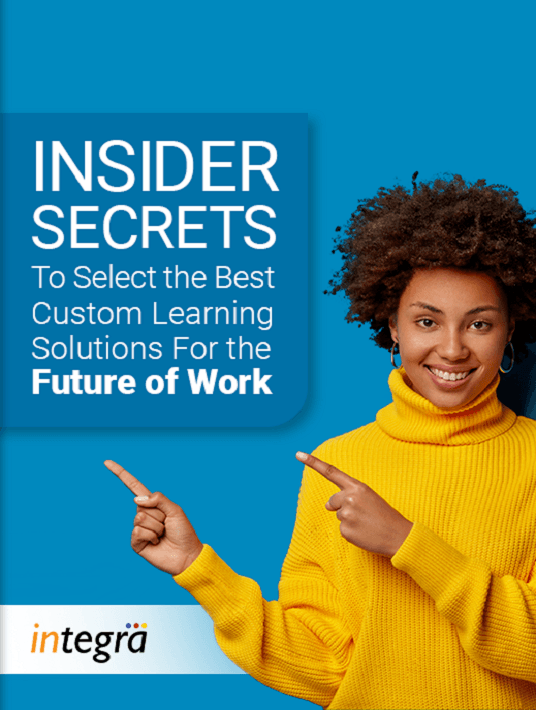 eBook Release
Insider Secrets To Select The Best Custom Learning Solutions For The Future of Work
This eBook walks you through every aspect of the evaluation process so that you can easily choose what is the appropriate solution for your organization.
1. Assign In-House Tasks
The first step is to determine what you'll complete internally so that you don't outsource redundant content. This allows you to pinpoint aspects of the custom eLearning design timeline that are dependent on in-house projects. For example, the bespoke eLearning provider can't convert your legacy content until your team conducts an asset inventory. So, map out how long they'll take to wrap up tasks and which resources they need to expedite the process.
2. Get Input From Your Team
Your team's feedback is essential because they're able to reveal potential risks and delays. For instance, you think they only need a day to catalog and organize those aforementioned assets. In reality, they require a week to get everything in shape for the outsourcing company. To take stock of training resources, reevaluate tags, and break longer resources into usable assets. Host a team meeting internally to get their feedback and incorporate that into your development timeline.
3. Meet With The Vendor To Discuss Milestones
After you take care of in-house schedules, it's time to speak with the vendor to discuss project stages. Such as milestones that are typically part of their custom eLearning design processes. For instance, the first milestone is to conduct a brief training needs analysis. How long will this take? Which steps are involved? Are there any obstacles that might force them to rethink the schedule? Keep in mind that experienced custom content developers have a rough idea of the implementation hurdles and time estimates. Thus, you can rely on their expertise to readjust your schedule and your delivery expectations. For example, you've only allocated a few days for demo video production. But the vendor needs at least two weeks to record the footage, gather assets, and edit the video. They know all the "moving parts" involved in the process.
4. Storyboard Your Development Process
Storyboards aren't just for the design process itself. You can also use them as a visual overview of your custom content development timeline. Divide the board into tasks, milestones, or project stages. Then include brief notes about the software, team members, and individual assignments involved. There should also be placeholders for outsourcing tasks and/or notes vendors can use to streamline the process. This also gives you the opportunity to foresee development hiccups that might derail the project. For example, stage five involves new software that may cause a steep learning curve. So, leave a little time buffer in the storyboard/schedule to account for that.
5. Expect The Unexpected
The reason why many organizations are forced to push back their launch dates is optimism. I'm not referring to a positive outlook on life but an overly ambitious timeline. They don't think their team will encounter any issues along the way. After all, they're too experienced and skilled to let a minor problem stand in the way. However, trouble comes in many forms. You need to expect the unexpected when setting a realistic timeline by creating a backup plan. What are all the potential obstacles? What's the best way to overcome them without going over budget? Is there anything you can do now to avoid workflow interruptions? For example, purchase software today so that your team has plenty of time to acclimate and explore the new features.
6. Host Periodic Overview Meetings
This goes for both internal and outsourced projects. You must host periodic meetings to evaluate progress and make sure everyone's on schedule. They can also voice their concerns or opinions regarding the timeline. As an example, the outsourcing partner miscalculated how long it would take to develop the simulation. This is a vital part of your new eLearning course, and they need another week to iron out the glitches. You can both discuss a new time window, delivery dates, etc., during the regularly scheduled recap meetings.
7. Include A Detailed Timeline In The Contract
That pre-project meeting with the vendor allows you to develop timeline estimates. But you must also get everything in writing before signing on the dotted line. Include a detailed schedule in your contract to avoid any confusion later on. What is the final delivery date? What about the milestones and corresponding payments? Must the vendor give you a 'heads up' if they encounter a roadblock? For example, they need to contact you a week in advance if they need to adjust the phase 2 delivery date. Who is their point of contact within your organization? These are all issues you must address in the agreement.
Conclusion
Custom eLearning design processes might be stressful without careful planning and task delegation. Everyone must understand their roles, expectations, and time constraints to avoid project delays, especially when their assignments are just one piece in the bespoke puzzle.
Download the eBook Insider Secrets To Select The Best Custom Learning Solutions For The Future of Work for tips to find the ideal external partner for your program.
Integra Software Services
At Integra, we craft learning transformation solutions to improve learning efficacy across the learning continuum. For over 27 years, Integra's forte has been innovative source-to-delivery content workflows and future-focused learning solutions.