Working Amongst An Ever Expanding eLearning Market
According to global research firm Technavio, the worldwide corporate eLearning market is expected to reach over USD 31 billion by 2020. Driving this growth is the rise in digitization and the adoption of advanced technologies, such as the cloud, providing reach, agility, and cost-effective scalability. However, just as the market grows, so do the kinds of training tools available, making it a challenge for organizations to run high quality, lean, and scalable software training programs.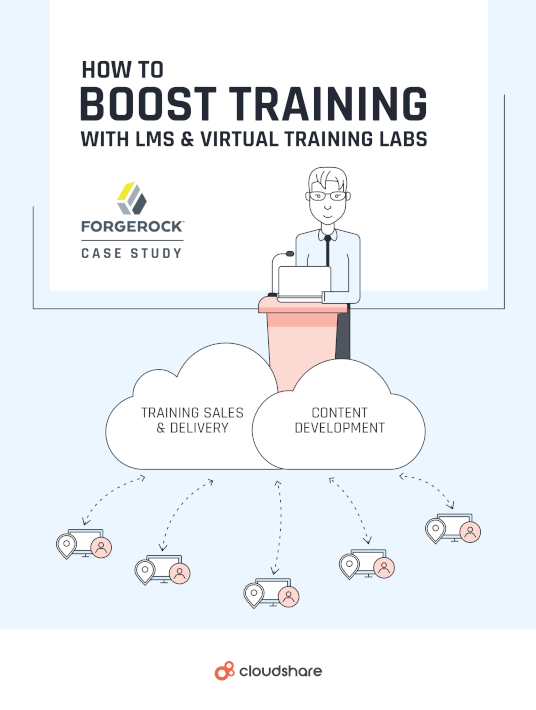 eBook Release
How To Boost Software Training With LMS & Virtual Training Labs
Learn why LMS and Virtual Labs are mandatory to successful training, how to integrate solutions and get results
The ForgeRock Success Story
Picking and implementing the right training tools isn't easy, we know firsthand. That's why when in a pickle to select technologies that affect our organization's bottom line, we often turn to industry leaders who are blazing innovative trails and learn from them. Take Kevin Streater, VP ForgeRock University, at identity management leader ForgeRock, for example. Kevin started ForgeRock's training organization and helped his company grow into a $100 million organization in less than 6 years. Kevin kindly joined our webinar with Administrate to share his unique story with our followers. He explained how integrating his training sales and delivery were, and how content development services enabled him to create an effective training machine that can be managed with minimum administrative resources.
As head of ForgeRock University and seasoned international training expert, Kevin has a gift for clear and simple explanations, and he clearly demonstrated that during our webinar. It's worth listening to his rationale, results from delivering a fully cloud-based training portfolio of virtual Instructor-Led classes, self-paced courses, and certification programs –all with minimum administrative needs. Corporate training programs for employees, customers, and partners have proven to bring real business benefits and revenue growth for ForgeRock, along with other enterprise companies.
Successful Virtual Training programs:
Empower employees to be more effective and productive.
Encourage customers to use more functionality.
Increase customer satisfaction.
Increase retention.
Open new revenue streams through fully trained and accredited partners.
Our whitepaper How To Boost Software Training With LMS And Virtual Labs: The ForgeRock Success Story explains more about:
Why LMS and Virtual Training Labs are mandatory for successful software training.
How the integration of LMS and Virtual Training software solutions can increase your bottom line.
Insights into best practices for building a fully automated training ecosystem.
Take the next steps to begin delivering training success today! Download our eBook How To Boost Software Training With LMS & Virtual Training Labs to discover how you can create a successful virtual environment for your business, integrated with an LMS, including lots of valuable tips and tricks.
Originally published at www.cloudshare.com.