Your Guide To Find The Best Remote Meeting Software For L&D
Choosing the best remote meeting software isn't easy when you're pressed for time and working with limited resources. However, knowing about the common mistakes in advance can help you avoid them altogether. It's also helpful to understand tool functionality and which features to look for. That's where this guide steps in to help you maximize value for money and find the right remote meeting app for your telecommuting team. What are the perks of investing in web conferencing systems and how can they enhance your L&D program? How do you evaluate software companies and compare tech specs? We answer all your pressing questions so that you can select the best remote meeting software for online training minus the costly trial and error.
Here's What You'll Find In This Ultimate Guide: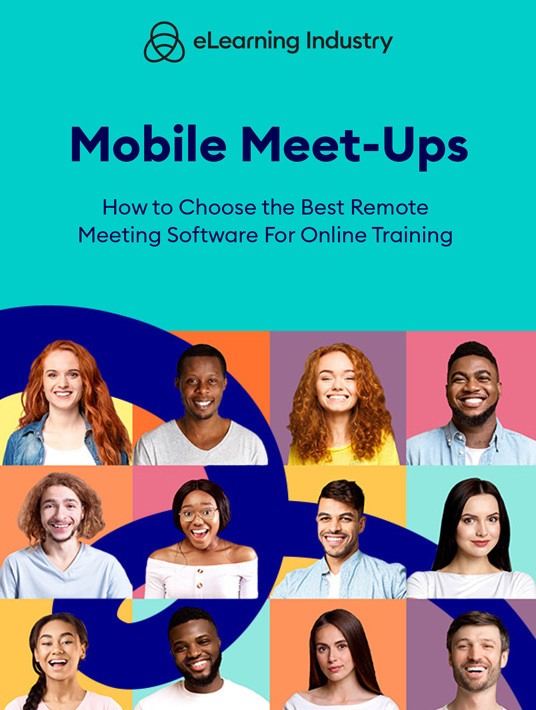 eBook Release
Mobile Meet-Ups: How To Choose The Best Remote Meeting Software For Online Training?
This guide shows you how to find the right mobile meeting software minus the trial and error!
1. 7 Profitable Perks of Investing In Remote Meeting Tools For Your SMB
Many small to mid-sized businesses invest in remote meeting tools for customer care. They can reduce travel costs and pitch to clients from afar or even host marketing webinars for customer training. However, that's only a small fraction of what your new web conferencing app can do. In fact, there are many ways it can benefit your bottom line and boost employee collaboration, as well as build vital skills and hone in-house talent, regardless of their physical location. So, let's look at some of the top reasons why you should consider mobile meeting apps for your SMB.
Switch To Online Training
Remote meeting tools give you the opportunity to move your ILT courses online to reduce costs and safety risks. For example, instructors and managers can host VILT sessions and live events. That means no travel expenses, site rentals, or printed material costs. All the resources they need can be found in your LMS, or hosts can upload them to the web conferencing app to streamline the delivery process. This is why choosing a mobile-friendly tool is so crucial. Since employees can attend online training events from anywhere in the world, they don't have to clear their busy schedules to ensure they'll be home (at their PC) in time for the next course. Instead, they simply log into the app using their preferred device and get all the knowledge they need.
Improve Remote Collaboration
Mobile meeting tools are ideal for team projects and weekly meetings. However, they also improve online training collaboration so that experienced staffers can share their insights; for instance, host peer coaching or mentoring groups to help their co-workers fill crucial performance gaps. Plus, in-house experts can host their own live events to spread the knowledge around. Try to create a schedule to avoid content overlap though and meeting burnout. For example, you may not want to host 3 events this week that cover the same topic.
Boost Customer Satisfaction
Online training is reserved for staffers and external partners. You can also host customer training events and remote meetings to boost satisfaction; for example, a monthly product recap event to highlight new releases or tell them about the benefits of service plans or bring in new customers with live Q&As where they get insider info from your top sales performers. Furthermore, mobile meeting apps give you a platform to educate your team and improve brand advocacy. Thus, they're better equipped to provide standout service to customers and clients.
Retain Top Performers
Top talent expects top-notch L&D. They don't want passive training courses that just brush the surface. The right web conferencing app allows you to deploy interactive and engaging online training experiences anytime, anywhere. As an example, your customer service team is scattered around the country, but you can still host a weekly catch-up meeting to let them know about new policies or protocols. This also gives them the chance to share recent challenges and ask for peer feedback. All these perks help you retain top performers and decrease new hire training costs.
Provide Manager Support
Leaders need continual support so that they can, in turn, support their team. Mobile meeting software makes it easy to keep them in the know and address recurring problems; for example, invite every manager to the bi-weekly leadership meeting. This represents a cross-section of your organization since every department is present. They can exchange ideas, stories, and tips. Not to mention, moral support helps them manage stressful events. Another option is to assign an on-call manager every day who fields questions or concerns. For instance, your sales manager is standing by today in case staffers need guidance or sage advice. Just make sure this is voluntary and that it doesn't interfere with daily work tasks.
Host Skill-Building Webinars
Skill-building webinars center on specific competencies employees need to achieve their potential. This event might focus on communication skills, while the next covers the fine art of negotiation for sales staffers. You can even host weekend workshops from home. Employees must RSVP a few days in advance so that you know how many to expect. This also makes it easier for the instructor to prep. The event features several activities and discussions regarding various aspects of the skill, including real-world application and self-evaluation exercises. Try to break it into manageable sessions to prevent cognitive overwhelm. As an example, the workshop consists of two live events that are one hour each with a group social media chat afterward to cover additional topics or questions.
Promote Products Online
Remote meeting software is also ideal for promoting your products and services online, and not just to qualified leads and loyal customers. Why not host webinars for external partners, such as sales channels and call center staffers. This is particularly beneficial before a big launch. For instance, you're rolling out a new product line next week, and franchisees need to know the ins and outs, from specs and benefits to add-ons and care tips. So, schedule a live event to give them an inside look at the new items and how to demo them for clients.
2. Tips To Compile An Online Meeting Software Shortlist Today
Compiling a remote meeting software shortlist is easier said than done especially when there are so many platforms on the market. How do you weigh all the options? Are there certain web conferencing features that set top apps apart from the rest? Which evaluation criteria should you use to streamline the selection process? Those are a lot of questions to address when you're racing the clock. Luckily, we've got some tips to help you find the best remote meeting systems ASAP even if you're on a tight budget and are new to the world of online meeting software.
Evaluate Your Budget And Buying Requirements
How much can you spend and what do you need out of the investment? That's the first question you need to ask to compile your software shortlist, as it guides every aspect of the decision making process. So, create an accurate list that includes all setup fees and maintenance costs. Then identify which features you need to maximize ROI. It's also best to establish your use case. For example, you're looking for a tool for online training and client meetings. You'll also use it to host regular webinars and workshops so it needs to have recording and live chat functions.
Use An Online Directory To Narrow The Options
An exclusive online directory has the top vendors for every customer type and industry, which allows you to expand your current list and cross off providers that don't meet your buying requirements. For example, one of the service providers doesn't offer screen sharing, so this takes them out of the running. You can even filter results by features, pricing models, and other key criteria to speed up the process. Just make sure you use a reliable directory that's well known in the industry, preferably a site that gives you insider tips and tricks to choose the best tool, such as eBooks and vendor qualification articles.
Develop An Evaluation Checklist
Now it's time to develop an evaluation checklist based on your online training goals and expectations. The directory has all the product info, but every business has unique software considerations. For instance, you may need a vendor that offers more robust support because your team is inexperienced with remote meeting software. Pricing models, customer training resources, and usability are also items to add to your list.
Visit Vendor Websites
Vendor websites typically have client success stories, selling points, and detailed tech specs. Most web conferencing app companies also include pricing plans so that you can compare their subscriptions. For example, should you go with their basic level that supports up to 25 users? Or do you need to take things up a notch to unlock more features and invite more employees to live events? Another reason to check out their website is to look for free trials or demos. At the very least, they should have demo videos and screenshots so that you can see the tool in action.
Read User Reviews
Reading reviews is one of the best ways to dive into the real-world application without spending a cent or even spending time on a free trial or demo only to discover that it completely misses the mark. Reviews give you the opportunity to weigh all the benefits and drawbacks while web conferencing ratings cover everything from CX to usability. That said, it's important to consider the source. Does the site have fraud prevention? For example, some platforms require users to create an account then manually reviews their submissions, which helps to ensure that all ratings and pros/cons are from genuine software owners.
Check Out Social Media
Visit their social media page to see if vendors are active and how they interact with the public. For instance, one vendor has thousands of followers and they seem to reply to comments within minutes versus another software provider with only a handful of followers who take a week to respond. Another thing to consider is the quality of their comments. Do they lash out at anyone who leaves a critical opinion? Or do they handle themselves professionally and try to resolve the situation? Every company is bound to have critics from time to time. The key is how they deal with that constructive feedback.
Ask Employees For Suggestions
If your employees have already used web conferencing tools, ask them for recommendations. Which tools did they prefer and why? Were there any implementation issues you should be aware of? Do they know how much it cost and if it was worth the investment? You can even host a virtual round table (during your free software trial) to get suggestions. Everyone can share their past experiences with mobile meeting apps to help you choose the best tool. You can also send out surveys for more anonymous recommendations or if your team simply doesn't have the time to attend a live session and wants to provide more details, like standout features and things they liked best about the platform based on their job duties.
3. Crucial Features To Consider For Your New Remote Meeting Systems
Most remote meeting tools have certain functions in common, such as mobile accessibility and event reminders. However, top-notch apps deliver every item on your wish list without going over budget. They not only host client meetings and marketing events but allow you to train your team remotely so that every member of your staff can build core competencies, master company policies, and keep up with compliance regulations. No matter where they are or how busy their schedules might be. The question is: Which features do you need to maximize returns and improve employee engagement? You can also download our exclusive mobile meeting software guide to get the most value for money.
Screen Sharing
Mobile hosts can share whatever is on their screen with live event participants. This also comes in handy for team meetings as employees can show the group their work in progress to collect feedback and make revision notes. Yet another application for screen sharing in your L&D program is live task walkthroughs. For example, the instructor or manager demos every step of the process and then fields questions. You can even add it to your JIT library to refresh staffers' memories.
Audio Conferencing
Sometimes employees prefer to chat instead of switching on the camera. Maybe they're still in their pajamas or don't have the ideal backdrop (i.e. a room full of rowdy kids). Audio conferencing features give them the chance to still participate, minus the video component. This is also ideal for large groups, since multiple cams may not fit on smaller screens. That said, you should look for remote meeting software that allows you to switch layouts. For instance, it automatically highlights whoever is speaking or you can rotate displays.
Live Chat
This is another remote meeting software feature that is beneficial for large teams. Attendees can still chat with peers during the live event without drowning out the host. However, SMBs should also consider live chat functionality because it boosts employee collaboration. As an example, a staffer needs to share resource links or screenshots during the event. They can simply upload these in the live chat window to share their insider expertise. Just make sure that the tool also supports remote resource uploads in multiple formats. Ranging from docs to videos.
Breakout Rooms
Think of breakout rooms as mini hosting platforms. Small groups of employees can venture away from the crowd to discuss the topic or share feedback. For example, host a peer coaching session for those who struggle with the task or skill in question. Top performers can help their co-workers identify emerging gaps. Then bridge them with anecdotes and resource recommendations. Yet another perk is being able to host multiple session at once, as well as assign group tasks during VILT courses. Employees can divide into teams to create presentations and collectively problem-solve.
Recording
Without a doubt, recording should be at the top of your must-have features is this way employees who miss live events don't miss out on the fun. Plus, you can record events, edit them, then upload them to your library for JIT support. Some tools even have built-in editors and special effects. For instance, you're able to add transitions or visuals to enhance the viewing experience. This feature should also apply to audio conferences, which you can turn into podcasts for remote staffers.
Calendars
While some software has a calendar where employees can add events and set reminders, others use third-party integrations. For example, add-ons that automatically add webinars and team meetings to their Google Calendar. A tie-in feature is notifications. Mobile web conferencing tools should have push notifications so that users never miss an event. The app sends them a reminder a half-hour in advance so that they can prep and wrap up the current task.
Virtual Backgrounds
This is one of the most overlooked web conferencing tool features. However, it can transform any event into a professional affair. The host can choose from a wide range of backgrounds or even customize their own to incorporate logos and brand messaging. It's ideal for webinars and customer training workshops, but it also enhances the quality of your online training events and creates brand cohesion.
Support And Training
Some organizations assume they'll never need support other than basic FAQs that cover buying expectations and setup. However, you never know when support services will save the day, not to mention, customer training resources provided by the remote meeting software vendor. Many providers have email and live chat options, as well as an online knowledge base that features tutorials, demo videos, and troubleshooting guides. On the other hand, certain vendors have more advanced support options for an additional fee. For example, you pay extra every month to unlock phone support and a more robust help center, maybe it includes recorded webinars to maximize functionality or you get exclusive invites to their upcoming events so that you can ask questions in real time.
4. 7 Strategies To Follow For Mobile Web Conferencing Pricing Models And Costs
In order to secure funding, you need to know how much your new mobile web conferencing tool is going to cost, from upfront expenses to continual maintenance fees. It's also essential to research the most popular pricing models to make a strong business case, not to mention, get the best value for money and choose a tool that fits into your budget. So, how do you know which pricing plans are right for your organization? Are there any fees missing from your current budget?
Identify Your Max Spending Limit
Before you start researching pricing models and plans, you need to know how much you're working with. What's your maximum spending limit and is there any wiggle room in your budget? For example, can you spend a little more on additional features or support? It's always best to leave a buffer to cover unexpected fees. In addition, meet with your team to analyze the current online training budget and see where you can cut costs. For instance, remote meeting software might help you reduce ILT expenses by 75%. In which case, you can allocate those funds for your new eLearning program and web conferencing software budget.
Use An Online Directory To Research Pricing Options
An exclusive directory includes an overview of product features and specs but there's also a section for pricing options ranging from starting price and model to licensing type. There are even built-in filters to quickly identify vendors that meet all your pricing criteria. For example, only display those that offer one-time licensing or monthly subscriptions. Another thing to note is whether the provider has free trials and demos, as test drives allow you to try before you buy and get top value for money.
Weigh The Pros And Cons Of One-Time Versus Subscriptions
I briefly mentioned pricing models in the last section, but they warrant their own spot on the list. You need to weigh the benefits and drawbacks of each approach to fine-tune your budget. One-time licensing involves higher upfront costs. However, you don't have to worry about price hikes since you already own the tool. On the other hand, subscription-based remote meeting tools typically involve lower upfront costs, plus you can choose the plan that works best for your budget and upgrade whenever you like. The downside is that you may have to deal with price fluctuations and there are usually fewer customization options.
Consider The Cost Of Free Tools
Another option is free or freemium remote meeting apps. Of course, the most notable benefit is that you don't have to pay for licensing. However, free isn't free in this case, you still need to foot the bill for add-ons, upgrades, and support services. Some vendors also charge extra to unlock certain features. For example, you're unable to record with the free plan. There are even open source remote meeting tools that require more IT know-how. For instance, you may have to hire a tech specialist to install the tool and take care of back end coding.
Factor In Maintenance
Generally, web conferencing tools require less maintenance because they're hosted by the vendor and providers handle most (if not all) of the updates and tech upgrades. For example, they launch a new version of the software to include more robust reporting features. That said, there are other maintenance fees to consider, like integrations and new software purchases to keep up with tech trends, especially if you opt for a one-time licensing platform that requires you to buy the latest version of the software.
Add Support Services To Your Budget
Nobody really expects to use support services. We have high hopes when investing in new software. However, you never know when disaster might strike and it's always good to have a backup plan. As an example, your instructor or manager runs into an issue with user authentication. They've assigned usernames and passwords, but certain employees are unable to login from their mobile devices. If you invest in advanced support services, you can call the vendor or submit a help ticket instead of having to fix the issue on your own or rely on the user community, which may or may not have the answers you need when you're in a bind.
Plan On Implementation Time And Setup
Web conferencing software is usually relatively easy to set up. You download the tool online or log in remotely with your new credentials. However, the process may be more time-consuming and stressful than planned. What if your team is new to mobile meeting tools and it takes them a few days to explore the features? What if you need a week to customize the platform and get ready for your first live event? It's essential to create an implementation schedule and leave a little space for unexpected delays, particularly if your team is unfamiliar with remote meeting software or you purchase a more advanced platform. As a general rule, open source systems take more time to set up and roll out.
5. How To Evaluate Remote Meeting Solutions And Compare Specs
You probably don't get many volunteers to evaluate remote meeting software and choose the best tool. That's mainly because it's such a time-consuming process, not to mention stressful and resource-driven. The market is packed with top meeting solutions that are worthy of your consideration. So, how do you determine which mobile meeting apps meet your organization's standards? Which tech specs should you look for? And what's the best way to compare vendors on a tight timeline? Below are some insider secrets to assess all the options and find the right tech specs.
Vet Vendors In An Exclusive Directory
Some organizations still rely on the traditional method of vendor vetting. They find the best keywords, search the web, then visit landing pages individually. Let's face it, who has the time to start from scratch? Online directories feature the top vendors for your industry, customer type, and use case. That way, you can centralize your search and quickly compile your shortlist. It's not a replacement for vendor sites as you'll see later on. However, directory listings give you a springboard so that you don't have to sift through the SERPs.
Evaluate The Tool Features List
The directory also has a complete features list that's divided into categories, such as conferencing modes and customization options. It's important to have your own shopping list on hand so that you can contrast and compare. For instance, the "content management" feature is grayed out for your top choice, but you really need this function for your team, or they don't offer multi-language support for your global workforce. Are these deal breakers? Should you contact the vendor regarding add-ons or integrations that might fill in the gaps or is it best to cross them off the list and move onto the next provider?
Scope Out Their Tech Specs
Which browsers does the web conferencing app support? What are the deployment options? Can your employees also access the platform on their PC? Research their tech specs in the directory listing and use the built-in comparison tool to size them up. You can choose up to 3 platforms to evaluate side by side. Another way to assess mobile meeting tools is to read the product overview at the top of the listing. This covers the real-world benefits and main selling points.
Visit The Vendor's Site
As I mentioned earlier, you should still check out the vendor's site to make sure they meet your standards. This is also where you'll find a full list of specs, features, and practical perks. Some providers even include client success stories and case studies. While you're there, check out their customer training resources. Do they have an online knowledge base or help center? Is there a user community or social media group for software owners? Some vendors only unlock these features once you sign up. So, you may have to contact them for more info or, better yet, include it in your RFP.
Look For Online Reviews
Online reviews are there to help you avoid buyer's regret. You can see how the tool performs in real life and the top pros and cons of ownership. For example, the user mentions that the platform doesn't work on their mobile device and there were frequent disconnects or that the UI wasn't as user-friendly as they expected. Do these things matter to your organization? If so, these insider insights can save you a lot of time and expense.
Analyze User Ratings
Ratings are usually broader than reviews in that they don't highlight what users liked best or least about the platform. However, they are more targeted. You can immediately focus on CX, usability, and usefulness, which are all important aspects of vendor qualification. Ratings also highlight the likelihood to recommend and overall satisfaction score. Plus, every directory listing features a performance overview that sums up all the star scores.
Send Software RFPs
Submit RFPs to your top choices for customized estimates. Another reason to send requests is that vendors respond with a detailed summary of their platform based on your use case. For instance, these are your current online training challenges and this how their tool can help you address them cost-effectively. You should also invite them to recap their tech specs and available add-ons. Then review the proposals with your staffers to choose the best mobile meeting system. Don't forget to include follow-up details and deadlines so that vendors know what to expect.
Test Support Services
Some vendors might claim that they offer email support, but it takes them a week to respond or their user community hasn't been active in months. For this reason, you need to test their support services before making your final decision. Send a help ticket and see how quickly they reply. Are they knowledgeable about the tool? Do they answer your question without using over-the-top technical terms? Certain providers even host live events where you get more insights from sales reps and IT experts.
6. 7 Mistakes To Avoid When Choosing Online Meeting Systems
The truth is that choosing remote meeting software that falls short isn't the end of the world, but it can derail your VILT strategy and force you to dig deeper into company pockets, which has a ripple effect on other aspects of your business. For example, you may run the risk of compliance violations because employees are unaware of new policies. Policies that you would've covered in your first remote meeting or webinar. So, how do you steer clear of the obstacles and stick to your budget?
Unclear Budget And Roll-Out Schedule
You have a general idea of how much you'd like to spend but not a clear budget that itemizes all the costs. The same goes for your launch schedule. The catch is that these are essential ingredients for RFP success. Vendors need to know how much you've set aside for mobile meeting apps and how much time you have to implement them, otherwise, you won't get accurate proposals and cost estimates, not to mention, you'll probably overspend and put your entire launch in jeopardy. So, set a realistic budget and timeline that includes all associated costs and tasks, including setup and implementation of payroll hours.
Skipping Social Proof
Who cares about ratings and reviews when the vendor has all their selling points and benefits spelled out on their site, right? In reality, social proof is essential when vetting vendors and comparing your top choices. User ratings and reviews give you an inside look at the tool's usability as well as the vendor's customer service and support. You should also check out their social media profiles to see how they interact with followers. While you're at it, post a comment or question, then evaluate their response. For example, it only takes them a few hours to reply and they're knowledgeable about the tech.
Not Using An Online Directory
One of the most crucial mistakes you can make when choosing remote meeting software is not using free online resources, specifically an exclusive directory that features the leading mobile meeting apps in your price range. It should also be easy to filter results and focus on your must-have features, pricing models, or deployment options. For example, you can quickly eliminate vendors that don't offer subscriptions or only display those with screen sharing functionality. That said, it's important to verify directories to ensure their above board. Have they been around for years and do they specialize in software selection? Do they offer additional resources, such as buying guides and articles?
Foregoing Test Drives
Many organizations skip the web conferencing app trial or demo because they want to get started ASAP. They don't have time to beat around the bush and test drive multiple tools. However, trials are an integral part of the process, especially if you want to get top value for money. And don't think of it as time wasted, since you can always continue where you left when you purchase the tool. For example, you've already customized settings and hosted several webinars. Thus, when you do download the paid version, you have a head start.
Not Getting Team Input
This mistake ties into the last because you need to get your team involved as early as possible, which includes the free trial or demo. Invite them to try the mobile meeting app and provide feedback. What did they like about the UI? Were there any functions that were challenging to use? Could they join meetings on their mobile device or were there tech issues? You should also get their input regarding must-have features and support services. For instance, they may need advanced support because they're unfamiliar with web conferencing apps.
Forgetting About Needs Analysis
Training Needs Analysis should be a high priority since you're going to use the mobile meeting tool for L&D, among other things of course. Evaluate your current employee development strategy to look for areas for improvement, then repeat the process for your business needs. For example, your customer service stats have been on the decline this year. Why and how can you use the new remote meeting software to train your team and boost remote collaboration? Needs analysis also helps you craft more detailed RFPs since you know which challenges your SMB faces.
Prioritizing Price Over Value For Money
Most organizations focus on the price tag and ignore all the rest. They automatically rule out remote meeting solutions that are above the cap, even if they do meet all the other criteria. However, you should really be focusing on value for money. The top 3 tools on your list might be the most expensive. But they also deliver the most features and support services. Another thing that increases the overall value is customer training. For instance, one software provider has an amazing knowledge base, user community, and monthly live events. These all help you maximize tool functionality and ROI.
7. Unexpected Benefits Of Using A Remote Meeting Systems Directory
Should you use a remote meeting software directory to kick-start your search? In many respects, listings give you a superpower. That's right, you heard it here first. The usual approach is trying to find the right keywords and then conducting online searches, however, an exclusive directory gives you laser focus. You can use built-in filters to eliminate all the solutions that fall outside the scope. Then zero in on those that meet all your requirements in a fraction of the time, which unlocks a broad range of benefits you might not have even considered.
Verify Vendor Reputations
Vendors should have a positive online reputation. Granted, there may be a few negative reviews thrown into the mix if they've been in the industry for some time. But, overall, the good should outweigh the bad. Online directories give you the chance to verify their credentials and establish social proof. For example, there are ratings and reviews that highlight the pros and cons of ownership, as well as a performance overview that tallies the scores, including the likelihood to recommend.
Compile A Rapid Shortlist
If you don't already have a list of top remote meeting software, an online directory speeds up the process without cutting corners. You can thoroughly vet vendors through product overviews and ratings, or use the embedded filters to display tools that meet all your requirements. For example, you'll only consider platforms with recording and reporting features. Compiling a shortlist doesn't have to be a headache when using exclusive software directories, you can visit vendor sites and submit RFPs to vendors that make the final cut.
Assess Tool Usability
Ideally, you need online meeting software that's usable and not just for tech experts on your team who know remote meeting tools like the back of their hand. Fortunately, the exclusive online directory features a usability score. It also highlights support options and customer training resources provided by the vendor. Of course, you should sign up for free trials for firsthand experience. As a matter of fact, there are trial and demo details listed in the pricing overview for each vendor.
Evaluate Customer Experience
Customer experience addresses everything from support to tool expectations. For example, the vendor has a list of selling points on their site, but the software under delivers. This negatively impacts the CX score. This is yet another reason to use online directories for vendor qualification. One of the star ratings centers on customer experience and users can elaborate in their review.
Weigh All The Pricing Options
Request for proposals are still the best way to obtain accurate estimates. However, you can use an online directory to concentrate on providers that fit into your budget. For instance, only display remote meeting apps with subscriptions. The pricing overview also includes starting costs and a brief explanation of terms or conditions, like whether the vendor offers bulk pricing or the max number of users for the basic pricing plan.
Determine The Best Tool For Your Use Case
Users need to provide some basic background information when leaving reviews, such as their focus and niche. There are also filters for industry and customer type in the main directory, which allows you to choose vendors that align with your use case. For instance, they specialize in web conferencing tools for SMBs in the retail and customer service industries.
Find Vendors That Deliver Every Item On Your Shopping List
If you don't already have a remote meeting software wish list, that should be at the top of your agenda. Then you can use it to find vendors that meet all your requirements. This shopping list should include features, tech specs, and support options, as well as pricing models and deployment types. The comparison tool allows you to pick up to 3 vendors and evaluate them at a glance. So, have your list on hand to contrast and compare. For instance, the first software provider has a higher rating but they're missing some crucial features while the second is priced higher but delivers better support services. Without the directory, you'd probably have to visit every landing page and compile your own comparison checklist, then manually review their options to find the best tool for your remote team.
Avoid Trial And Error
You may not have the time to sign up for every free trial or attend every demo event, let alone send RFPs to all the top vendors and review their proposals with your staffers. Thus, one of the most notable benefits of using an online directory is avoiding trial and error. You can quickly narrow the options and focus on vendors within your budget who specialize in your industry, instead of spending days searching online, visiting landing pages, verifying review sites, and then submitting requests. In short, we've done most of the virtual homework for you so that you can spend more time actually setting up the tool and hosting your first live event.
8. Conferencing Software For Remote Meetings Versus Desktop Apps: Which Is Best For Your Business?
Is conferencing software for remote meetings the best choice for your telecommuting team or should you opt for a desktop app? Choosing the right mobile meeting solution involves a variety of factors, from online training objectives to employee preferences. Budget, timeline, and needs analysis also come into play. Fortunately, there are some questions that can help you find the ideal deployment type for your business. First, let's take a closer at desktop versus remote meeting software, as well as the benefits and drawbacks you should consider.
What Are Desktop Meeting Apps?
Desktop meeting solutions are locally installed, users must download the software onto their device before they can join meetings or attend live events. The upside is that you have total control of the server and data storage. Also, these platforms are usually one-time licensed. Thus, you don't have to worry about price fluctuations. On the other hand, mobile accessibility may be an issue.
What Are Mobile Meeting Solutions?
Mobile meeting tools are typically in the form of native apps or cloud-based solutions. Employees can access them from anywhere in the world on any device. They typically involve a monthly or annual subscription fee with flexible pricing plans. That said, you need a reliable internet connection to access the tool. For example, an employee may experience lag or pixelated images if there's slow WiFi.
5 Questions To Choose The Best Remote Meeting Platforms
What Are Your Team's Accessibility Preferences?
Does your team frequently use their mobile device to check emails or access online training resources? If so, then they probably will do the same for VILT events and meetings. As such, you should look for a mobile conferencing app that travels with them. They can also view event calendars and reminders offline so that they never miss a session even if they're out of WiFi range. So, how do you evaluate their accessibility preferences? Conduct surveys, polls, and focus groups to create a list of their top devices/browsers. You can also evaluate your LMS metrics if you already have an eLearning program. For instance, which platforms do they typically use to login to the JIT support library?
What Is Your Use Case?
Why are you investing in remote meeting software and what purpose does it serve in your organization? For instance, you need software to host client meetings, live online training events, and peer coaching sessions. Employees may work remotely or they're simply away from their workspace when it's time for the next team meeting, in which case a mobile conferencing tool is essential since they can join the discussion and exchange ideas with co-workers from anywhere in the world. Customers also benefit as they don't have to download the software on the PC to attend a live training event. They simply click the link in their reminder email to start the session.
Are There Any Tech Roadblocks To Consider?
No matter which deployment option you choose, the platform must be intuitive and user-friendly, but that greatly depends on your team's tech expertise. For example, it may be easier for them to login with their mobile device because they already use it for everything else in their lives, from checking their social media feeds to email replies. Then again, they may be more comfortable using their PC because they have an established setup, like a dedicated webcam, mic, and speakers. Another thing to consider is potential obstacles. For instance, some desktop meeting apps may not be compatible with your existing tools or it doesn't have SSO (single sign-on) integrations.
Do You Need To Train External Partners?
External partners are, for the most part, remote workers. They're still part of the team, but they're geographically dispersed. As a result, they probably don't have time to attend meetings or live training events on their desktop. They rely on their mobile device to stay connected and brush up on work-related skills from home. Keep in mind that there are a variety of key players that fall into the external partner category, ranging from shareholders and franchisees to sales channels and call center staffers. And all these people should be able to participate in live sessions on the go. Don't forget to survey partners to gauge their tech preferences and experience as well.
Is Social Media Integration A Must?
Employees can use the conferencing software for remote meetings to engage with peers during the event and take training to the next level. Some apps even have embedded social media icons that make it easy to post, tweet, and share valuable links. If social learning is a crucial part of your L&D plan, then mobile apps are your best bet. That said, you should still test functionality during a free trial or demo to improve ROI. For instance, can employees hop over to the Facebook page to chat about related topics after the VILT course? Are they able to upload resources in the live chat feed via their device or Google Drive? Can they use breakout rooms to continue the discussion and enhance the online training benefits?
9. Virtual Meeting Software Comparison: What To Consider For Mobile Application
There's no shortage of virtual conferencing tools that can help you boost global engagement, which makes remote meeting software comparison even more daunting, even if you have a realistic budget and targeted shopping list. It's still challenging to narrow the options and choose a clear winner. Thus, it's best to start with evaluation criteria. Which tool is easiest for your team to use and delivers all the must-have features? Is there a vendor that values customer service and support more than the others on your shortlist? Here are some of the things to consider when choosing conferencing software for mobile applications.
Usability And Usefulness
I've grouped these two comparison criteria together because they go hand in hand. Ultimately, the tool you choose must be easy to use for your employees and instructors, but it also needs to fulfill its specific purpose to boost ROI. If a mobile meeting app it's user-friendly, this diminishes its usefulness. The exclusive online directory has ratings and reviews that address both of these selling points. However, you should also try the tool for yourself to see if it suits your needs and tech skills.
Data Security
One of the main reasons why organizations avoid mobile or cloud-based meeting solutions is data safety. They assume that their information is more secure if it's hosted on their own servers or they use a locally installed system. However, many mobile app vendors have advanced data security measures, such as encryption and user authentication. For instance, employees are assigned usernames and passwords. If they access the tool from an unknown device, they must authenticate their ID.
Essential Features
Of course, web conferencing app features are another comparison point. The listing maps out the features for each platform, but you can also reach out to vendors for a more detailed overview. For instance, they can tell you which functions help you bridge existing gaps and add-ons that improve compatibility, like SSO or CRM integrations. Be sure to include your top features in the request for proposal so that they can link USPs to real-world benefits.
Push Notifications And Mobile Reminders
This is technically a software feature, but it deserves its own section on your comparison checklist. One of the primary perks of mobile apps is that they're convenient and accessible on the go. Push notifications and reminders keep events fresh in their memory. The platform automatically sends them a message before the meeting or webinar. They also get an email, just in case their notifications are switched off.
Brand Integration
Some virtual meeting software solutions allow you to integrate your own branding elements, such as logos and color palettes. Thus, you can make it your own and improve your image. For example, customer training events and marketing webinars feature your company messaging. This also comes in handy for employee development since it creates cohesion, everything aligns with your brand image and identity.
Tech Updates
The web conferencing software company can't just give you the tool and wish you the best of luck. They need to not only provide support (which I'll cover next) but update the system based on new technologies and trends, like offering a new version of the app to fix glitches and make it more intuitive. Then again, vendors need to limit how often they release tech updates because it negatively impacts usability. For instance, your team must get used to new features or specs every week because the software provider constantly changes the layout, or they incorporate unnecessary functions that just make it more challenging to host remote meetings.
Vendor Support
Support includes two key areas: services and training. Most companies offer basic options, like an email contact or FAQs. However, some take it up a notch with phone, live chat, and user communities, as well as tutorials, demos, and other resources to help you handle issues on your own. If vendors don't mention their support options on the site, contact them for more details. They should also include some of their training and support services in the directory listing. Finally, test it out firsthand during the free trial or demo. For example, send a help ticket with a simple question or concern to see how they respond. Are they silent for a week even after you follow up or do they reply within an hour and include helpful links?
Customer Type
Are you a non-profit looking for remote meeting software to educate volunteers and keep donors in the know? Does your small business need to launch a VILT program? Different mobile meeting tools support different customer types. There are some systems that are more generalized. For instance, they can handle thousands of users and offer diverse features. However, many cater to specific niches and you need to determine which is best for your company. How many attendees do you expect at each event? What are your future plans, and do you need to eventually train global staffers (i.e., multi-language support)? What is the software use case?
Conclusion
There are plenty of online meeting software solutions to choose from. The right remote meeting tools deliver all the crucial features your team needs to stay connected. So, the trick is knowing your expectations, budget, and needs to find the best tool for your remote workforce, namely one that's easy for everyone to use and has all the essential features to boost ROI. Use this guide to whittle down the options, then check out our free online directory for remote meeting tools. In fact, it can help you cross vendors off the list and add new ones based on your online training objectives.
What should you include in your budget? How do you compare the leading vendors? Download our eBook for all the answers. Mobile Meet-Ups: How to Choose The Best Remote Meeting Software For Online Training also addresses the most common mistakes to avoid for mobile software implementation success.