A Complete Web Conferencing Software Implementation Guide
Social interactivity, peer-based support, and team collaboration are the secrets to online training success. Employees must be able to build real-world skills in real time. Online meeting apps allow them to share experiences and collect immediate eLearning feedback. But how do you know which web conferencing software is best for employee development? Once you overcome this obstacle, how do you implement web conference training tools to hone in-house talent and bridge performance gaps? Our eBook gives you all the information you need to choose and use virtual meeting tools to your advantage. First, let's debunk some of the most common myths regarding web conferencing in online training.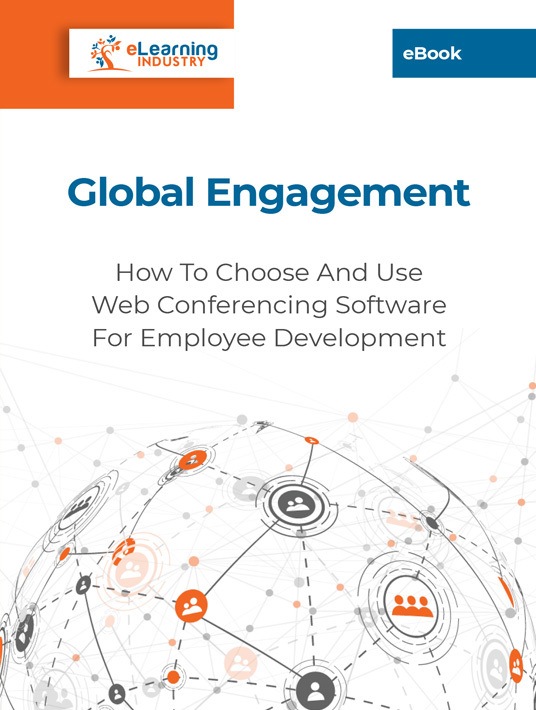 eBook Release
Global Engagement: How To Choose And Use Web Conferencing Software For Employee Development
Find web conferencing solutions for organizations working remotely and geographically dispersed teams.
Web Conferencing Myths And Misconceptions
1. Strictly For Client Meetings
Many organizations purchase web conferencing tools exclusively for client meetings. They must be able to schedule face-to-face sessions to discuss project specs, gather eLearning feedback, and provide personalized support. There's also the all-important virtual sales pitch meeting. However, video conferencing software has a variety of applications that extend far beyond virtual meet-ups. That said, it is a highly effective way to engage with customers and build brand loyalty. They aren't just speaking to a faceless rep over the phone or via email. Online meeting apps allow for greater interactivity and foster an emotional connection.
2. Limited Functionality
From hosting live workshops to managing online training materials, video conferencing possibilities are virtually endless. One of the most common myths regarding online meeting tools is that they're limited. However, there are numerous creative applications for online training and talent management. In fact, our downloadable eBook highlights innovative ways to use the web conferencing tool for back-end development and front-end engagement. When trying to make your business case, think of all the potential uses for web conferencing in your organization. Workshops, peer support groups, and performance evaluations are just a few ideas to consider.
3. Free Web Conferencing Software Will Suffice
You've come this far with free video chat tools. So, you don't really need all the bells and whistles, right? In reality, more advanced web conferencing features can enrich your online training strategy and improve the L&D workflow. Things like whiteboards and instant messaging streamline the eLearning development process and boost interactivity during live events. Support services are another feature to consider. For example, many vendors have online knowledge bases and active user communities to maximize functionality. Some even have live chats or email/phone support to help you navigate common implementation challenges.
4. IT Experience Is Required
A perk of investing in web conferencing software versus free video chat tools is that they're customizable. But this doesn't necessarily mean you need a dedicated IT team. As a matter of fact, the platform should be user-friendly for everyone, not just the tech gurus among them. The vendor should also provide online training resources to lower the learning curve, such as online training tutorials and video demos. Granted, it is best to have at least one IT expert in-house to handle more complicated issues and/or custom-tailor the platform, even if it's a consultant or outsourcing partner who can help on a case-by-case basis.
5. Too Costly For Small-Scale L&D
Your SMB can't afford a video conferencing tool, right? There simply aren't enough people on your payroll to justify the purchase. Maybe you're worried about the ROI since most of your training is currently offline. In reality, every organization can benefit from web conferencing software. Use it to expand into different markets with external partners and customer training events. Allow your L&D team to work remotely and invite collaborators to discussions. Of course, you can also use online meeting apps to host webinars to improve your brand image and online presence.
6. Limited Accessibility
When most people think of video conferencing, a big PC screen springs to mind. Or maybe pixelated images thanks to slow internet connections. The truth is that most modern web conferencing solutions are optimized for on-the-go collaboration. Employees can access the platform on their mobile device to attend live events and revision sessions anytime, anywhere. These web conferencing tools are also compatible with today's tech standards and bandwidth requirements. For example, they might automatically lower resolution to ensure that everyone can participate in the virtual discussion. However, you should verify the tech specs with the vendor and ask about the user caps. You don't want to flood the servers with more attendees than it can handle.
Your Guide To Selecting And Implementing Online Meeting Apps
Not all tools are created equally. You need web conferencing software that can handle your max attendee count, deliver all the essential features, and fall into your price range. Here is a preview of the buying tips and software implementation secrets you'll find in our downloadable eBook, How To Choose And Use Web Conferencing Software For Employee Development.
The Role Of Web Conferencing Software In Corporate Training
Key Features That Make A Web Conferencing Software Stand Out Of The Crowd
Web Conferencing Software Perks For Your Profit Margin
Innovative Ways To Use Web Conferencing Software For Online Training Materials Management
Ways To Find The Right Web Conferencing Software For L&D Content Management
Tips To Use A Web Conferencing Software Directory To Avoid Buyer's Regret
Insider Secrets To Vet Web Conferencing Software Vendors
Organizations usually associate web conferencing with remote client meetings and collaborative brainstorming sessions. A "back-up plan" for when staffers are out sick—or on lockdown—but still need to share their eLearning feedback and online training content contributions. In truth, online meeting apps should be an integral part of your online training strategy. Hosting live events, building a better team dynamic, and managing online training resources are just a few benefits they bring. Download our eBook, How To Choose And Use Web Conferencing Software For Employee Development, to invest wisely and avoid implementation delays.