Tips For Your Web Conferencing Software Vendor Research
It's not just the price point and stand-out features you need to consider when implementing participant management software. Does the web conferencing software vendor stand behind their product, even after the purchase? Do they have an active online user community? How long have they been in business and do they specialize in your niche? Many organizations get caught up in the specs and selling points. They're so focused on how the product looks "on paper" that they forget about real-world performance. This usually results in buyer's regret, long learning curves, and diminished ROI. Use these 7 insider secrets to vet web conferencing software solutions and choose the best web conferencing tool for your bottom line.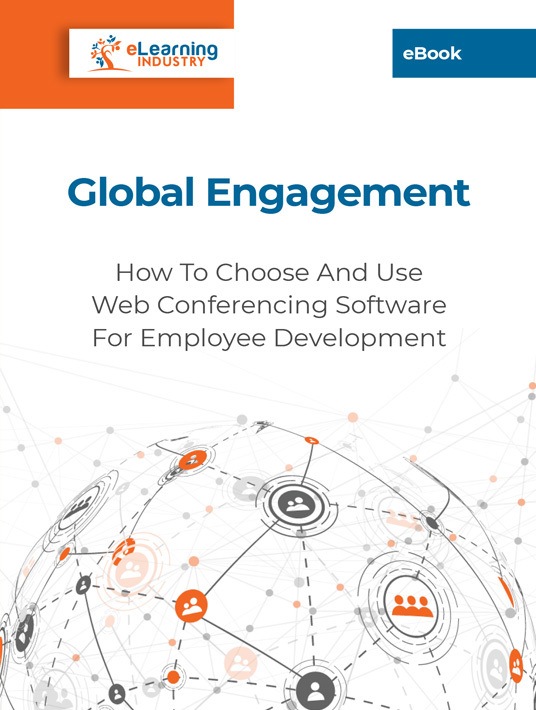 eBook Release
Global Engagement: How To Choose And Use Web Conferencing Software For Employee Development
Find web conferencing solutions for organizations working remotely and geographically dispersed teams.
1. Read The Company Overview
A credible participant management software directory will have a company overview that covers all the essentials. It's not a comprehensive history of their organization, but it can serve as a springboard for vendor vetting. For example, you can determine which browsers and platforms they support, as well as, the deployment types and customer online training resources. There's also a brief intro that gives you a feel for the company's specializations and target audience. For instance, they may cater to SMBs that need to tackle digital training, webinars, and online training materials management using a single tool.
2. Take A Closer Look At Their Customer Base
The online directory listing should also include a detailed list of their customer base. Is their platform geared toward freelancers and small businesses? Does it support large-scale online events that involve thousands of users? If they don't specifically mention your use case, follow up with the web conferencing software vendor to ask about their offerings. Outline your online training objectives, price range, and other key project specs to see if their platform suits your unique needs.
3. Scope Out Support Services
Support services range from basic online FAQs to phone calls with an experienced tech specialist. This is why it's so crucial to assess the level of support you can expect from the online training webinar tool vendor. Test their responsiveness and customer service with a quick email or IM. Are they able to address your concerns and explain how the selling point translates into real-world benefits?
4. Get A Sneak Preview Of Their Support Library And Online Events
Does the vendor have online tutorials to help you through the setup and customization process? Is there an active user community where you can find implementation pointers? Evaluate their online knowledge base and event schedule to get the best value for money. Some meeting management software vendors host live training webinars and demos to lower the learning curve. At the very least, they should have an active social media presence and troubleshooting guides or video clips to help you navigate tech challenges.
5. Evaluate Their Landing Page
The vendor's landing page or company website is packed with information, from notable organizations that use the web conferencing tool to pricing plans. However, you need to read between the lines to vet vendors effectively. They should explain all the perks of web conferencing software ownership and how they stand out of the crowd. The sales pitch should be clear and concise, free of exaggerated claims. Aesthetics is also crucial. Is their landing page visually appealing and well organized? Is the layout intuitive? Bear in mind that their landing page usually reflects their platform design.
6. Schedule A Test Drive To Gauge Real-World Performance
Reading about the features and specs will only take you so far. You really need to put the platform through its paces to see how it performs in the real world. That's what free trials and demos are for. Schedule your test drive and get the whole team involved. Everyone who uses the web conferencing tool should be able to evaluate the features firsthand. Here are just a few ways to gauge the functionality and user-friendliness of your potential web conferencing software:
Host a webinar or mini-workshop and invite a select group of employee training participants. Can they interact with peers using the instant messaging and/or discussion boards? Is it easy to manage attendance and track engagement?
Schedule an L&D brainstorming session where staffers can collectively revise online training content, share ideas, and transfer files. Are they able to use the built-in whiteboard to jot down eLearning feedback notes? Or host video calls with remote collaborators?
Set up a peer coaching event that allows employees to exchange eLearning feedback and explore difficult work processes. For example, screen sharing to show a new hire how to access the system or ring up a sale.
7. Set Up A Meeting
In some cases, you may need to schedule a meeting with the vendor's sales rep to fill in the gaps. Compile a list of questions to respect everyone's time and provide them with requirements beforehand so they can prep accordingly. For instance, the average number of users/event attendees and daily tasks. How will your admins and online training content creators use the system to develop and manage online training resources? Which online training materials do you usually include in your live event presentations (e.g., video demos)? This is also an opportunity to clarify any issues you had during the free trial or demonstration.
Web conferencing software vendors cater to different markets and collaborative requirements. Thus, it's imperative to identify your online training needs, L&D work practices, and the role that video conferencing plays in your online training strategy. Will you rely on the web conferencing tool for daily meetings and online training content revision rounds? What about weekly webinars with the team to bridge emerging gaps? Or will the use be limited to periodic live events and remote client meet-ups? These questions will help you narrow down the list of essential features and achieve maximum returns.
Want to learn more about the benefits web conferencing software can offer to your organization? The eBook Global Engagement: How To Choose And Use Web Conferencing Software For Employee Development is full of helpful tips and innovative solutions that will help you retain the effectiveness of your online training strategy and build a strong company culture even if your workforce is working from home.