How To Make A New Employee Onboarding Checklist - Your All-In-One Template
One goal of onboarding is to get new employees comfortable and feeling like they're part of your company's culture from the moment they sign their offer letter, because that's when their onboarding experience truly starts. You probably already have a checklist of things you need to do. Now let's take that to the next level.
Remember -it's important to have a plan customized for each new hire onboarding. Having a plan to ensure employees go through the list of all the 'to do's' and have fun throughout their entire onboarding is the best way to immerse them in your company culture and make them feel comfortable in their choice to join your team.
The onboarding process for new employees varies based on the unique role each new hire has to play. Whether you're onboarding a couple of employees a year or hundreds every month, without a repeatable process of onboarding, you could potentially miss including important information for new hires.
We have developed this new employee onboarding checklist template into a 5 (yes five!) phased approach for onboarding checklist for your new hires as an outline for how to implement the most optimal training.
Pre-planning the essentials before starting
Day 1 and kick off
 Explaining 'Why you're here…'
 Job-specific training
First 30, 60, 90 days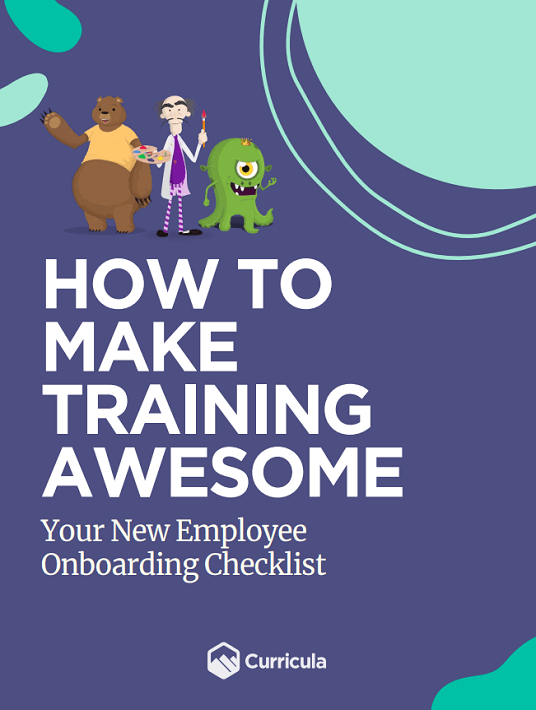 eBook Release
How To Make Training Awesome: Your New Employee Onboarding Checklist
Learn insider tips to banish the boredom and boost new hire engagement!
The Ultimate Employee Onboarding Process Checklist
You already know that you need to have a plan for onboarding but we'll dive deeper into how to make a new employee onboarding checklist template and examine all the points of a successful onboarding process:
Phase 1 = Pre-planning the essentials before starting
Background checks
NDA, non-compete
Payroll / direct deposit
Filling out the health benefits and insurance paperwork
Prepare a swag pack with your new company's t-shirt and other fun items
Tech - computer, laptop or phone
Set up email / Slack or Teams / Zoom or virtual meetings account
Parking
Annual schedule for holidays / vacation
Instructions for how to request time off
Let's also consider how to make a checklist for your new employee training content. Is there a central place with this type of information for new hires?
Employee Training Manuals
Employee Onboarding Video
Folder with recorded interviews with customers, demos, etc.
User journeys and company stories
Phase 2 = Day 1 And Kick Off
Before you get into their onboarding, let them know what Week 1 will look like so they can also plan accordingly
Show them this checklist to set expectations
Share the 'intro to company' training content

Review the employee training manual

Show the employee Onboarding VideoShare the folder with recorded interviews with customers, demos, user journeys and company stories
Advise them on how to communicate with your coworkers

The process for internal communications
What tools you use
knowing who to reach out to and where
A big consideration for cybersecurity - the moment you hand an employee their new computer, device or online account is the moment your new hire becomes a vulnerability so instruct them on how to:
Turn on two-factor authentication / multi-factor authentication
Where to get information - file servers, where things are stored, where to get access to online training
All should happen on Day 1 to make sure they're protected against a potential cyber attack.
Phase 3 = "Why You're Here"
Instead of diving into directly 'what' their specific job entails, it's about why they're here at your company including your:
Mission
Vision
Company culture
Core values / ethics
Origin story of how your company started
Annual goals - where your organization is aspiring to go over the next 1-3 years
Meet the team + execs

Investors
Organizational hierarchy
Who is on your team to help you
Learning the product/business at a high-level

Understanding why your business exists
Phase 4 = Job Specific Training
Why their job matters
Expectations
Their team
Their role
Access to systems they need
How they work with other departments
Everything they need to know to get the job done
Phase 5 = Handoff - First 30 Days
30, 60, 90 days plan
Adapting to new role
Learning by doing
Collaborating with team
Potential roadblocks, discovery, etc.
Wrapping Up Your New Employee Onboarding Checklist
To get started, just begin by writing out this list of requirements for what you need to do for your new employees. One consideration, you'll also need to confirm that compliance, culture, and security are all included as basic components of this new hire successful onboarding process.
We wrote the eBook How To Make Training Awesome: Your New Employee Onboarding Checklist, so you can jump around to the parts of this book to find the information you need to be successful with your new employee training. Each chapter ends with key takeaways, and you can also replay our webinar where we discuss how to incorporate storytelling into your employee training.
References: