Most Useful Learning Management Systems For Product Knowledge Training
How necessary is product knowledge training for your organization? Very necessary, I'd say. Please let me elaborate. Every business has one main goal: happy customers. But to reach this result, not only do you need to have a great product (or service), but your team must also have the product knowledge needed to support and satisfy prospects and customers. Hence, for successful customer service, excellent customer experience, and improved satisfaction, using one of the best product knowledge training LMS tools is vital.
First of all, in-depth product knowledge is essential. Trust me, every customer-facing team member in your business has so much to gain with this type of training. From features to best practices, it's one of the best ways to ensure that you're delivering an exceptional customer experience. However, product training is not just for your salespeople and support team. If you want to establish brand authority and customer retention, you'll need to focus on customer training as well.
So, how do you get customers, partners, and employees up-to-speed on your product or service? The answer: product knowledge training. Are you ready to see which Learning Management System is the best to create your product and customer training?
Check out eLearning Industry's list of the top LMS software for product training to:
Explore LMS solutions that meet your training budget
Compare product training solutions
Examine top LMS features to create product training courses
Evaluate LMS tools, read reviews on UX
Choose the best tool to achieve business goals
Best LMS Tools For Product Knowledge Training
What's The Best LMS For Your Product Training Needs?
Find, choose, and compare top LMS platforms for product knowledge training. Read fresh reviews and explore top features in our niche directory.
Top List Ranking: eLearning Industry's LMS Selection Criteria
Globally recognized LMS experts, including C. Pappas and our editorial team, did a thorough review of each vendor's eligibility and relevant published content (articles, eBooks, webinars). Our committee ranked the best LMS software for product knowledge training based on the following 9 criteria:
Customer support
Customer experience
Software features
Software innovation
Customer reviews
Economic growth potential
Company's customer retention
Employee turnover
Company's social responsibility
After checking the list rankings of this top list, please focus on our insights and tips. You'll find all you need to make your product training LMS selection so much easier.
Why This Type Of Training Is Essential And How To Leverage It For Business Growth
By focusing on product knowledge training, managers ensure that sales professionals can communicate effectively with clients and prospects. Consequently, your sales teams can be more enthusiastic and manage to build trust and confidence in customer relationships. As a result, you empower your employees to answer questions on the spot and overcome common customer objections.
When you implement a product training program, your main focus is on educating your sales force on the benefits and features of what you sell.
Such a program will help your teams better understand your product (or service or solution). For example, they'll be able to point out (when asked) what problems it's intended to solve. In addition, by understanding how it actually works, they'll have in-depth knowledge. Hence, that is going to give them more confidence to become true ambassadors for your business.
Your product training program can include anything from costs and various configurations to how you handle matters internally to ensure the client gets what they bought. Finally, your training can shed light on everything else you might need to talk about the product or service. The majority of product training is delivered in a classroom environment. Meaning, the facilitator is doing most of the talking and answering questions along the way. However, with the assistance of digital learning solutions, like the LMS tools on this list, you get more opportunities to deliver training in engaging ways to keep your teams excited!
Benefits Of Product Training
Product knowledge is essential for any business. Why? Because it is vital to help your employees fully understand your services. Hence, they'll be able to communicate effectively with customers. However, product knowledge is critical for your customers as well! After all, they need to get the most out of their investment.
By developing a product training program, you'll manage to:
Improves sales
Create a better customer experience
Better support your customers
Increase product adoption and retention
Boost customer and employee confidence
Save customer support cost and time
Furthermore, you can offer several types of training for product knowledge since it falls under a big umbrella. For instance, when you land a new customer, most likely, they will need your assistance to figure it all out. Trainers can use a great variety of tools to provide practice opportunities.
For example, you can use simulations, role-plays, game mechanics, and other techniques for learners to apply their product knowledge in real-life situations. You may also leverage microlearning to create bite-sized pieces of content. The above can work both for your employees and your customers.
Microlearning will undoubtedly help your learners process and retain information easily. Thus, short, bite-sized videos can demonstrate products or services quickly and effectively, providing a concrete visual memory that learners can use later on. You may also want to combine it with gamification features to spruce things up a bit!
I can indeed promise you that product training:
Transforms employees from support agents and sellers to client partners
Increases trust and enhances your authority by improving customer experience
Make sure you provide ongoing product knowledge training. The best solution would be to integrate training into your organizational culture so that employees seek training when they need it.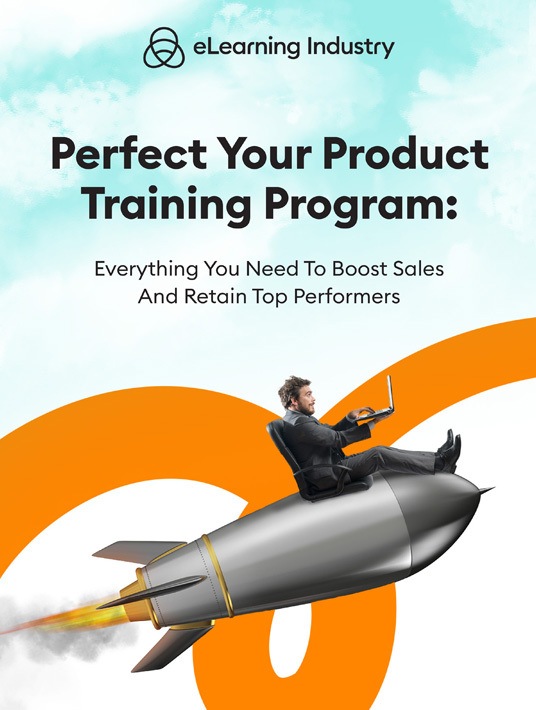 eBook Release
Perfect Your Product Training Program: Everything You Need To Boost Sales And Retain Top Performers
This ultimate guide shows you how to perfect your product training program, from choosing the right activities to hiring a vendor that addresses all your L&D needs.
Next Steps: LMS Comparison And Evaluation For Product Training
Surely you're now ready to get your employees up-to-speed on your product. After all, product knowledge training is the doorway to drive business goals and increase sales rates.
Information technology aids salespeople and customer support employees in creating and maintaining relationships with customers. The more knowledgeable they are, the better. If you're looking to amplify support and satisfy customers, you can't go wrong with this one! Make sure to have clear objectives. And, don't forget to identify customer needs to create a training program that answers all their questions.
Are you looking for product knowledge training ideas? There are plenty! You can create product training for sales reps, customer service, new hires, customers, and partners, even your marketing department can leverage such a program. It all depends on what you want to achieve.
Here's what you need to consider when choosing your product knowledge training LMS:
Explore all its features and capabilities
Read online reviews to learn about the UX
Think about scalability and if it affects your budget
Visit their website to see case studies and award wins
Start an LMS free trial to test and decide if it's a good fit
Let's sum things up, shall we? By choosing the right LMS, you will be able to:
Create a consistent training program
Have scalable product knowledge training
Automate time-consuming workflows
Leverage mobile-responsive learning
Create engaging training sessions
Measure training impact
So, make sure to choose a platform that is simple to use for both admins and employees. Finally, your choice should allow you to train your teams with different types of training. Be it virtual classrooms and videos or simulations and competency-based learning, you need to have options. Remember, deep product knowledge translates into rock-solid confidence.
You can now visit our directory to compare the best LMS tools!