An Ever-Growing Industry
The online training industry, boosted by various innovative training methods, is expected to reach $375 billion by 2026, growing at a clip of 8% per year. It's easy to see why, as more organizations adopt remote working and technology continues to rapidly innovate.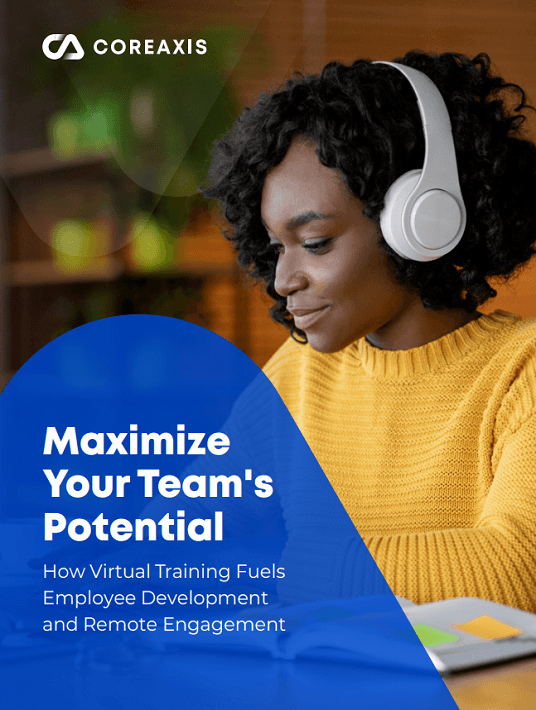 eBook Release
Maximize Employees' Potential With The Right Virtual Training Partner
This eBook will reveal to you the secrets to finding the right virtual training partner.
In order to not get left behind, it's critical to choose an outsourcing training partner with an expansive, dynamic toolkit. According to eLearning Industry, there are a few key immersive learning solutions that have accelerated virtual training innovation:
Augmented Reality
As cell phone technology advances, Augmented Reality (AR) has become more accessible than ever. AR takes the environment around your viewing device and superimposes a program's animation or information on it. Manufacturing companies have used AR to provide content that shows operators how to properly use machinery at the point of need, enhancing onsite safety.
Virtual Reality
Unlike Augmented Reality, Virtual Reality (VR) exists in a completely fabricated environment and requires a specialized headset. As VR becomes more mainstream, headsets are more cost-efficient and organizations are adopting it more regularly in training programs. Accenture implemented VR to help social workers learn how to best communicate with families in crisis, giving them a risk-free "on-the-job" training experience.
Gamification
There's a reason companies like Orangetheory and Starbucks continue to be industry leaders; they've tapped into customers' social and competitive natures using gamification. The modality is exactly what it sounds like: applying game-like principles to non-game situations. In virtual learning, organizations have implemented gamification in manager development programs by having participants respond to various scenarios and promoting them to the next level—or holding them back—based on their response.
Microlearning
One of the pitfalls of traditional virtual training was the length of lessons, which could make learners distracted and disengaged. Microlearning combats that by offering small bits of content aimed at driving home one or two key points. For instance, companies have used microlearning to teach the various aspects of IT safety compliance, with individual pieces of content on topics like password protection and phishing.
Video Learning
Thanks to an increase in mobile learning and microlearning, video has become ingrained in the virtual learning space as well. More than three-quarters of employees at large organizations report viewing work-related videos at least 3 times a day. Companies like Google and HubSpot have made videos the basis of their online certification programs in order to add an engaging human element to the content.
The Rise Of Innovative Training Methods
These modalities break the mold of standard online learning, enabling you to engage learners like never before. In addition to increasing knowledge retention and applicability, research has shown that comprehensive training programs with varied and innovative technologies also grow revenue per employee by 218%, and overall profit margins by 24%.
The Case Of Thermo Fisher
Thermo Fisher Scientific, a multimillion-dollar corporation with more than 78,000 employees worldwide, experienced the power of innovative, immersive training methods firsthand. Facing the challenge of creating an online financial literacy program that could be scaled, Thermo Fisher enlisted CoreAxis Consulting's team of experts and expansive toolkit. After assessing the content and format options, the CoreAxis and Thermo Fisher teams determined blended learning was the most seamless and engaging way to teach a multitude of learners, ranging from engineers and scientists to account managers and marketers.
Before designing the course, CoreAxis shared its capabilities toolkit, which includes digital learning, microlearning, VILT, collaborative team spaces, translation, and high-end UX/UI, with Thermo Fisher. The teams agreed that digital learning with micro-courses should be the main delivery method, with accompanying videos, video conferencing, and a collaborative team space to supplement learning. In addition, simulations and knowledge checks were built into the micro-courses to elicit participation and understanding. Revenue and profits also steadily increased after the program was introduced. These strong indicators of improved budgeting and reporting practices as a result of the multifaceted blended learning program enabled Thermo Fisher to hit its goals and deliver on forecasts.
A Much Needed Tool In Your Toolkit
Building a virtual training course isn't necessarily easy, but having a dedicated team in place that can handle each step of the process and is fully up-to-speed and invested in your goals accelerates the process, and ensures your program is dynamic, optimized and effective. For more helpful advice, the eBook Maximize Employees' Potential With The Right Virtual Training Partner will explain everything you need to keep in mind, with great examples and thorough analysis.