Crucial Questions To Help You Evaluate Video Conferencing Services Right Now
A lot goes into the video conferencing services vetting process, from making a successful business case and setting a realistic budget to qualifying vendors and submitting RFPs. In fact, every department has its own challenges, expectations, and features in mind, which makes it even more challenging to create evaluation criteria. How do you know which selling points deliver top value for money? Is there a way to try before you buy to gauge functionality? The list goes on and on. Below are 8 crucial questions to help you evaluate video conferencing services and maximize value for money.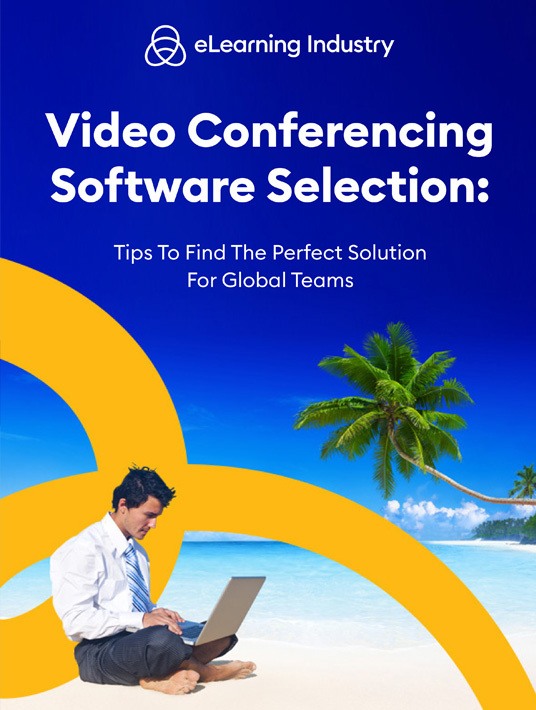 eBook Release
Video Conferencing Software Selection: Tips To Find The Perfect Solution For Global Teams
Discover how video conferencing software can help you maximize ROI and reduce ILT expenses!
8 Essential Questions To Help You Evaluate Video Conferencing Services
1. What Is The Ideal Price Point?
Different video conference systems have different pricing models. As such, you need to calculate your budget and focus on solutions in your price range. So, how much can you spend on the best video conferencing software? Some vendors offer monthly subscriptions and pricing tiers. However, there's no guarantee that fees won't go up. Another popular option is one-time licensing, which locks you in at that price. The drawback is that you have to pay for the software upfront, instead of breaking it up over time.
2. What Level Of Support Are You Looking For?
All video conferencing service providers offer some level of support, even if it's a basic online FAQ and email contact. But your team may need more than that. Evaluate their preferences and experience to find the ideal level of support for your staffers. Do they need live chats or phone assistance? What about an online knowledge base that features demos and step-by-step instructions? Some vendors even have experts who help you set up the tool and get an implementation head start.
3. Which Features Are At The Top Of Your List?
You probably already have a general idea of the features you need and why. However, it's best to compile a detailed list that covers the essentials, and maybe even some "luxury" items. This allows you to zero in on platforms that deliver the key functions you're looking for in one package, instead of having to invest in multiple systems to fill in the holes. It's also a great way to get an RFP head start as you can simply plug this "features wish list" into your template, along with additional buying requirements.
4. Does The Vendor Have Verified Social Proof?
Every vendor should have an online presence, even if it's just a social media page where you can find more information and see how they interact with customers. Reviews and ratings are also essential since they help you determine if the product is tried and tested, as well as how it performs in the real world versus on paper (or screen). However, the social proof needs to carry weight. Glowing reviews mean nothing if they're sponsored. For example, users need to sign in to leave a review, which reduces the risk of fraud.
5. Is It Easy For Everyone To Use?
You shouldn't need a master's degree in computer science to use the video conference system. Everyone on your team should be able to use it from day one. Granted, it may require an adjustment period to test out the features and troubleshoot minor issues. If the vendor offers free trials or demos, take them up on their offer as it gives you the opportunity to evaluate every aspect of the platform for your use case. Your team can also test drive the tool and provide feedback based on their job roles or duties.
6. How Many Users Does It Support?
Many video conferencing systems have a user cap. For example, you can invite up to 100 attendees to each event, at which point you may have to upgrade to the next pricing plan or simply break the session into multiple events to accommodate everyone. Estimate your number of users and include it in your vendor RFP, so that providers know which subscription tier meets your requirements without going over budget. For instance, they do support 125 users, but that package is out of your price range.
7. Does The Vendor Keep Up With Tech Trends?
You want your video conferencing to be cutting edge, which means that the vendor needs to stay one step ahead of the trends. They should also be willing to incorporate new tech into their software, for example, add new features to stay competitive and improve functionality for your team. Check out their social media page and website to see if they mention tech specs. Do they talk about new video conferencing innovations? Do they seem knowledgeable about compatibility issues and integrations?
8. What Hardware Is Required?
What do employees need to join meetings and attend live events? In most cases, a webcam and mic are all it takes, and mobile devices have those built-in. However, some systems have higher tech requirements. For example, you need smartboards to use their whiteboard feature, or a special video conferencing cam that features advanced controls. You also need to make sure that the software is accessible on your go-to browsers and devices.
Conclusion
The answers to these burning questions can help you choose the right video conferencing services for your remote workforce. However, it's just a springboard. You should expand the list based on employee work practices, tech skills, and preferences. For example, your staffers may need additional support to get up and running in record time, or additional features that make their lives easier and boost tool functionality. So, gather their feedback, then head over to the exclusive online directory to find the best video conferencing software for your budget.
How do you choose a video conferencing system that fuels team collaboration? Our eBook Video Conferencing Software Selection: Tips To Find The Perfect Solution For Global Teams covers every step of the buying process.