Always Relevant, Never Outdated: Your Rapid eLearning Guide
The beautiful thing about rapid eLearning design is that it allows you to reuse assets you already have, from archived webinars to course templates. However, you need to know the steps involved and pitfalls to steer clear of to achieve your objectives and fully engage employees. Our rapid eLearning eBook has all the fundamentals you need to speed up the process without scrimping on employee engagement. Later, I'll highlight all the tips and tricks you'll find in Always Relevant, Never Outdated: Your Rapid eLearning Guide. But first, here are 5 rapid eLearning design myths and the truths behind them.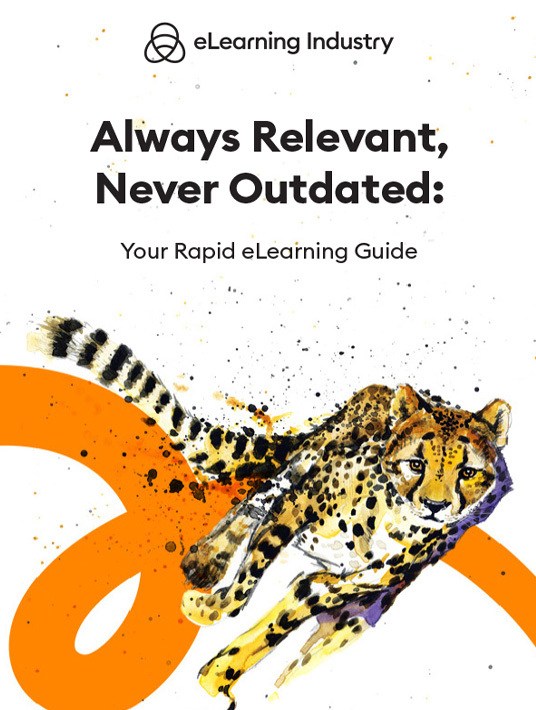 eBook Release
Always Relevant, Never Outdated: Your Rapid eLearning Guide
Should your L&D department implement a rapid eLearning strategy? This rapid eLearning guide will help you answer that question based on your objectives and use case.
5 Rapid eLearning Design Myths That Might Hinder Your L&D Program
1. It's A Cookie-Cutter Design Approach
This myth is partially true, but only because designers use the same templates over and over for the sake of time. There's nothing wrong with templates. In fact, they're a crucial ingredient for rapid eLearning design. However, you need to personalize resources and add interactive elements. You should also consider learners' preferences, goals, and gaps when creating rapid eLearning experiences.
2. Rapid eLearning Leaves No Time For Revisions
You speed through the rapid eLearning process as quickly as possible, which leaves no room for revisions. In truth, rapid eLearning involves multiple feedback and revision rounds. You should even develop a working prototype to make sure everyone's on the same page. If you choose to outsource, ask the content provider about the project phases and communication guidelines. Are they willing to meet with you after each stage to gather feedback?
3. Rushed Development Leads To Low-Quality Results
Rapid eLearning isn't a marathon; it's a sprint. So, you can't expect high-quality results, right? This myth is probably the most damaging. Many organizations avoid rapid eLearning because they think it leads to sloppy courses and low employee engagement. In reality, rapid eLearning isn't about rushing or skipping steps. You need an effective strategy, storyboard, and implementation schedule to get top-notch results.
4. No SMEs Or IDs Are Involved
You don't need any prior experience or insider know-how, as rapid eLearning allows you to curate content and plug it into a template. It's as simple as that. This couldn't be further from the truth. SMEs and instructional designers are key players in the rapid eLearning development process. In fact, the SME is the primary source of information. They help you choose the best takeaways and improve knowledge transfer, just as IDs identify the best delivery methods and principles or theories.
5. It Has A Short Shelf-Life
The final myth is that rapid eLearning must have a quick expiration date; that it's only meant for online training topics with a short shelf-life. Once again, this is completely false. Rapid eLearning can be used for a variety of L&D applications and topics. For example, incorporating certification paths that become a permanent part of your online training library, especially if you maintain them and add new content to keep it relevant. You can also implement rapid eLearning for JIT support. For instance, compile existing resources or break courses into bite-sized modules.
How To Develop A Successful Rapid eLearning Process
Though rapid eLearning involves faster turnaround times, refining your process doesn't happen overnight. It calls for a needs analysis, team input, and even some trial and error sprinkled in to achieve the best results. That, and our eBook that walks you through every step of rapid eLearning development. Here's a brief overview of Always Relevant, Never Outdated: Your Rapid eLearning Guide.
The Importance Of A Rapid eLearning Strategy For Your L&D Department
Rapid eLearning Techniques That Are Always Relevant
Steps To Create A Rapid eLearning Development Plan For Your Organization
Mistakes To Avoid When Implementing Your Rapid eLearning Design
Wrapping Up
Rapid eLearning development doesn't mean cutting corners or rushing through the process to meet unrealistic deadlines. In fact, it requires a clearly defined strategy and a spot-on budget, as well as top-notch tools and, in some cases, the right outsourcing partner. Download your copy of Always Relevant, Never Outdated: Your Rapid eLearning Guide today to achieve success on your own terms. Also, don't forget to visit our Top Content Providers For Rapid eLearning list, which features the leading solutions for rapid eLearning design.