How To Map Out Your Online Course And Find Your Niche
Creating an online course is about much more than just a good idea. To create a course that people will pay for, you need to first find your target audience and your niche. Read on to find out how to turn your fledgling ideas into a fully formed product that people will be dying to purchase.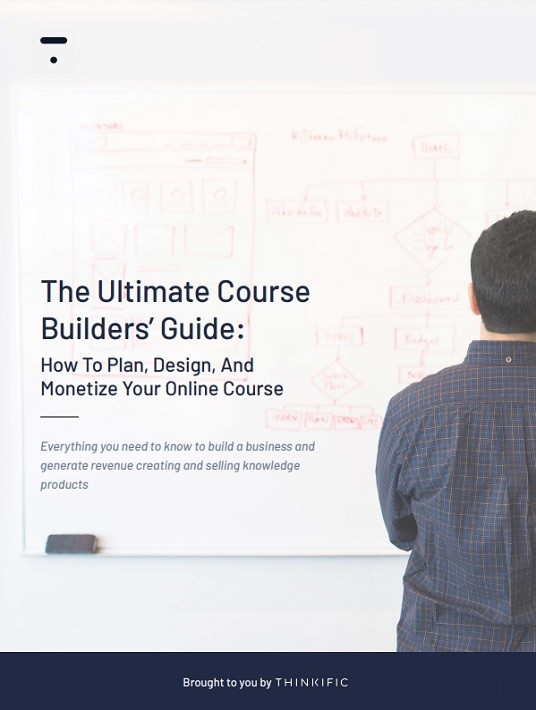 eBook Release
The Ultimate Course Builders' Guide: How To Plan, Design, And Monetize Your Online Course
Uncover tips to build a business and generate revenue creating and selling knowledge products.
How To Identify Your Target Audience
Thanks to the huge range of courses now available online, competition for course creators is at an all-time high. That means it's more important than ever to plan your online course before you get started and choose your target audience carefully.
Let's take a look at these key steps in more detail…
1. Who Is Your Target Audience?
Your target audience is the group of people who all your marketing efforts will be aimed at. These are the individuals who are most likely to need and buy your online course. In short, they're your ideal customers.
When it comes to finding your target audience, it helps to define the specific demographics that you want to target, including:
Age
Gender
Income
Location
Interests
The more detail you can add to your picture of your perfect customer, the more you can design and market your course specifically for them.
If you have an existing blog or content channel like YouTube or Instagram, it is really helpful to take a look at your demographic data there. Identify who your core audience is and use this as the foundation to plan your online course and your target audience.
2. Find Their Learning Gaps
When you're mapping out your target audience, it's important to also consider their current learning gaps. Look for the people who stand to benefit most from your online course.
Which individuals need additional assistance?
Who would benefit most from your expertise?
What are their key struggles or pain points?
What knowledge and skills do they need to progress with this topic?
What hurdles can you help them overcome?
If you don't have the answers to these questions already—and it's quite likely you don't—it can be really helpful to do a survey or interview-style questionnaire to assess the knowledge gaps of your existing audience. Send this out via email or publicize on your social media to gather more data on your target audience's needs and struggles before you plan your course.
When you're creating an online course, your aim is to create the best possible resource for your students. By finding the learning gaps before you start, you can make sure that your course really makes a difference to the people you're creating it for.
3. Assess Demand For Your Product
At this point in the planning process, it's also important to assess the current demand for a course like yours. You could create the most interesting and intense course in the world but if it's in a niche where there's no demand, your course won't sell.
To assess demand for your course, try looking at other online courses related to your chosen topic and see who your key competitors are. This step also gives you the opportunity to figure out how your course will be different from what's currently on the market. You can start to think about what your unique selling points (USPs) will be - how will you set yourself apart?
Choose Your eLearning Niche
The best online courses are very specific. Rather than taking a broad-brush approach to a big topic, successful online courses tend to hone in on the details of a particular topic and go in depth.
To make your online course as impactful as possible, you need to drill down into your topic and find your eLearning niche. When you start to plan your online course, look at your personal interests or your professional background for inspiration.
Personal Interests
To be a good course creator you need to be a topic nerd. That means you need to know the ins and outs of your topic so that you can transfer your knowledge—and your passion—to your students. Your personal interests are a good place to start.
If you have a topic that you already love, you can use this to help you find your eLearning niche. Don't worry if you have a whole range of topics you want to teach—start with one for your first course and over time you can build a whole academy! Choose a topic that has been covered less often by other course creators or where you think you can offer something new. This will be your niche.
Professional Background
As well as your personal interests, you can also draw on your professional background to find your eLearning niche. Consider how your professional experience and education can be used to create an online course that people will want to enroll in.
Think about the topics you wish you'd known about when you first started your career. What resources did you need that weren't available? How could the topics have been taught better? Are there any things that you found easy that your colleagues struggled to grasp? These are all good routes to follow to help you find your niche as you plan your online course.
How To Repurpose Existing Content
Once you've identified your target audience and their eLearning gaps, you can start to consider what content your course will include.
At this point, it's really helpful to use your existing content as the first building blocks. Chances are, if you have an existing business or passion project in your chosen niche, you will already have quite a bit of content. This is a huge asset when you're creating an online course as it's a brilliant way to kick-start the course building process.
Here are some of the types of content you can use:
YouTube videos
Blog posts
Tutorials
E-books
Podcasts
Research papers
White papers
In-person courses
Speeches
Scripts
There's a whole wealth of different content that you can use to add to your online course.
If it's not immediately clear how your existing content would work in an online format, try to think of how you might adapt your content to make it more suited to eLearning. If you have lots of long-form blog posts, consider how you might turn them into a video tutorial. Alternatively, if you have exercises you use for in-person teaching, play around with ideas for how they might be transformed into downloadable resources instead.
Use this checklist to help you evaluate your content as you plan your online course:
Is this relevant to my target audience?
Would this work in an online course format?
Will this help my students achieve their learning outcomes?
Remember: even if a piece of content doesn't seem like the right fit or topic for online learning, there will probably be phrases, statistics, diagrams, and more that you can borrow to enhance your course.
Benefits Of Adapting Existing Content
As well as letting you make the most of your expertise, adapting your existing content also comes with a whole host of other benefits:
1. Reduce Start-Up Costs
One of the key benefits of repurposing your existing content is to reduce the up-front costs of creating an online course. Rather than sinking your money into creating all new content, you can draw on the content you've already created and maximize the value of your existing resources.
2. Get A Head Start
As well as the cost benefits of adapting existing content, there's also the time factor! Utilizing existing content is far more time effective than writing or producing all new content. The knowledge and research are already there - now you just need to tweak it to fit your course format and go.
3. Utilize Your Most Popular Content
What's more, when you're using existing content, you can identify the most popular topics and resources to use in your online course. If there's a how-to piece or tutorial that always gets the most traffic or goes viral, this is a good sign that it's something your target audience wants to know more about. Savvy course creators will make sure to include this topic in their course.
Top tip: You can also add a call to action (CTA) to this content to direct traffic to purchase your online course, helping you to monetize your existing content.
Case Study: Mimi G's The Sew It Academy
Thinkific course creator Mimi G successfully turned her passion project into a thriving online course academy and community. After starting a sewing blog back in 2012, Mimi quickly realized the demand for easy fashion sewing tutorials after her DIY skirt tutorial went viral on Pinterest and her blog.
She identified the demand for easy sewing tutorials for beginners and decided to share her knowledge with a wider audience. By creating an online course with Thinkific, Mimi turned her crafty hobby into an award-winning business. Fast forward to today, she now has over 150,000 subscribers on YouTube and one of the most popular membership sites on Thinkific.
Next Steps To Plan Your Online Course
After you've chosen your course topic and identified that there is demand for it in your target audience, you can start to look at the next steps.
In the following articles, we'll take a look at more tips on how to plan your online course including the best instructional design strategies, how to create a course that will engage and inspire your audience, and how to cultivate your learning community. We'll also go over what you need to do to monetize and market your course and how to keep growing your business long after your first course is up and running.
Download the eBook The Ultimate Course Builders' Guide: How To Plan, Design, And Monetize Your Online Course to learn insiders tips for creating, launching, and marketing your eLearning course. Also, join the webinar to bring your vision to life.

Thinkific Plus
Thinkific's powerful platform makes it easy to share your knowledge, grow your audience, and scale the business you already love. Whether you're educating 10 students or 10 million, you've got the easiest technology and best support in the business.