Insider Secrets To Create And Monetize Your Online Course
One of the most challenging aspects of launching your own course is knowing where to start. How do you find your niche? What's the best way to promote your expertise? Which instructional design methodologies should you consider? Once you've created content, how do you market it to the public and engage with your audience? You'll find the answers to all of these questions and more in this Thinkific guide. From learning experience design to lead generation, it walks you through the entire process from start to finish so that you can monetize your online course.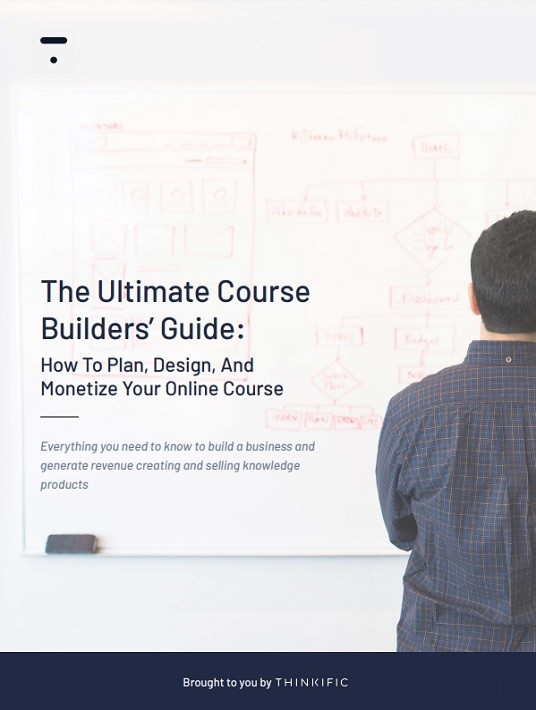 eBook Release
The Ultimate Course Builders' Guide: How To Plan, Design, And Monetize Your Online Course
Uncover tips to build a business and generate revenue creating and selling knowledge products.
There's No Time Like The Present To Launch Your Knowledge Commerce Empire
Is it time for you to become an edupreneur and make the most of your know-how? The global pandemic has forced many organizations to rethink their training strategies. While many of them once relied on face-to-face models, they're now switching to online training to upskill, reskill, and bridge gaps. However, it's not just businesses that are looking for new ways to broaden their horizons. People who want to expand their skillsets, change career paths, and pursue other opportunities are also looking for the right online courses. This is why now more thought leaders are tapping into their expertise and industry knowledge to launch their own eCommerce empires.
Who Is This Guide For?
This eBook is for anyone who's ever thought about turning their passion into a profitable business venture. Whether you're just starting out with instructional design or already have online course assets to promote, you'll learn how to build a thriving community and create parallel revenue streams. There's even a section dedicated to marketing and selling essentials so that you can take your edupreneurship to the next level and leverage the full power of the Thinkific platform as a Tenant. Download your copy today to inspire your audience and share your knowledge with the world.
About This eBook
This ultimate guide has all the info you need to create a thriving knowledge commerce revenue stream. Here's a brief glimpse of what you'll find inside The Ultimate Course Builders' Guide: How To Plan, Design, And Monetize Your Online Course:
Understanding Edupreneurship: How To Build A Knowledge Commerce Empire
Secrets To Plan Your Online Course And Identify Your Area Of Expertise
Proven Instructional Design Strategies Every Course Builder Should Know
Mastering Learning Experience Design: Tips To Engage And Inspire Your Audience
How To Cultivate And Manage A Thriving Online Learning Community
Turning Passion Into Profit: Monetization Pricing Strategies And Parallel Revenue Streams
From Launches To Lead Gen: Course Marketing & Selling Essentials Every Tenant Should Know
Growing From A Single Course To An Academy: Feedback Loops And Beyond
Conclusion
This is your opportunity to explore the fundamentals of learning design and online course monetization. You'll also discover how to expand your empire from a course to an entire academy to maximize your profits. Download the eBook The Ultimate Course Builders' Guide: How To Plan, Design, And Monetize Your Online Course to learn insiders tips for creating, launching, and marketing your eLearning course.