VILT For Continuous Improvement Is NO Passing Fad: A Case Study
In the eBook, Continuous Improvement For Virtual Training In Today's Business Climate, four global L&D thought leaders share stories of how the COVID-19 crisis influenced their training
strategies in 2020, and what they predict for the future of training in 2021 and beyond. This is the second VILT case study in our series, provided by Melissa Grey Satterfield, the Director/Master Trainer of Langevin Learning Services.
Like most of corporate America, our business has been impacted by COVID-19. It hasn't necessarily been impacted in a negative way, it's just different—the "new normal." For more than 35 years, Langevin Learning Services has been a provider of highly renowned workshops, professional certifications, and products for trainers and business professionals. We were one of the first major training providers to expand our train-the-trainer offerings to include live, online, synchronous training—also known as virtual classroom (VC) training. This expansion of our business back in early 2014 allowed us to quickly pivot when the 2020 COVID-19 pandemic hit.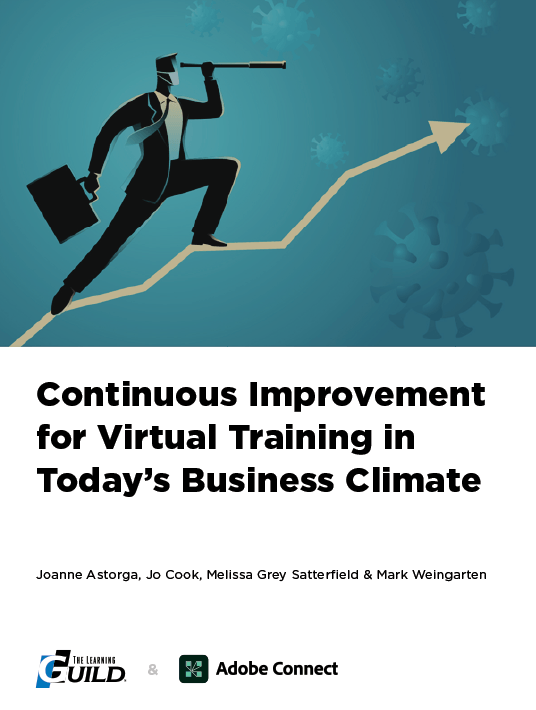 eBook Release
Continuous Improvement For Virtual Training In Today's Business Climate
Discover how the COVID crisis impacted training strategies and what you can do to prepare your L&D approach for the New Normal.
Our Silver Lining
Like many businesses, this unexpected turn of events left us reeling with apprehension and concern for what the future might have in store for our organization. Fortunately for us, the business world's need to pivot to all things virtual turned out to be our silver lining. Our advice for organizations who wish to adopt virtual classroom training has remained the same since long before the pandemic began. If you want to avoid a lecture-heavy data dump that resembles more of a webinar than true performance-based training, you need to shift your thinking. Here are the top six things to keep in mind:
1. Know the difference between virtual classroom training and a webinar
The primary purpose of a webinar is to present or share information. The communication is almost entirely one-way, from the presenter to the participants. There's very little interaction (or none at all) and it includes limited application or feedback, if any. Virtual classroom training allows two-way communication and includes all three phases of instruction: presentation, application, and feedback. Its primary purpose is to facilitate synchronous learning.
2. Keep your learners engaged and active
Best practice is to engage your learners every 3-5 minutes. This can be done by asking learners to take part in a poll, use the status icons, annotate the whiteboard, or share ideas in a group or private chat pod.
3. Use virtual classroom training to teach the right kind of skills
Not all skills can be realistically practiced in a virtual environment. Technical skills (skills that take place between a human being and an object), for example, can be hard to practice when there is machinery, equipment, or tools involved. You may have to take a blended approach. Interpersonal and conceptual skills work very well in the virtual classroom. Both skills can be easily practiced. For example, "dealing with a difficult customer" is an interpersonal skill that can be practiced via a role play using your software's breakout rooms.
4. Take advantage of all the capabilities of your virtual platform
Take inventory of what your platform has and doesn't have. This is a crucial step. Not all VC platforms are created equal. Make the most of the features available in your platform, and you'll make the most of your virtual classroom training.
5. Time your virtual classroom training sessions carefully
Best practice is to limit virtual classroom session length to 2-2.5 hours to avoid cognitive overload. Choose methods and tools that will
adhere to the timing constraints and spend more time on practice than presentation.
6. Reinvent your training materials
Adapt your lesson plans to account for a producer if one will be used. Adapt participant materials so they can be used electronically. Create slides that will keep learners visually engaged and provide opportunities for learners to interact with the content (i.e., annotate slides using the drawing tools to brainstorm ideas, vote, etc.).
Download the eBook to access four job aids that will assist in this process: Course Audit Worksheet, Critical Design Constraints Worksheet, Course Engagement Validation Checklist, and Establish a Delivery Plan Worksheet.
VILT For Continuous Improvement: How We Adapted Our Approach
In terms of the number of attendees in a session, VC best practice states 12-15 participants. We quickly realized we needed to increase our class size to 15, previously capped at 12, to meet client demand for our workshops. We also realized we needed to design and launch more virtual courses, as demand for new content was quite high. Our product development team worked vigorously, in a matter of just a few short months, to not only create new virtual courses, but also to convert a few of our high-demand, instructor-led courses. We also modified our validation and launch processes to ensure a faster turnaround time. Finally, we needed to provide our clients with several virtual classroom options as quickly as possible so they could master their new skills and hit the ground running.
We knew our clients were working with tight timelines and needed to master their skills as quickly as possible. Achieving a professional trainer certification was also a top priority for them. To help clients achieve certification faster, we strategically rescheduled some of our live, online, synchronous workshops to take place back-to-back, allowing our clients to complete their certification in less than two weeks.
Respondents prefer virtual classroom
Because of the success of our virtual classroom offerings (supply and demand), I don't really see us going back to a complete "pre-pandemic normal." We'll let our clients drive the in-person bus, so to speak. If they want in-person training, we can deliver. We conducted a poll on our website asking users to weigh-in on their preference for ILT versus VC, given all necessary COVID-19 safety precautions are in place and government restrictions are met. Based on recent statistics, 56% of respondents said they would prefer virtual classroom over in-person training. I'm quite certain this number will continue to increase in favor of live, online, synchronous training.
From a purely financial perspective, having our instructors working from home 100% of the time is quite profitable. We're not paying for flights, hotel rooms, ground transportation, or meals. Then, there's the cost savings of hotel meeting rooms and catering for public workshops, which can be quite pricey depending on the market. And let's not forget our clients who have budgets to keep in mind. Virtual classroom training is also cost effective for our clients, as they save on travel and accommodation expenses, too.
L&D In A Post-Pandemic World
At the beginning of the pandemic I think some organizations were a bit hesitant to consider virtual classroom training, but once they experienced how meaningful and efficient it was, they came around. I've had numerous clients tell me they were expecting more of a passive experience, more like a webinar. Not all content can be effectively taught in a virtual environment. It gets more challenging when it comes to technical skills, for example, as you need some way to replicate realistic hands-on practice. But, as I mentioned above, with a little planning and maybe a blended approach to allow some practical hands-on experience, in addition to the training and activities in the virtual classroom, most skills can be taught effectively.
I believe the live, online training trend is here to stay. We're anticipating it'll remain the larger part of our business for the near future.
From the learners' perspective, the feedback has been overwhelmingly positive. We administer Level 1 reaction surveys at the end of each virtual course. Our clients love that we practice what we preach, and they tend to learn a lot just from observing the way we do things. One of the comments I see the most has to do with the use of a producer to support the facilitator and participants. It's a game-changer and makes the virtual classroom experience more meaningful and engaging.
Download the eBook Continuous Improvement For Virtual Training In Today's Business Climate to discover Melissa's best practices for continuous improvement in virtual training.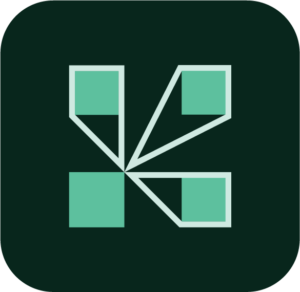 Adobe Connect
Unleash the true power of virtual classrooms to deliver on your learning objectives.