What Is Customer Training? Improve Customer Onboarding With An LMS
Customer training gives organizations a competitive edge. That's why forward-thinking companies from CISCO to Microsoft have developed training programs to help retain customers and build a loyal brand following.
It's the secret to successful business growth. But what is customer education and how can you implement a cost-effective strategy to improve customer onboarding? In short, it's the practice of educating customers on how to efficiently and effectively use your product or service to attain their specific goals. However, these initiatives go beyond key selling points and USPs.
Your online training plan should cover every aspect of the customer experience. For example, highlighting add-ons or upgrades to maximize functionality and improve ROI. Guiding customers boosts brand engagement and adds even more perceived value to your product.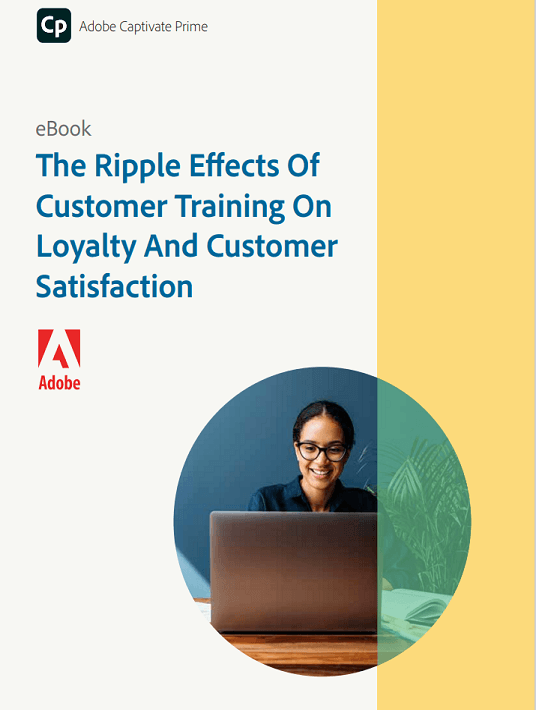 eBook Release
The Ripple Effects Of Customer Training On Loyalty And Customer Satisfaction
Discover how to use learning technologies to enhance your customer retention strategy and boost brand loyalty.
What Is A Customer Training Program?
Customer training programs help customers use your product or service and maximize the benefits. But they also have the opportunity to form a more personal connection with your brand. As such, virtually every industry can benefit from a successful customer education program, from pharmaceutical companies to NGOs.
However, one of the prime consumer education use cases is guided onboarding in the tech sector. This is due to the complex nature of offerings in this space and ever-evolving IT trends. Customer training is the key to helping your clients implement new applications and achieve rapid results.
Though it's an ongoing process that extends to every stage of the customer journey, consumer education is especially critical during onboarding. This is when on-demand training materials can help consumers resolve upfront questions and concerns.
Here are a few fundamentals that EVERY customer training program should include:
JIT support resources to bridge gaps on the spot
Skill-building courses that tie into product usage or upkeep
Microlearning tools that familiarize consumers with your brand and its core values
What Is The Meaning Of Consumer Education?
Today customers must contend with choice fatigue. They're barraged with products and marketing messages from every direction. As such, making the right decisions and safeguarding their interests usually involves a fact-finding mission.
They need a broad knowledge base to get top value for money and avoid buyer's regret. To stand out from the crowd, companies must launch consumer education strategies that cover all the essentials, from safe handling to company bios. Educating consumers requires a holistic customer training program that addresses personal pain points and raises awareness.
Beyond that, it helps the customers acquire the knowledge and skills to maximize their investment and tap into the full perks of ownership.
Benefits Of Customer Training
Industry-leading brands no longer pour all resources into fishing for new customers. They focus on bigger catches—their existing customers. It's a reliable strategy because most SaaS product profitability comes from subscription renewals and upgrades. Here are a few of the top benefits of customer training to consider:
Simplifies Customer Onboarding
A groundbreaking software product with powerful features can flop in the market based solely on its complexity. For example, a customer struggles to understand how your product works and how it can help them achieve their goals. So, they'll look for a more user-friendly alternative.
Increase Your Customer Retention Rate
Studies have show, time and again, that elevating customer retention increases profitability. If done right, customer training programs create loyal brand evangelists, which helps you cut marketing costs. After all, word of mouth advertising is a powerful promo tool.
Positively Impact ROI
A well-implemented customer training program can help to increase revenue and decrease spending. Just consider the cost of acquiring new customers versus retaining an existing customer.
Why Is Customer Training Essential?
Customer training is just as important as upskilling your team. While staffers and external partners must provide top notch service, consumer L&D gives your loyal customers greater autonomy. Below are a few reasons why every organization should launch continuous customer education to improve customer onboarding:
Increase Consumer Confidence
With an intuitive customer training program, customers know that your product or service will live up to expectations. Additionally, they get to have all the information and guidance they need from you to make a well-informed buying decision, minus post-purchase regrets.
Build The Buzz
Consumer education is a reliable avenue to disclose and boast about new product features that pique consumer interest. This reduces their hesitation and makes them ready to jump in to learn more. Another notable benefit is rapid adoption and implementation of your solution.
Decrease Support Costs
More customer training resources mean less one-on-one support. Consumers have 24/7 access to tutorials, videos, and guides to help them troubleshoot common issues and improve product functionality. This also leads to less frustration since customers get timely support that's custom tailored to their needs.
How to Improve Customer Onboarding with an LMS
Before you launch your onboarding program, first lay down a training strategy with clearly spelled out objectives. Not surprisingly, a vast majority of successful companies use a Learning Management System (LMS) to deliver continuous product education and streamline customer onboarding.
An LMS is a software platform that makes it possible to build, deliver, and track training to customers, employees, and partners on a global scale. Marketers and Customer Experience (CX) professionals have the power to build a customized and intuitive customer education portal to deliver engaging learning content. In turn, this personalizes the learning journey and delivers detailed analytics.
These solutions serve as a central knowledge base where your customers can find all your training materials. Therefore, implementing an LMS enables customers to rapidly access on-demand training materials and bite-size support tools. Another perk is that a Learning Management System can quickly deliver and update learning materials. This makes it easier to quickly roll out product and service changes, from UI updates to new product features and specs.
5 Best Practices For Customer Onboarding With An LMS
1. Understand Customers' Needs
It's critical to focus on your customer's needs to help them solve specific challenges. The onboarding program should map out and prioritize which obstacles to address during the first stages of the customer journey, and beyond.
2. Leverage Formal And Informal Training
Implement an LMS that features social and structured learning support so that customers get valuable content in diverse platforms, media, and delivery styles. This also gives them the opportunity to engage with fellow users and receive insider tips. For example, customers can chat about innovative product uses or share their positive experiences with your customer service team.
3. Use Onboarding Automation
There are several ways to automate LMS implementation for customer training. For example, they follow a link in your marketing materials or product landing page to go directly to the appropriate training. This can be achieved using self-register solutions, single sign-on SSO, or interactive notifications.
4. Enable Self-Paced Learning
Scheduled training courses can overlap with other priorities. Also, different people have distinctly different learning styles and personal preferences. Therefore, using self-paced learning in your customer onboarding process improves flexibility. In short, customers can access info when they need it most AND when it fits into their busy schedules.
5. Track Success
The most significant advantage of LMS technology is that it provides analytics on learner activity, progress, and performance. In fact, you can make the most of these metrics to optimize your customer training program and fuel business growth.
6. Reward And Motivate
Badges, certifications, and leaderboards motivate customers to participate and engage with your brand. Certifications are another great way to build their confidence and the core competencies associated with your product.
Conclusion
A customer training strategy and the right customer training platform, such as Adobe Captivate Prime LMS, can help you not only onboard new consumers but attract targeted buyers. For example, leads who are on the fence about your product or service are won over by interactive tutorials.
A carefully crafted support library and online knowledge base instill buyer confidence and enhance your brand image. You're also able to create actionable insights from content consumption data and use them to fine tune your marketing plan.
Download the eBook The Ripple Effects Of Customer Training On Loyalty And Customer Satisfaction today to discover more surefire ways to use your LMS for customer retention strategies. You can also join the webinar to discover how to unlock the "holy grails" of customer education and boost adoption rates.
Interesting Case Studies