Choosing A Content Provider For Your Leadership Development Program
You never know what hidden talents are tucked away within your organization. Which new hires are destined to become team leaders if they're given sufficient support? Is your leadership development program up to par? Does it lack support tools for emerging managers and supervisors who need to fill gaps on the spot? Is the online training course interactive and immersive so that employees know how to apply what they've learned? An eLearning content provider can help you reshuffle and refresh your leadership development online training. From creating new storyboards and revaluating objectives to launching a microlearning repository for JIT support. Here are some top tips for choosing the right provider for the job.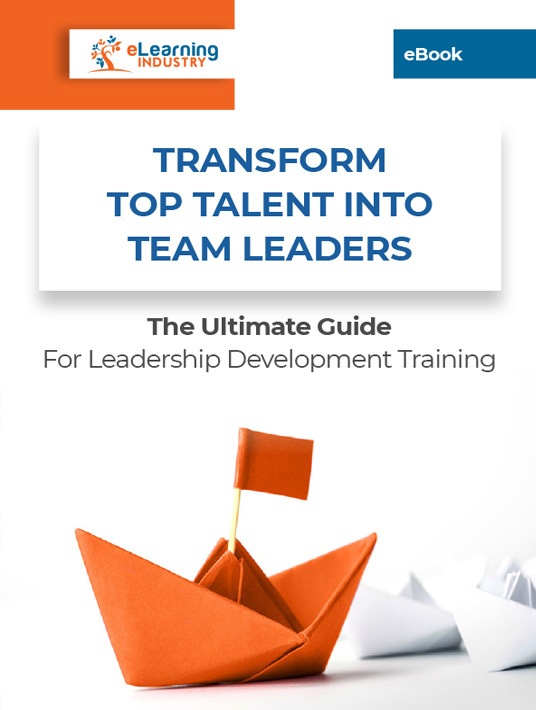 eBook Release
Transform Top Talent Into Team Leaders
Discover how you can spot emerging leaders in your organization, and much more.
1. Compile A List With The Help Of An Online Directory
An online directory is your one-stop-shop for the right eLearning content provider. Of course, you must do some follow-up research to verify their credentials and ensure they mesh with your team. But directory listings can help you compile a list of top candidates based on their expertise, background, and user ratings.
2. Look For A Provider Who Specializes In Your Industry
You don't necessarily want the 'jack of all trades' in this scenario. Instead, look for an eLearning content provider who specializes in leadership development online training. The directory also has built-in filters so you can quickly determine which providers fit the bill. Do they understand your compliance requirements? What about task protocols and company policies? Every organization has their own guidelines. However, an outsourcing partner should be aware of rules and regulations within your industry. As well as the skills your leaders need to tackle job duties.
3. Ask For Recommendations In-House And On Social Media
Members of your L&D team may already know a reliable eLearning content provider for your leadership development program. Maybe they've worked with a company at their previous place of employment. Or have recommendations from friends or colleagues. You can also turn to social media to get the inside scoop. Post an open-call for suggestions or inquire about a specific content provider on your list.
4. Read Reviews To Get The Inside Perspective
Some of the recommendations you receive online may be biased. For example, someone leaves a comment on your social media post. But you soon discover that they work for the eLearning content provider or aren't in your industry. So, their suggestion doesn't carry as much weight because it's not based on the same use case. Revisit the online directory to read reviews that are unsponsored and authentic. Every user must log in with their LinkedIn account to provide their honest opinion. You should also analyze their overall rating to see how the provider fares in terms of communication, results, and quality of service.
5. Request Samples Of Past Work
Feel free to request samples of the eLearning content provider's work and/or ask for references. They may not be able to provide you with a list of past clients of confidentiality reasons. But they should be willing to show you their portfolio of projects so you can gauge the quality of work. You might even consider a paid test project if you want to verify their credentials and industry expertise. Just make sure to specify terms in advance. Even test projects require mini-contracts to pay out payments and scope.
6. Set Up A Meeting To Ask About Your Use Case
Schedule a chat with the leadership development online training provider to discuss your goals and outcomes. As well as determine if they're the right fit for your organization. In some cases, providers work hand-in-hand with your L&D team. So, they should have similar work practices to avoid collaborative conflicts. This is also a good time to ask a few questions regarding your leadership development budget and timeline. How long will it take them to create content? Can they repurpose your existing assets to save money? What does their fee include, and what are the payment milestones? Lastly, do they provide any revisions, and what's your role in the project? Will you meet with them monthly/weekly to evaluate progress and offer your input?
7. Consider A Partner Who Offers Multiple Solutions
I know I mentioned earlier that you don't want a generalist. However, you should look for an eLearning content provider who offers a broad range of solutions. For example, you can hire them to create leadership development content, as well as microlearning and VR resources. Keep in mind that leadership online training has a broad scope. Employee training participants must learn the ropes, build skills, and know-how to interact with co-workers. Therefore, your strategy must be more comprehensive to address their needs and meet their expectations. Some vendors even offer discounts if you opt for more solutions. At the very least, they already understand your company vision and online training requirements. Thus, you won't have to schedule another round of 'meet and greets.' You already know what they bring to the table. And they're already aware of your budget, objectives, and desired outcomes.
The right eLearning content provider doesn't just cover the basics of online training. Such as which skills employees need or the tasks they tackle daily. An experienced outsourcing company goes the extra mile to understand your company vision so that resources align with your brand. And every member of the team gets the targeted online training they need to excel in your organization. No generic resources that cover all the essentials but lack a personal touch. Even if that means numerous meetings, revisions, and training audits to find the best approach.
Leadership online training benefits every member of your organization, from new hires to higher-ups. Download the eBook Transform Top Talent Into Team Leaders: The Ultimate Guide For Leadership Development Training and find out how to create outstanding leadership development training—along with the pitfalls you should avoid, and more.