Using Compliance Training Software For Localized Compliance Courses
Training a global team is no small matter. You need to consider their cultural backgrounds, unique training requirements, and personal preferences. Throwing compliance issues into the mix further complicates things. As every region has its own rules, regulations, and protocols. Fortunately, there are some tips that can help you deploy localized compliance courses using compliance training software. A Learning Management System allows for remote access to training tools that suit individual needs. Without breaking the bank or foregoing employee-centered experiences.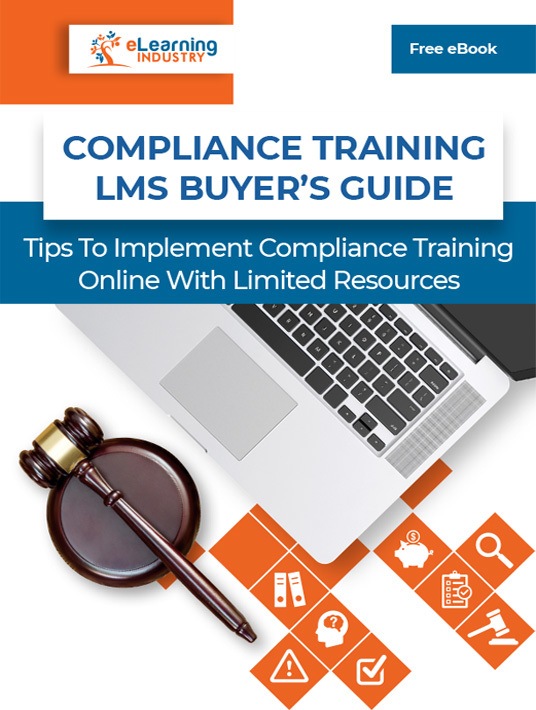 eBook Release
Compliance Training LMS Buyer's Guide
Discover how you can implement a compliance training LMS in your workplace without going over your budget.
1. Invest In A Multilingual LMS With Built-In Collaboration
One of the many aspects of localization you need to consider is translating content. Thus, a multilingual LMS is a must if you want to deploy training on a global scale. Another feature to look for is built-in collaboration tools. Keep in mind that your team will need to be able to communicate with each other and remotely develop and deploy content. This might include video conferencing, revision notes, feedback, and other crucial tasks.
2. Compile A Localization Team To Handle Regional Regulations
Speaking of teams, it's best to hire a different team for every international market you venture into. Especially if you have a larger, diverse workforce with unique training requirements. This localization team will deal with the finer details of the project. Such as incorporating local regulations, rules, and company policies. For example, certain tasks may be handled differently in your US branch than your UK offices. As the regional regulations and codes vary by locale.
3. Factor In All The Costs To Improve Resource Allocation
Develop an accurate budget before you start the compliance training course localization process. This should cover everything from hiring the team and investing in the necessary tools to creating content and ongoing maintenance. One of the most overlooked 'hidden' fees is LMS upkeep. So, plan for upgrades, updates, and other services that aren't included in your compliance training software package. Also, leave a small buffer for unexpected fees that arise. Such as more payroll hours to tackle tasks that are more involved or software hiccups that take more time and resources to resolve.
4. Create An Implementation Timeline With Your Team's Help
You'll need your team's input to develop a realistic budget. As they know which tools are required and the scope of the project. For example, which resources you'll need to incorporate into your localized compliance course and what they will cost. However, you should also get their feedback to create an accurate implementation timeline. How long do they need to roll out the course? How much time will it take to familiarize themselves with the new compliance training LMS? What about the employees? This implementation timeline must include a step-by-step overview of all sub-tasks involved. Including tasks that are scheduled for post-launch. Like report-checking, content updates, and learner support.
5. Balance Culture Nuances With Mandatory Policies
You need employees to see compliance issues from their point of view. Which can be challenging, given that many compliance topics leave little room for interpretation. The law is the law, and staff members need to know how to work within the confines of the rules to avoid violations or accidents. Therefore, your localized compliance training course must mesh mandatory policies with cultural nuances. It has to impart the key takeaways so that employees know what's expected of them and how to uphold company standards. While still factoring in their own experiences and demographical makeup. This is yet another reason why your team needs to have an insider's perspective so that they can accurately represent employees' interests.
6. Use A Template To Simplify The Localization Process
Unfortunately, localizing your content isn't as simple as using Google Translate and deploying the finished product. Even if you do invest in compliance training software. A template simplifies the process and allows you to maintain consistency. You can use placeholders that are easily replaced with new visuals, text blocks, and other localized resources. Just make sure you leave enough space for languages that take up more room on the screen. Many compliance training LMS solutions have built-in templates. Or you can download them online if your library is lacking. Look for templates that allow you to incorporate your branding so that you can give it your organizational stamp of approval.
7. Don't Limit Your Strategy To Translating Existing Content
The first item on the list touched on translating your compliance content. But that's just a piece of the localization puzzle. Your team must also take into account the employees' backgrounds, preferences, social norms, and local company policies. This holistic approach ensures that every member of your remote workforce gets the tools they need to maintain company standards. As well as avoid costly compliance violations. More importantly, the content is easier for them to comprehend and assimilate because it is relatable. Instead of generic courses that are issued company-wide and don't address specific interests, expectations, or cultural beliefs.
Compliance training software simplifies collaboration and allows you to monitor employee performance from afar. Thus, ensuring that everyone meets company standards and stays in compliance. So, gather a dream team of localization pros who understand your vision and employees' backgrounds. Then develop a realistic budget, timeline, and templates to get everyone on the same page. And don't just stop with translating the content. Every aspect of the design must speak to employees on a personal level. As well as stress the importance of compliance as it pertains to their job duties.
Have you ever wondered what compliance training is and how you can implement a compliance training LMS in your workplace without going over your budget? Download our eBook Compliance Training LMS Buyer's Guide: Tips To Implement Compliance Training Online With Limited Resources and discover how to cut costs, mitigate risks, train your employees, monitor their performance, and maintain your company's high standards.