Creating A Skills-Forward Strategy For Your Team
It's been said that 2020 brought about three years of digital transformation in three months. The initial phases of that transformation centered on adapting to the dramatic and sudden changes thrust upon us, such as enabling remote and distributed workforces to simply work, communicate, and collaborate.
What we know now is that this change is far more permanent than many expected. In today's environment of unrelenting business transformation, roles are shifting quickly, and skills are becoming obsolete faster. Your organization needs to identify, acquire, and develop the skills needed to transform, compete in new markets, and thrive.
Developing a skills-forward talent strategy can help you unite people growth with business success. This guide outlines four key steps involved in this strategy. Let's dive in.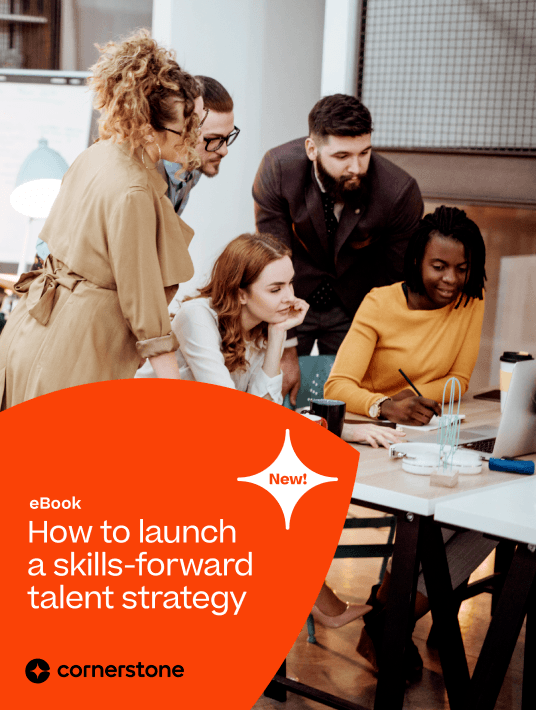 eBook Release
How To Launch A Skills-Forward Talent Strategy
Developing a skills-forward talent strategy can help you unite people growth with business success. This guide outlines four key steps involved in this strategy.
Steps Organizations Must Take To Create A New Growth Language
People want to do meaningful work and understand their career opportunities. Organizations must help employees feel capable, secure, and connected to their careers and to the company's mission and goals.
Embed Learning And Development Into Your Culture
Learning must be part of who you are as an organization. That means encouraging the behaviors that lead to success. 68% of employees in high-performing organizations say their employer understands their unique skills and interests compared to 26% in low-performing organizations.
1. Democratize Access To Skills
When every individual has access to the skills they need, the time to learn, and visibility to potential career paths, they can apply purpose to their career progression and growth. They don't have to be dependent on having a great manager in order to take charge of their own learning. Skill development becomes time well spent and purpose-filled for organizations and employees.
2. Reward Those Who Play A Part
Have a manager who consistently develops employees who become future leaders? Have an employee who develops great content that others value and learn from? Incorporate rewards for these efforts into your compensation plan.
3. Create A Culture For Learning Agility
Focus on connecting relevant learning content to skills, job roles, and other areas your people interact with so that you are able to make personal and valuable learning recommendations in
the time of need. Your people will continue to upskill and reskill when they find the experience valuable. That enables your people to adapt more quickly to business changes.
Help Employees Identify New Skills
Employees need to understand how new skills are applied to the present and future of their organization and the broader aspects of how it impacts their industry. 77% of adults would learn new skills now or completely retrain to improve their future employability.
1. Enable Better Conversations About Skills
Our survey shows that most employees look to managers to discover what skills to learn next. That guidance means that managers need to be trained to have that conversation. Great managers can add context and an industry perspective to the skills employees need to build.
2. Create Unique Learning Paths
Personalization here is important, especially when aligning with a person's career ambitions. Helping employees pivot faster means aligning to existing skills and using them to build a path that's right for them and the organization.
3. Develop Adjacent Skills
Discovering skills that are useful in many work situations — that "bridge" across many roles and that can be used in new and unique ways — helps people perform better, and is key to broadening your people's capabilities. Leverage data and technology to explore the breadth of opportunities related to adjacent skills and uncover potential and personalized career paths.
Conclusion
Tune in next week for the second part of this article series, where we'll explore two more steps organizations can take to create a skills-forward training program.
A skills-forward talent strategy should be part of your organizational and learning culture, not merely a one-off course for new hires. You must weave skills development into your brand beliefs and corporate mindset. Download the eBook How To Launch A Skills-Forward Talent Strategy for actionable tips to align individual growth with long-term business success. You can also join the webinar for tips to design your own skills development plan of action.
References
Mercer. Win with empathy. 2021 Global Talent Trends Study. 2020-2021
PwC. Hopes and fears 2021: The views of 32,500 workers. 2021

Cornerstone Learning
All-in-one system of learning that brings together learning, growth, skills, and capabilities into a personalized, curated experience.