Creating A Learning Portfolio Helps You Select Suitable Learning Methods
The biggest enemy in finding the best composition of learning approaches in the learning journey which you are working on is… yourself. You feel comfortable in using a specific subset of learning approaches—you are familiar with them, you know how to design, develop and deliver them, you know what challenges you will face, and you are prepared to face them. They are just within your comfort zone.
Breach Your Comfort Zone
But just because you feel OK with them doesn't mean that they are the best for the specific purpose you are working on.
If you do not go outside of this box, you will be using the same methods repeatedly.
Context Matters
There are no learning methods which are perfect in each situation. Sometimes, small changes in the learning context jeopardize the point of using a specific approach. What worked well in the US may not work in the same company in Asia. Good learning approach used in a company of one industry may not work in the other industry. Learning solutions which were appropriate for Gen Y may not be the best idea for Baby Boomers.
The efficiency of learning methods is highly dependent on the learning context. This is why we, as Instructional Designers, should constantly upskill ourselves in knowing the full portfolio of approaches and being skilled to use them. Also, our capability to select the best of them to fit the purpose of the learning solution and meet its goal should be high on our agenda.
Design Thinking Can Help
The selection of the best (for the specific context) learning methods could be supported by one of the design thinking techniques which is called Learning Portfolio. To make this exercise we should use:
Design thinking tools—artifacts representing learning methods (you can choose from pre-prepared solutions or prepare them on your own)
Design thinking approach—the process which will result in a selected pool of learning methods
1. Artifacts Representing Learning Methods
The pre-prepared tools you can use are Learning Battle Cards and LBC Tokens.
Learning Battle Cards is the deck of 108 cards representing learning approaches. On each side of the card, you will find information which will help you to better understand the method and its relevance to the specific learning context.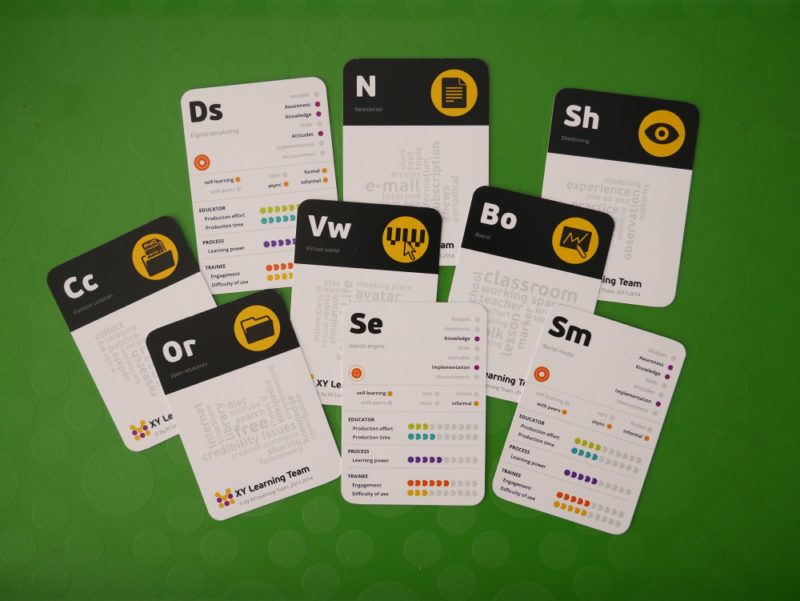 LBC Tokens is the pool of 200 magnetic tokens. They are covering the same portfolio of learning methods as Learning Battle Cards do but there are some redundancies which let you use a few of the same tokens in specific design thinking exercises. LBC Tokens are a simpler solution (covering only the name, icon and acronym of the learning approach), but allowing for more dynamic work. They can be also used in other design thinking techniques allowing for building learning journeys (for example a technique called Learning Design Canvas).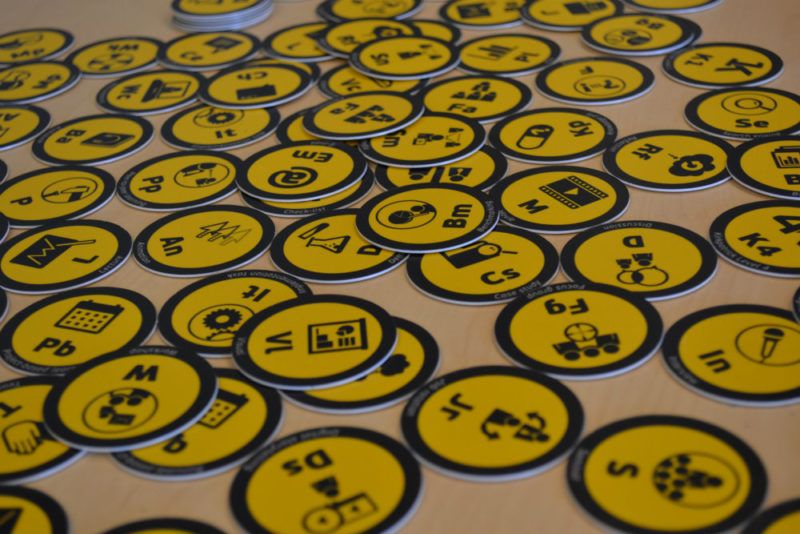 More information about LBC Tools can be found in this article. Both Learning Battle Cards and LBC Tokens are available in the LBC Store. If you don't want to invest the money to buy these tools, but would like to invest your time, you can prepare the simplified version of the pool of artifacts on your own. To do so:
Gather a team of Instructional Designers
Using sticky notes, brainstorm and write down the names of learning approaches; in this part of the exercise, it is extremely important not to limit yourselves and to think about: a) the broadest definition of learning anything, b) the broadest spectrum of delivery means, c) the broadest definition of target groups, generations, industries, etc.
Group similar approaches and eliminate redundancies on the level which is demanded (eg. you can leave "Web conference", "Webinar", and "On-line workshop" as 3 separate approaches treating them as distinctive or you can combine them into one approach "Trainer-led remote training")
Discuss and agree on the final names of all approaches
Prepare the deck of artifacts by writing down the final names on small cards (one name per card)
2. How To Select Learning Approaches?
The goal of the Learning Portfolio technique is to make a complete selection of learning methods which should be taken into consideration while designing learning journey. During the first step of the brainstorming feasibility of using the specific learning methods (in relation to requirements, organizations and cultural constraints, business needs, etc.) is considered. During the second step of this exercise, the pool of the best learning methods in alignment with the learning context is being selected.
Here is how this technique works:
Form teams of 3-4 people.
Provide to each team the deck/pool of artifacts representing learning methods.
Step 1
Ask each team to make a negative selection—to discuss and discard all cards/tokens which (for various reasons) are not feasible to be used as a part of the learning journey; during this step use outcomes from preliminary design thinking techniques (such as Stakeholder Interviews, Cultural Inventory, etc.) to analyze feasibility.
Step 2
Take the rest of the deck and make a positive selection—discuss and select these cards/tokens which seems to be the best choices for the learning process which is being designed.
During both steps, you may appoint one person from the team for the role of Devil's Advocate. This person should defend (show positives of) each card/token which is selected during negative selection and undermine (show negative of) each card during positive selection.
Here are 2 additional resources which will help you to spice up this process: