Why Outsource Your Custom eLearning Content
Many custom eLearning content development companies place the L&D burden solely on their employees. Their team must take care of the eLearning content creation, admin duties, and ongoing maintenance. As well as all the tasks in between, from Training Needs Analysis to data collection. Companies venture down this path because they believe it's more budget-friendly. That eLearning outsourcing will drain the resources, and their staffers can simply "make do" for the time being. However, there are numerous benefits associated with third-party custom eLearning content development. Here are 7 convincing reasons for choosing a custom eLearning content development company to design your online training resources.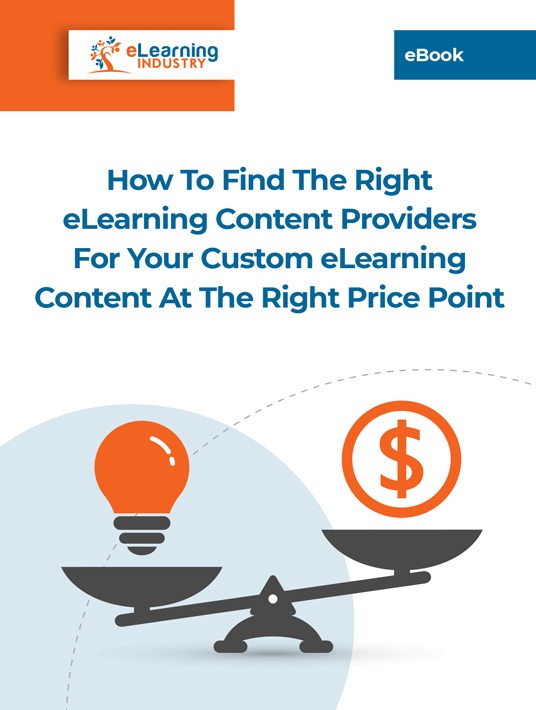 eBook Release
How To Find The Right eLearning Providers For Your Custom eLearning Content At The Right Price Point
Discover all you need to know about custom eLearning content.
1. Outsider Expertise
Custom eLearning content development companies are experienced in the field. They understand the challenges your industry faces and how to overcome them with online training support tools. They've also encountered a broad range of eLearning design obstacles along the way. For example, they know how to handle formatting issues or collaborative hurdles. Finally, there's the compliance perk. The eLearning content provider is aware of rules, regulations, and protocols that pertain to your industry. That said, you must do your homework to find an eLearning vendor with the niche expertise you require. The downside is that any eLearning content provider you hire will be in the dark about your company policies. As such, they should be willing to learn about your brand and any guidelines that differ from the norm.
2. Reduce eLearning Content Development Time
The faster you can deploy online training the better. You need to start improving performance behaviors and filling gaps as soon as possible. eLearning companies speed up the eLearning content development process because they know all the shortcuts without compromising quality. For instance, how to use eLearning templates or built-in assets to streamline their workflow. Many aspects of the eLearning project come as second nature to custom eLearning content development companies. They've created so many online training resources that have honed their work habits and business practices. Don't forget to ask the eLearning vendor about milestones and revisions. What are the tasks involved and how long will each stage take to complete? When do they expect payments? How often are you able to provide eLearning feedback to improve the eLearning course design?
3. Improve Learner Engagement
An eLearning content provider understands learner behaviors and motivations. They also know about the stressors associated with online training and how to create an emotional connection. This enables them to design online training experiences that boost learner engagement and participation. Many custom eLearning content development companies take it a step further by gathering eLearning feedback from your audience to identify their online training needs, wants, and expectations. For example, conduct surveys or polls to figure out which activities are best and how to address existing skill gaps.
4. Stretch Company Online Training Resources
You may have online training resources in your online training library that can be repurposed for the current online training course. But you aren't sure where to look or how to incorporate them into your layout. Custom eLearning content development companies know how to stretch online training resources and make the most of existing assets. This requires a high level of creativity, innovation, and lateral thinking. Not to mention, real-world experience. They're able to zero in on online training resources in your repository that may seem irrelevant and give them a new lease on life. For instance, break up a webinar you recorded 5 years ago and reuse sound bites for the new simulation or podcast series.
5. Retain Top Talent
Top performers expect top-notch online training, and rightfully so. They need continual support from your organization to address personal areas for improvement and expand their know-how. Custom eLearning content development companies help you boost employee retention rates and avoid new hire online training expenses. This is due to the fact that staffers are more engaged in online training and you are providing them with updated online training resources and activities that are personalized for their needs. You're also giving them the opportunity to develop their talents.
6. Target Organizational Gaps
Sometimes when you're so close to something you overlook the flaws. Instead, you simply grow accustomed to them. A third-party eLearning content provider brings in an outsider's perspective. They can take a closer look at your online training program to identify gaps that negatively impact employee performance. For instance, you don't offer enough JIT support to your customer service team. Or your entire online training strategy lacks interactive online training resources that foster real-world applications. eLearning companies are able to find the cracks in your L&D foundation and help you determine the best solution. This is why it's so essential to hire custom eLearning content development companies with a great reputation. You don't want to bring in eLearning vendors who suggest a long list of improvements simply to line their pockets.
7. Improve ROI
Lastly, custom eLearning content development companies improve online training ROI by improving employee participation, reducing turnover, and stretching available online training resources. Sure, outsourcing can be costly. But just consider the alternative which is overburdening your L&D team with even more eLearning design tasks and allocating even more money to payroll. However, you should meet with the eLearning vendor to discuss your budget and expectations. Which online training resources are they going to deliver? How is this going to help you achieve the desired outcomes? Are there any hidden fees you need to account for?
Though there are numerous perks, it's not all sunshine and rainbows. Custom eLearning content development can be fraught with obstacles if you don't get everything written and clarify your concerns. Meet with the eLearning vendor beforehand to discuss the corporate learning project scope and budget limitations. Then request references and evaluate their portfolio to verify their credentials. Finding an eLearning company that understands your online training objectives and specializes in your niche is crucial for outsourcing success.
Custom eLearning content development can be fraught with obstacles if you don't get everything written and clarify your concerns. Download the eBook How To Find The Right eLearning Providers For Your Custom eLearning Content At The Right Price Point to discover all you need to know about custom eLearning content.