How To Choose The Best Audio Web Conferencing Tools For Your L&D Needs
Employee development is essential for long-term business success no matter what niche you're in or how many people are on the payroll. And the right audio web conferencing tool can help you enrich your online training program without spending a pretty penny. It brings everyone together, even if they're thousands of miles apart. You can even move your entire strategy online to reduce spending and improve employee engagement. The key is to determine how audio conferencing fits into your master plan, then find the best tool for the task. Use these 8 tips to choose the right audio web conferencing software for your top L&D priorities.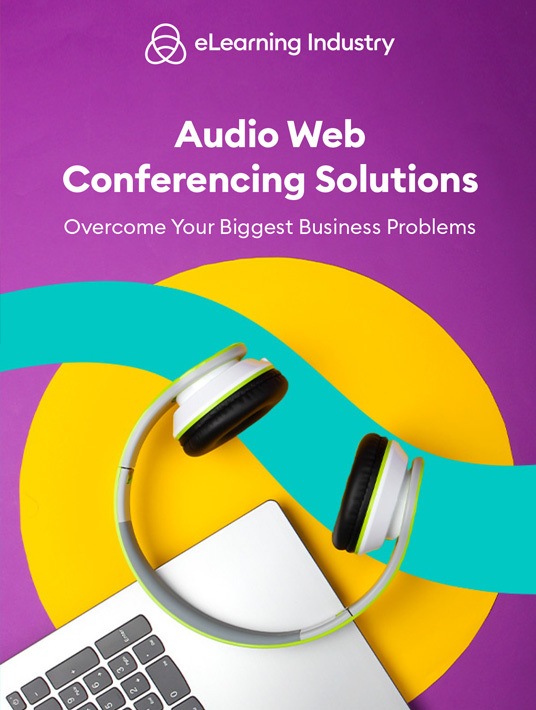 eBook Release
Audio Web Conferencing Solutions: Overcome Your Biggest Business Problems
Audio conferencing brings everyone together and reduces online training costs. Learn how these versatile tools can help you address business pain points.
1. Reevaluate Your Online Training Objectives
Audio conferencing systems can't help you address L&D challenges if you don't know what they are. It's essential to conduct a Training Needs Analysis beforehand. Focus on your current online training objectives, gaps, and goals. Do they still align with your business aims? This also gives you the chance to identify the purpose audio conferencing tools serve for your organization. How will they help you bridge skill gaps and improve performance behaviors? Furthermore, is it only for L&D or will you host client meetings and marketing events, too?
2. Set Your Audio Conference Systems Spending Cap
One of your main L&D priorities is to stretch resources. That's the golden rule in every employee development program. As such, you need to set an audio conferencing software spending limit. What's your budget and what do you expect from the investment? For example, you need these features to make a successful business case and secure funding. This spending cap should also account for hidden fees, like ongoing maintenance, software upgrades, and add-ons.
3. Consider Your Content
Audio conferencing systems don't have a visual component. That has its pros and cons. Employees can attend conference calls from anywhere in the world and don't have to worry about appearances. On the other hand, you can't show them video demos or slideshows. However, there are ways around that. For example, you can choose audio web conferencing solutions that support resource sharing. Instructors and managers are able to upload relevant files and links to improve knowledge retention.
4. Estimate The User Count
Some vendors limit the number of users you can invite to audio conferences. For example, you can invite up to 250 participants. Above that, you may have to pay overage fees or host a separate event to handle the overflow. You should also determine where your users are to avoid hidden fees, as certain audio conferencing providers charge extra for international calls. While you're at it, gauge their accessibility preferences. Will they use a landline or mobile phone to do dial-in? Do they prefer VoIP audio conferencing?
5. Get Input From Team Leaders And Instructors
You need feedback from people who'll actually use the audio conferencing tool, whether it's to boost in-house collaboration or streamline L&D. So, conduct surveys, focus groups, and polls to get their input. What is their primary use case? Which functions are they looking for? Have they used audio conferencing systems in the past or can you expect an implementation learning curve?
6. Find The Right Balance Of Feature-Rich And User-Friendly
Some tools are packed with all the top features but you need a degree in rocket science to use them. Others are user-friendly but have limited functionality. For this reason, it's important to find an audio web conferencing tool that strikes a balance. Create a must-have features list but add an intuitive UI to the top. That way, every member of your team can host sessions or join the discussion without jumping through tech hoops. In fact, many vendors offer free test drives so that you can evaluate the usability firsthand.
7. Evaluate Audio Conferencing Providers Support Options
Audio conferencing solutions come with different support options. While some have an extensive knowledge base, others are limited to email or contact forms. This is another reason to survey your team and their tech-savviness. Do they need advanced support services to boost functionality? Or can you get by with basic online FAQs and demo videos? Reach out to vendors to ask about their support and customer training. You should also include this in your RFP. In addition, use ratings and reviews to gauge their CX and service. Do clients rave about their prompt responses? Or is it one of the things they like least about the platform?
8. Ask For Recommendations
Directories, online forums, and social media groups are a great place to qualify vendors. But you can also get targeted recommendations. For instance, post your business requirements, price range, and use case. Then ask group members for their suggestions. Have they worked with top-notch providers? Are there any tools that stand out and why? Another option is to look for pinned recommendations lists or buying guides. Finally, visit vendor landing pages to see if they cater to your industry and L&D use case. While you're there, check out the customer training resources I mentioned earlier just to make sure they have everything on your software shopping list.
Conclusion
The right audio web conferencing tool is quick to set up and easy to use. And not just for tech-savvy team members, but for everyone in your organization. A niche-specific audio conferencing software directory can help you find the best software for your budget. It's packed with tool features, ratings, and vendor overviews to simplify the process. You can also compare your top 3 choices to see how they stack up. Best of all, it's free to use.
Need some help picking the perfect platform for your team? Our eBook, Audio Web Conferencing Solutions: Overcome Your Biggest Business Problems, has tips to draft RFPs and qualify vendors. You'll also learn how to leverage audio conferencing systems in your training organization.