How To Improve Your eLearning Press Release Format
Many eLearning professionals are reluctant to write their own eLearning press release. They know that it can help them promote their new eLearning service or boost attendance for an upcoming eLearning event. However, there's one hurdle standing in their way: formatting. What should you include in the eLearning press release? How long should it be? What's the best font type and size? Here are 9 helpful writing tips that can help you improve your eLearning press release format.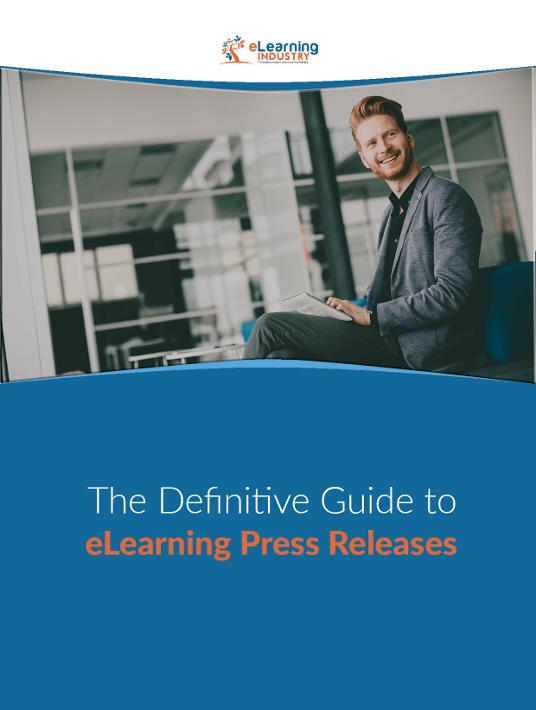 eBook Release
The Definitive Guide to eLearning Press Releases
Download our free eBook and start optimizing your eLearning Press Releases.
1. Company Info
Many people focus on the title of the eLearning press release, but the company info always comes first. This includes the name of a contact, their phone number, and their preferred email address. In some cases, you can even include their top social media profile. For example, a LinkedIn page that they check regularly. You should also include the company's logo and the main company website.
2. Publication Date
There are generally two options when choosing your publication date. You can either release it immediately by typing "IMMEDIATE RELEASE" at the top, or you can embargo the eLearning press release by adding "HOLD FOR RELEASE UNTIL (date)". Embargoing the eLearning press release is only used under unique circumstances. For instance, if you are going on vacation and want to publish the eLearning press release while you're away. That way it coincides with the release of your new eLearning product or service. However, keep in mind that you must ALWAYS have an available contact listed on the eLearning press release.
3. Headline
The headline or title is what draws readers in. If it doesn't grab their attention and tell them what's in store, then they are likely to click away. Thus, your headline must be succinct, but memorable. The goal is to pique their curiosity or address a common problem they need to solve. However, this does not mean making false claims or exaggerating the benefits. For example, try not to promise readers that your promotion is "guaranteed" if they attend your eLearning course. Bear in mind that this eLearning press release is going to build your credibility and brand image… if you choose your words carefully. You can also include a summary or subhead beneath the headline if you'd like to elaborate on the statement. It should be no more than one or two sentences.
4. Location
The place of origin and the date of the eLearning press release. In most cases, the main headquarters of your organization is the location where the eLearning event is being held. If you are embargoing the eLearning press release, include the date of publication instead of today's date.
5. Body
This is the foundation of your entire eLearning press release. It should include all the key takeaways, including the 5 W's of the story (who, what, where, when, why). Facts, stats, and other relevant data are always essential, as well as quotes. Ideally, your eLearning press release should have at least one or two quotes from notable sources, such as experts or eLearning industry professionals. The lead paragraph must cover all of the discussion points, and then the proceeding paragraphs go into greater detail. Mention all of the important details without going over the 500 to 800 word cap. If possible, keep your eLearning press release to one page or less. However, most news outlets will accept two page eLearning press releases, as long as they are informative and succinct.
6. Boilerplate
The bulk of your eLearning press release is about the story itself. For example, the release of a new Instructional Design book or an upcoming eLearning tradeshow. However, the boilerplate is where you can showcase your company. Mind you, it should only be a short 5-to-6 sentence paragraph. Give readers more information about your organization, such as how long you've been in the eLearning business and your brand message.
7. Contact Details
This section is primarily used by members of the media who require more information. As such, you should restate all of the contact details from the top of the eLearning press release or provide a more suitable contact. For example, some organizations have a press release team who works directly with the media. In this case, the sales contact may be listed on top, and the public relations contact at the bottom. Once again, mention their email address, phone number, address, and website URL.
8. Finishing Touch
End your eLearning press release with three numeric symbols (###). If you are including a second page, be sure to write "more" or "continued" at the bottom of the first page. You must also include "Page 2" at the top of the proceeding page. Otherwise, readers may stop halfway through the eLearning press release, not even realizing that you have more to offer. You should also use 12 pt. Times New Roman font, double-spaced. This helps with legibility and ensures that key points stand out, which makes life easier for members of the media.
9. Proofreading
This may not be a section of the eLearning press release per se, but it's an integral part of the formatting process. Review your eLearning press release with fresh eyes to correct grammar mistakes and remove extraneous details. Also, be on the lookout for industry-specific jargon and run-on sentences. Remember, not everyone knows "insider" vocabulary, and you don't want to exclude readers or members of the media. You might consider hiring an editor to read your eLearning press release before you submit. They can catch any errors you missed and fix any formatting issues.
Formatting your eLearning press release helps to ensure that readers get the information they require as quickly as possible. It also increases your chances of gaining media exposure, as journalists can pinpoint key facts that they need for their stories. So, use these eLearning press release guidelines to craft a clear, concise, and polished piece for your eLearning event.
Download the Free eBook: The Definitive Guide To eLearning Press Releases to learn more about eLearning press release formatting, do's and don'ts, editing tips, and submission guidelines.