The Right Tech For The Task: Choose The Best Employee Onboarding Software
Once you've got a sense of how to adapt your new hire roadmap to suit a remote environment, you might be wondering: "Yeah, but how am I supposed to actually deliver that? Where do I even start?" Trust us—we know it can seem like a steep climb. But there's one first step that can make the whole process much easier: choosing the right tech for the task, and getting the best employee onboarding software the market has to offer. In this chapter, we'll take you through the basics of how to choose the right LMS, HR platform, or talent management solution to help you bring your new employee onboarding to life.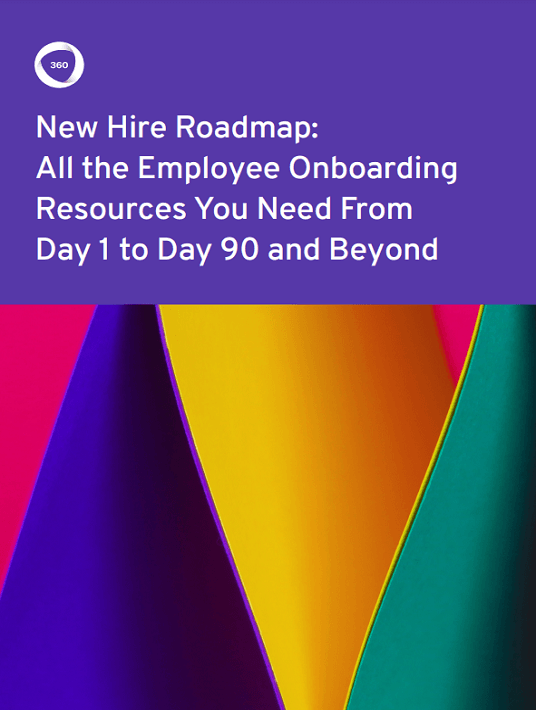 eBook Release
New Hire Roadmap: All The Employee Onboarding Resources You Need From Day 1 To Day 90 And Beyond
We'll show you all the employee onboarding resources you need to build a great new hire roadmap from Day 1 to Day 90 and beyond!
3 Steps To Finding The Best Employee Onboarding Software
1. Choose A Platform That Makes Onboarding Relevant
If you're in the market for employee onboarding software, you need to start with a fundamental question: will this product make my new hire experience more relevant to their role?
Whether you're talking about LMS software, an HR platform, or a talent management solution, this question is still incredibly important. Your new hires need an onboarding experience that is tailored to their exact needs, and you need a software solution that enables this tailored experience.
So, as you're putting together a shortlist of potential employee onboarding software solutions, be sure to examine the extent to which the software enables customized, crowdsourced learning experiences built through subject-matter expertise. You need a solution that makes it easy to connect new hires with subject-matter experts across your business, and which offers the flexibility to quickly create, develop, and ship new training projects in response to emerging learning needs during the onboarding process.
Get this right, and you can ensure the kinds of new hire experiences that make people love every minute of their onboarding and make it impossible for them to think about ever leaving your company.
Next up, engagement.
2. Choose A Platform That Makes Onboarding Engaging
The best employee onboarding software on the market doesn't just make it easier to build relevant training experiences for new hires—it can also encourage the kind of onboarding experiences that are unforgettably engaging.
As the science tells us, active learning increases knowledge retention—especially during onboarding. If your new hires are actively engaged in peer-generated courses, instead of watching onboarding videos or listening to pre-recorded lectures, then they're more likely to retain new information and ramp up quickly—not to mention have more fun.
The right employee onboarding software can make it easy to create these engaging new hire experiences by creating an atmosphere where onboarding content is built through continuous collaboration between experts and teams. Because employees are always sharing expertise and building new skills, this makes onboarding courses more immersive and engaging, meaning higher levels of course completion, satisfaction, and retained knowledge. These LMS features can also ensure you maximize your onboarding ROI, boost employee engagement, and give your teams the tools they need to grow together.
Finally, you need to choose an employee onboarding software solution that makes onboarding as collaborative as possible.
3. Choose A Platform That Makes Onboarding Collaborative
Traditionally, a lot of organizations have thought of onboarding as a one-way process. L&D, HR, or senior management sets a standardized onboarding curriculum, and all new starters take the same courses. Well, this kind of top-down experience simply doesn't cut it anymore.
Now, new hires expect onboarding experiences that are built and shaped with their needs in mind, and which are the result of cross-team collaboration between subject-matter experts at all levels. They want to feel like every step of the onboarding experience reflects the reality of an actual learner. Making the onboarding process collaborative is the best way to achieve
that.
That's why a Collaborative Learning platform can revolutionize your new hire onboarding. With Collaborative Learning, every step of every learning experience is the result of peer feedback and iterative learning, with learners offering their reactions to course authors during the course creation process. In practice, this means your new hires will never have to deal with bland, cookie-cutter training. Instead, the process of collaboration will ensure everything they see, hear, read, and watch is tailored to their exact needs and demands.
So, that's a sense of the three steps you need to consider to ensure you choose the best employee onboarding software for your teams, whether you're talking about an LMS, HR platform, talent management solution, or anything else.
Now, a quick word on software implementation.
One Final Tip About Implementing Onboarding Software
Choosing the right employee onboarding software can be a big decision. Not only do you have to qualify different solution vendors—you also need to set an accurate budget for the transition to this new platform, as well as outlining a timeline that is realistic and balanced against any competing business priorities.
It's crucial to be crystal clear in your internal communications with every single team involved with your new hire onboarding, from L&D and HR through to finance, IT, operations, and beyond.
Conclusion
To make the right first step, be sure to build a rough picture of your employee onboarding software implementation timeline and budget. Don't forget to write a week-by-week breakdown of who's doing what when, including:
When your new employee onboarding software will be tested, and when it'll go live
Who will get the chance to test out your onboarding software first
How you'll conserve and migrate your existing onboarding training material
What happens with your onboarding targets for the month, quarter, or year
Who will design the shape of your main learning paths
The metrics you'll be tracking to ensure a successful implementation of your new employee onboarding software (e.g. new hire ramp-up time, courses delivered, onboarding time saved)
And finally, don't forget to create a clear budget for your employee onboarding software implementation, and monitor your performance against this budget over time. The last thing you want when selecting the best employee onboarding software is a nasty surprise at the end of the month. This way, you can maximize your training ROI in a smooth, predictable way.
Download the eBook New Hire Roadmap: All The Employee Onboarding Resources You Need From Day 1 To Day 90 And Beyond to learn how to launch a new hire training program that makes a mark and fosters lifelong L&D. Also, join the webinar to stay updated with a new hire roadmap that will leverage your onboarding process!
References: