Secrets For Implementing A Mobile LMS For The First Time
Mobile training solutions are an absolute must for modern organizations. A majority of your employees either work remotely or need JIT support. This requires mobile-first resources that are available whenever and wherever. Mobile LMS platforms give everyone the same optimal viewing experience so that tech hurdles don't stand in the way of employee development. But purchasing a Learning Management System is just the first step. What comes after you choose your pricing plan and sign the contract? These mobile learning tips for new responsive Learning Management Systems help you navigate common pitfalls and achieve online training success.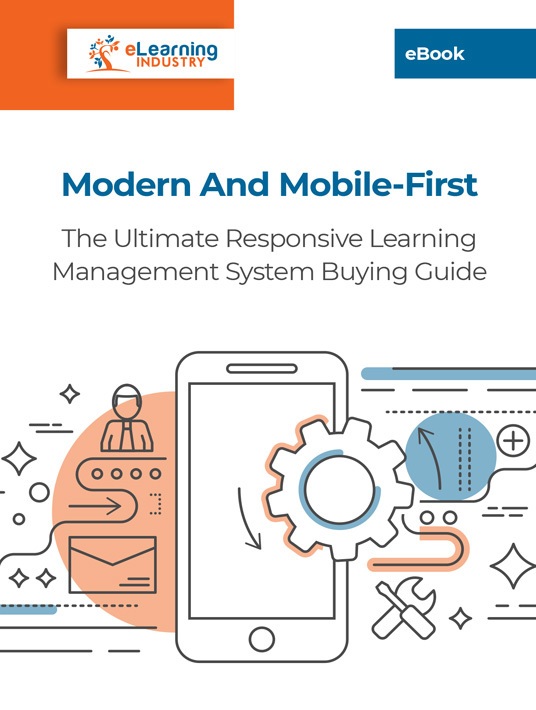 eBook Release
Modern And Mobile-First: The Ultimate Responsive Learning Management System Buying Guide
Discover how investing in mobile training solutions will help you stay ahead of the competition.
1. Convert Existing Online Training Content To Make It Mobile-Worthy
Some of your online training content may be good to go. It's ready to upload to the new responsive LMS because you've designed it with mobile accessibility in mind. However, other online training resources need some work to become mobile-ready. For example, you need to optimize multimedia to reduce download times on slow internet connections. Or convert small text hyperlinks into buttons that are better suited for smaller screens. Some PC online training content won't translate well to mobile devices. Thus, you must re-evaluate your online training resources from a smartphone/tablet perspective.
2. Regularly Re-Evaluate Your Implementation Schedule
Keep a flexible implementation schedule that includes all the crucial tasks but still leaves room for L&D emergencies. This covers everything from unexpected setup challenges with the LMS to data migration obstacles. Review the timeline regularly to adjust milestones and rollout dates based on team performance or emerging issues. For example, employees are taking a bit longer to learn the new functions. Thus, you may have to move back to the first round of outsourcing or user testing to accommodate the new timeframe. There should also be time for revisions or eLearning feedback sessions after each phase to get team input. For instance, they think the process is moving too quickly based on their current workload and are finding it difficult to keep up.
3. Customize Security And Authentication Settings
All mobile training solutions come with security measures and authentication support. However, the customization options vary depending on the LMS vendor and their tech specs. While some allow you to set up manual accounts and support self-registration with admin approval, others have more limited authentication features. The same rule applies to security protocols. Enact strong password restrictions to avoid data breaches. Or limit access/registration to certain domains.
4. Maximize Vendor Support Services
Every mobile training solutions vendor provides some degree of support. Even if it's a basic online FAQ, demo video, and troubleshooting guide. However, there are some that take it to the next level with phone, email, and live chat support. These may come at an extra cost but they are worth the investment if your team is less experienced. Test out their support services during the selection process, then make the most of their expertise during implementation. Tap into peer tips and tricks on their online forums or social media. Contact them to see if there are any extra features or integrations to improve the mobile training tool functionality.
5. Test The Mobile Training Content On Multiple Devices
A simulation or serious game looks amazing on one device, but that doesn't mean it delivers the same training experience on every mobile device. It's crucial to test the mobile training content on different resolutions, screen sizes, and browsers. Are there aspects of the layout that don't translate well? Is the text or buttons too small on certain smartphones? The Learning Management System automatically adjusts the design to fit the device. However, there should also be a built-in previewer so that you can make minor changes to the layout.
6. Outsource Mobile Learning When It's Cost-Effective
"Outsourcing" shouldn't be a dirty word just because you're an SMB with limited resources. In fact, sometimes hiring an eLearning content provider is more cost-effective. For example, they already have the tools and expertise to develop mobile learning content for your new responsive Learning Management System. Or they can quickly convert existing assets so that you deploy on time—before mobile accessibility impacts your compliance stats. The key is knowing when it's time to hand it over to a third-party provider. Develop two expense sheets for the first phase of your mobile learning implementation. One that covers all the in-house costs, then another that delves into outsourcing fees for the same tasks. Compare the two budgets to see which is better for your bottom line. The development timeline should also factor in the decision-making process.
7. Set Up An Effective eLearning Feedback Cycle
Have an eLearning feedback system in place that enables you to identify hidden flaws and areas for improvement. For example, conduct surveys or polls to see how employee training participants respond to the mobile training content. Schedule monthly L&D meetings to gather eLearning feedback from your developers and admins who can shed light on LMS expectations versus reality. It's also important to give eLearning feedback to employees so that they continually build skills and bridge personal gaps. This may be in the form of recommendation lists, mobile learning assessments or post-activity performance recaps.
A new responsive Learning Management System isn't going to magically solve all your online training problems. It's merely a mobile training tool to help you implement change and improve performance behaviors. Just like any tool, it's all about how you use it. You must evaluate existing online training content to make sure it's mobile-ready as well as make the most of vendor support and in-house expertise. Get to know the features so that you get the best value for money and analyze your strategy from time to time to spot emerging gaps.
If you want to provide quick, convenient, and meaningful learning experiences to your workforce, download the eBook Modern And Mobile-First: The Ultimate Responsive Learning Management System Buying Guide. You will find insider secrets that will enable you to choose the ideal mobile training platform in order to provide top-notch mobile training and JIT support even when your employees are away from the office.