How Should You Prepare Before The Purchase
There are a few things you need to do before selecting an LMS. It may be a daunting task, but it can become pretty straightforward if you are prepared. After all, this is a big decision for you and your organization, and you need to have all the necessary information before making this step.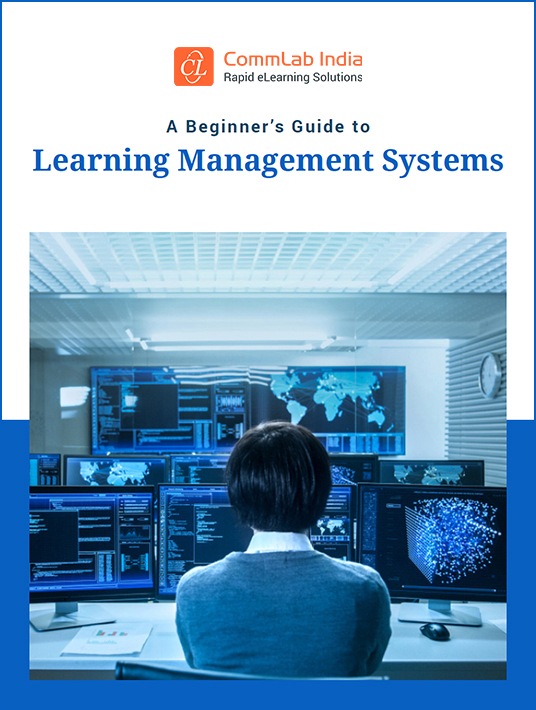 eBook Release
A Beginner's Guide To Learning Management Systems
Download this eBook and learn how to choose the LMS that is right for you and your organization.
Here are 6 things you must do before finalizing your organization's new-age LMS. If you follow this list, you are guaranteed to make the best choice for your needs.
List Your Requirements
The first thing you need to do before selecting an LMS is to understand what you require. Benchmarking your requirements will prevent you from ending up with an LMS that's full of features that may not be needed or used – saving you a lot of time and money. Form an internal team to gather information on different users' requirements, including learners, trainers, administrators, and customers. Look for features like:
Different Content Delivery
Intuitive and Simple Navigation
Collaborative Learning Approaches
Time-saving Workflows
Gamification
Quick and Easy Deployment
ILT and VILT Support
Tools/software Integration
eCommerce Mobile and Offline Access
High Customization
Multiple User Roles
Multiple Language Support
Learning Paths Creation
In-built Authoring Capability
Build Use Cases
In addition to the usual functionalities, every LMS has its own unique strengths. Some are meant for customer training or eCommerce (with in-built billing features); some for hosting and managing courses, reporting, and compliance; while others focus on course creation, curation, and including content from Subject Matter Experts (SMEs).
So, the LMS you want to purchase should be based on the actual needs of your end-users.
To make that decision easy, you should build use cases and let your vendors hold a use case demonstration for you. These use cases or user scenarios should describe the most important functions you want your LMS to support.
Once you have the specific use cases, the LMS vendor will be able to personalize the demonstration – to show how it works to address your specific needs. Here are a few examples of use cases:
Requirement
Use Case
In-person classroom training with an instructor
The vendor should demonstrate how to:

Schedule sessions
Send notifications
Track attendance
Assign reading resources to learners

Separate learning programs for newcomers and experienced employees
The vendor should show how to create different learning paths for different users/roles.
Send An RFP (Request For Proposal)
Another important thing to do before selecting an LMS is to send a Request For Proposal. While RFPs can include many items, it's important not to miss these key sections:
Company information: In addition to the information already present on your website, you should provide an overview of the company with additional context. For instance:
Your position in the market, differentiators, market challenges
Your customers and their needs
Challenges with your existing LMS
Training goals: Describe the goals of your training programs and your expectations on the LMS in helping you achieve them.
Required functionalities: Be specific on what different users – learners, administrators, training managers, trainers, administrators – need to accomplish with the new LMS. Let the vendor specify if the functionalities are standardized or could be customized.
Integration: Describe the needed integrations with webinar platforms, eCommerce, HRIS, registrations systems, etc. Check the vendor's experience in integrating with such applications in the past.
Data migration: Describe the amount of data you need to shift into the new LMS. Will it be from one source? Who will be map the data?
Timeline: Specify when you would like the LMS to be up and running.
Ask Prospective Vendors For A Sandbox
An LMS sandbox will offer you a testing ground (or unique domain) to get a hands-on demo environment to evaluate the actual look and feel (and functionalities) of the LMS.
Before you ask the vendor for a sandbox, it's important to decide why you need the sandbox trial. You should be clear about:
The functions/features you want to test (Think of the key objectives that the LMS will be addressing.)
Who will be testing the features (Decide on the users – LMS administrators, IT leads, training managers.)
How you will decide the success or failure (Make a list of requirements and the minimum number of requirements that should be met to mean success.)
Have A Pilot Group (From All User Types) For The Test
Pilot testing is done on a more dispersed and diverse group of users. It allows you to get additional feedback on end-user experience and eliminate the risk of failure after going live. 16 For instance, if the LMS is integrated with different applications such as Microsoft accounts and HRIS, check if your users can use the Single Sign-On (SSO) to access the system. Pilot testing also gets you feedback on the LMS' ease of use for learners. Are they able to easily navigate screens, access assigned courses, or use the LMS collaborative features? You can also analyze the tracking and reporting capabilities of the LMS – progress checks, customized metrics evaluation, and report generation.
Decide On A Timeframe For Implementation
The last of the things you should do before selecting an LMS is deciding on a timeframe. The timeframe for LMS implementation varies drastically depending on the complexity of integration and the efficiency of the LMS vendor. It could be anything from a couple of weeks to several months. The rapid and straightforward launch of your LMS will also depend on your organization's internal procedures. When you're finalizing on LMS vendors, it's important to agree on the timelines. That'll give you a fair idea of how prepared they are to meet the deadlines without compromising on the quality of work. In addition to the time required for implementation, you should consider the time that will be required for data migration, pilot testing, admin training, debugging, and so on.
Conclusion
Getting these things right is just one step towards acquiring and optimizing the ideal LMS for your organization. If you are new to LMS, you should definitely download the eBook A Beginner's Guide To Learning Management Systems, a valuable resource filled with insights from the industry's top learning professional that specifically caters to the needs of a beginner.
CommLab India Rapid eLearning Solutions
Working with multiple outsourcing vendors can be stressful, and a waste of time & money. With CommLab India Rapid eLearning Solutions, all your online training needs are taken care of, rapidly and economically.