How To Evaluate LMS Vendors When Purchasing A New LMS
Learning Management Systems are a significant investment. Thus, it's crucial to take as much time as you need to select a platform that will suit all your business needs and improve ROI. That includes evaluating the LMS vendor who stands behind the product. Having someone you can trust and contact when you encounter an issue is essential. Recent studies show that inadequate support from LMS vendors in the leading cause for LMS replacements. Here are 7 tips to evaluate LMS vendors before purchasing your new Learning Management System.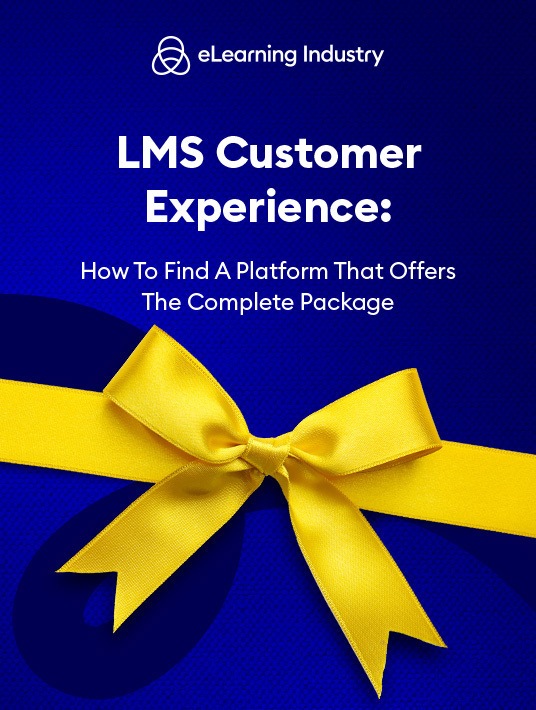 eBook Release
LMS Customer Experience: How To Find A Platform That Offers The Complete Package
Find out why LMS Customer Experience really matters, the benefits of delivering a Superior CX for your organization, and how to set your LMS expectations before purchasing a new platform.
1. Test Their Product Development Approach
Do the development plans of the LMS vendor look sustainable? An LMS vendor must be able to keep up with industry trends and continually reevaluate their product. Evaluate the history of the LMS and where the vendor anticipates it will be in the future. Look at product roadmaps to gauge if the LMS vendor is active and accurate when it comes to deadlines. A steadily evolving platform should assure you that the LMS vendor is able to meet and exceed market trends. Also, it shows that the LMS vendor will keep increasing the value of the Learning Management System, which is beneficial to your organization.
2. Check If Customers Are Involved Every Step Of The Way
An LMS vendor should provide an LMS that helps users address gaps and online training pain points. This means that when making changes to their platform, they must consider what consumers are demanding. Find out if a prospective LMS vendor solicits feedback from consumers and uses it to decide which developments to prioritize. For example, do they often ask for input on their social media platforms? Do they encourage users to send comments and concerns via their website?
3. Conduct An LMS Vendor Background Check
Though new LMS vendors may have surprisingly low prices, you need to determine if it's a risk worth taking. Before selecting an LMS vendor, make sure they have a track record. How long have they been in the industry? A vendor that's been around for a few years is usually better equipped to handle challenges and provide superior Customer Experience. This is due to the fact that they've already ironed out the customer service issues and have an experienced team on hand. It also means that they have a customer base large enough to sustain them. When doing a background check, be sure to find out the growth rate of an LMS vendor's business. A high or constant growth rate is an indicator of customer satisfaction, customer loyalty, and business stability.
4. Look For Established Experts In The Field
A great LMS vendor should not only be informed but also be an opinion leader in the industry. They should display thought leadership and spearhead important innovations. When you evaluate LMS vendors, check the quality of the content they provide. For example, review their blog and website to determine if they are knowledgeable in the field. Do they offer helpful tips and LMS insights? You should also check out their social media pages and groups, paying close attention to the number of positive comments, share, and likes.
5. Find Out If The LMS Vendor's Customer Relations Are Humanized
Automated responses are a tad annoying, especially when you have a pressing issue with your LMS. A good LMS vendor should have a humanized customer relations department with excellent response time. Submitting test tickets will enable you to gauge the quality of the support they provide. Do they reply in a timely manner? Are they able to address every aspect of the problem to ensure that it doesn't happen again? You can also check if the customer reviews and testimonials are positive.
6. Research Online Reviews And Ratings
Online reviews and ratings from past and current users give you the power to explore an insider's perspective. For example, whether the LMS vendor provides superior customer service or falls short. Look for reviews that mention the support options or experience of the vendor. When you evaluate LMS vendors, take the Net Promoter Scores into consideration. High scores indicate that users are likely to recommend the product, which speaks volumes about the Customer Experience, while low scores are a tell-tale sign that the LMS platform underdelivers.
7. Set Up A Meeting To Address Your Concerns
Schedule a meeting with the LMS vendor and prepare a list of questions ahead of time. This gives you the opportunity to speak with their rep one on one and address any concerns you have. You can also see how they field your questions and if they are knowledgeable about their product. Meetings give you the chance to personalize the vetting process by determining how the LMS vendor will handle your specific requirements. For example, if they can deliver the level of support your team needs. If a face-to-face meeting is out of the question, use a video conferencing tool instead. It's best to schedule this after your LMS free trial or demo so that you're already familiar with the pros and cons of the tool. That way, you can discuss the gaps with the rep to see if add-ons or upgrades are a viable solution.
With these 7 tips, you can successfully evaluate LMS vendors and find a platform that will always bring value for money. Before making your final decision, ensure that you also know what they charge for customer support. Remember that an LMS vendor who has been in business for long and has an impressive customer list is not always the best. Choose an LMS vendor based on their ability to meet your unique needs and expectations.
What are the warning signs that you should look for in your current LMS before deciding to buy a new one? Are your top LMS choices going to deliver the superior customer experience you deserve? Download our free eBook LMS Customer Experience: How To Find A Platform That Offers The Complete Package for tips on how to select an LMS vendor that offers a superior customer experience and provides the level of support you need. You'll also discover the most common CX challenges and tips to avoid them, as well as explore the top benefits of investing in an LMS that delivers a top-notch CX.