What Makes A Blended Learning LMS Ideal For Your SMB
Blended learning is sometimes tricky to implement, but like other forms of online training, going the LMS route can be an advantage. It gives you more branding options, and you can design your blended learning elements to fit your needs. But before that, you have to decide whether the blended learning approach is how you want to go. As a smaller organization, the budget is an issue, but there are other factors, too. What are some things you can consider as you shop around? Here are 6 tell-tale signs that a blended learning LMS is the best choice for your SMB organization.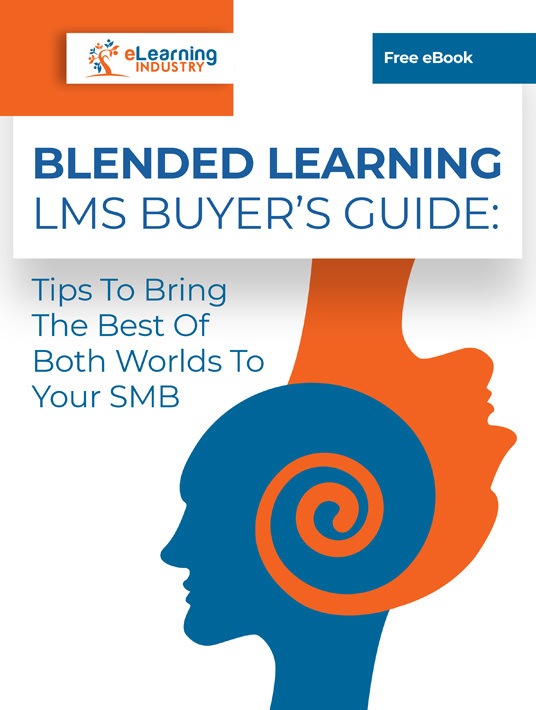 eBook Release
Blended Learning LMS Buyer's Guide: Tips To Bring The Best Of Both Worlds To Your SMB
Discover how to remedy traditional training gaps and bring the best in your SMB using a blended learning LMS
1. You Want To Take A More Holistic Approach To Real-World Application
This seems strange, but it actually does matter. Yes, all industries require some form of training, whether it's on-boarding new hires or inducting seasonal workers. But not all business types and organizational models lend themselves to blended learning systems. Assembly line or warehouse workers could benefit from blended learning. They can review the process online, then practice runs on the factory floor. Or a sales employee can learn about new product features and then test it out in real life. A blended learning LMS gives you the ability to facilitate virtual real-world application through simulation and scenarios. But employees still have the chance to try things out in a face-to-face training session to reinforce the ideas/steps.
2. You Need To Provide Varied Training Techniques
Small and medium are relative terms in business as they may refer to revenue, reach, or real estate, the size of your premises. It may even be derived from your staff volume. Based on all these factors, you have to decide how you want your training to be done. Will you set aside a week for everyone to attend the seminar, or will you hire an expert to tour departments? Do you want them to learn by earphones as they work? Will you upload online training content that can be accessed at will, or would you rather run recordings in the background? Your preferred method dictates your training system. A blended learning LMS allows you to switch up your delivery methods and accommodate everyone's needs and preferences, but you can also scale things up or down to align with your budget, workforce, and training objectives.
3. You Don't Want To Settle For Traditional Assessment Methods
For compliance courses, you might train your team online, then gather them in a room for their qualification exam. The blended learning approach works well for safety training, or even for sexual harassment courses. Other types of training are more academic, for example, foreign languages. So, you only need blended learning components for au-pairs or exchange programs. Another issue is automated tests vs long-form evaluation. If questions are the yes/no, true/false, or 1 to 10 variety, you only need digital tools, but for essays and open-ended queries, blend in a human instructor to mark their questions, even for small groups.
4. Your Employees Have Different Or Unique Training Needs
What type of organization do you run, and what are your employees like? You might have a business with differently-abled relatives on the staff, or an online store with employees scattered around the globe. The needs of your employees will influence your blended learning LMS choice. For example, some may need to be physically led through tasks, which requires at least a few offline sessions while others may need help reading or typing, which could make purely online courses inappropriate. They'll require a good bit of face-to-face engagement, with or without screens. A blended learning platform gives you the ability to deploy training to everyone on the payroll, even those with special requirements, which allows you to develop an all-inclusive blended learning culture.
5. You Don't Want To Bring In A Full-Time External Trainer
Organizations with smaller scopes often lack the budget to hire an external trainer, they might use someone in-house or attend joint training to cut costs. Either way, the kind of trainer you have access to influences the LMS you use. If they're far away and can only teach remotely, the course will be online, in a sense. But the instructor can still video-call employees, which gives it a facet of blended learning. Also, depending on how hectic the instructor's schedule is, they can have group sessions or one-on-one. If your class is small, group sessions might suffice, and everyone will get adequate attention. Plus, it'll be easier, even for a busy teacher, to schedule an hour or two of personalized attention for each employee.
6. You Need Better Access To Big Data
Face-to-face training often yields less Big Data than online training, but a blended learning platform gives you the best of both worlds. You can still incorporate face-to-face support while tracking everyone's performance and disclosing areas for improvement. As such, you're to step in when necessary to get employees back on the right path so that they bridge gaps. Look for a blended learning LMS with advanced reporting features, such as data visualizations and customizable metrics.
The decision on a blended learning LMS doesn't depend on the size of your business, but the criteria are quite different for SMBs vs larger organizations. What are some of the factors that inform your choice? Blended learning is better suited to some industries than others. Your preferred training tactics come into play, as does your choice of instructor. Review your assessment modules and the needs of individual employees. These can all help you gauge which, or whether, blended learning systems are the right fit for your training.
How is conventional training problematic, and how can the blended learning approach fix it? Is there any way to convince employers blended learning software is the way to go? Download our eBook Blended Learning LMS Buyer's Guide: Tips To Bring The Best Of Both Worlds To Your SMB and discover how to remedy traditional training gaps, leverage your blended learning platform for managing online training, and how to bring the best in your SMB by using a blended learning LMS.