How To Use Web Conferencing Tools To Train Your Remote Workforce
Do your online training resources still align with your business objectives and outcomes? When was the last time your team took a collective deep-dive into LMS performance metrics? Digital meeting solutions aren't just for hosting live events and employee development webinars. They can also be used for periodic QA checks of online training resources and L&D TLC. They give your team a platform to share ideas, identify emerging trends, and gather immediate eLearning feedback. Online training content developers, admins, and online instructors can get together on a global scale with the help of participant management software. Here are 7 innovative ways to use web conferencing software for online training materials management, as well as a bonus tip to help you choose the best platform for your team's technical expertise.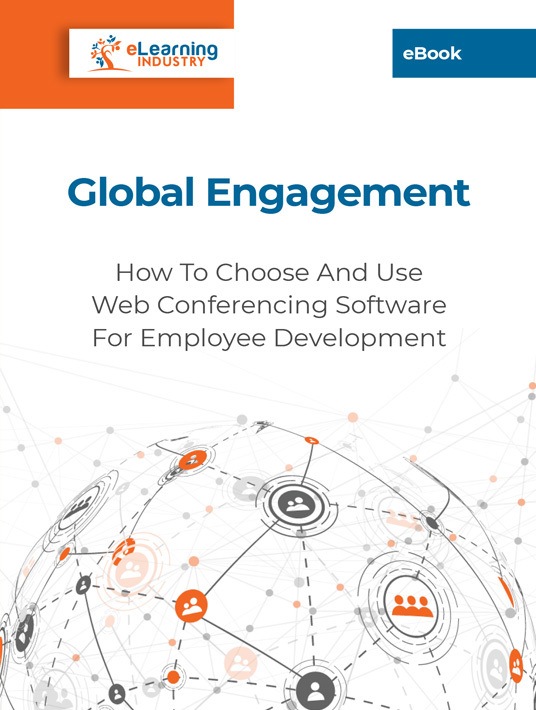 eBook Release
Stay Locally. Engage Globally.
Looking for a web conferencing solution? Read this guide and make the best choice according to your needs!
1. Online Training Resource Reviews With Screen Sharing
Collaborators review online training resources together with the help of web conferencing software screen sharing. The host is able to cast their screen to the group and gather input. For example, does the overall aesthetic reflect your brand image? Is the online training content relevant to the target audience? Everyone brings their niche expertise to the table to prevent cognitive overload and streamline knowledge transfer. They can also add revision notes using built-in whiteboard features.
2. Live SME Feedback Sessions
Invite SMEs to evaluate the online training resources with the team and point out areas for improvement. It might be an outdated online training tutorial that needs a modern makeover. Or a work in progress that's missing relevant facts or stats. This is your chance to pick their brain and make the online training resource more relevant and real-world centered. Provide the SMEs with the activity or module beforehand so that they can prep for the meeting. They should also be aware of the online training objectives and desired outcomes involved.
3. Compliance Updates To Realign Online Training Materials
Think of your back-end team as the gatekeepers. They're the ones who must decipher new compliance regulations and company policies to make them easily digestible for employee training participants. They also decide which online training content enters the web conferencing software and how information should be delivered. Thus, they need to know about the latest compliance updates as quickly as possible to adjust the L&D strategy accordingly. Schedule regular recap events so that they can realign online training materials based on new rules, guidelines, and protocols.
4. Team Leader Collabs
Managers and L&D staffers meet to discuss emerging issues and how to tackle negative performance behaviors. Team leaders are on the frontlines of employee development. Thus, your online training developers and admins get an inside look at how their online training content translates in the real world. How employees perceive online training initiatives and whether it targets their specific needs. Are they relying too heavily on managerial support because the online training resources fall short?
5. Remote Revision Rounds
Revising online training materials is not a solo activity. Especially when numerous members of the team played a crucial role in the development process. These same people should have an opportunity to make last-minute adjustments and justify their reasoning. For example, they can explain why a particular image or text block should be saved from the chopping block. Digital meeting solutions are ideal for revision rounds and brainstorming sessions. Everyone can express their opinions and concerns before rolling out online training content.
6. Online Training Content Repurposing Recommendations
What should you do with that outdated online training material, except for banishing it to the far reaches of the archives? Online training content repurposing roundtables gather inspiration from the entire team. How would they reuse the resource to achieve today's online training objectives? Are there any other assets you can combine/incorporate to enrich the eLearning experience? This also gives them an opportunity to do some minor housekeeping, such as evaluating LMS metrics to see which assets are underperforming.
7. Online Training Resource Highlight Events For Front-End Users
In some cases, the issue isn't with the online training resource itself, but with its exposure. Employees simply aren't able to find the online training materials they need when they need them. So, host an online training resource spotlight event for employees. Admins, developers, and managers share their top 10 go-to online training resources for each department, task or skill. You can even center each event on a problem or question. For example, how do sales employees hone their persuasion skills? Then delve into the essential online training tutorials, video demos or modules they can use to develop their talents in the LMS. This event also explains why each online training resource is valuable, its estimated seat time, etc.
Insider Secret To Find The Right Web Conferencing Tool For Your Team
Can eLearning content developers host spontaneous meetings to fix overlooked errors right before launch? Does the platform have all the features they need without compromising a user-friendly interface? Get their input to compile a list of essential functions and selling points. Then sign up for free trials and demos so that they're able to test drive the web conferencing tool. Does the participant management software fit into the workflow and align with their skills? Create evaluation criteria to weigh web conferencing solutions fairly and avoid long learning curves.
Keep in mind that digital meeting solutions are not a substitute for a strong team dynamic. Your L&D staff must still be open to the process of remote collaboration and do their part to maintain active communication. Just like any tool, employees must maximize functionality and apply their skills to get the full benefit. The first step is to find a platform that's easy to use for every member of the team, regardless of their experience. Then walk them through the features and how they tie into daily work tasks. You might even share this article with them so that they know how to review, revise, and repurpose collectively.
Want to learn more about the benefits web conferencing software can offer to your organization? The eBook Global Engagement: How To Choose And Use Web Conferencing Software For Employee Development is full of helpful tips and innovative solutions that will help you retain the effectiveness of your online training strategy and build a strong company culture even if your workforce is working from home.