eLearning Software
eLearning Solutions
Learning Management Systems
List of Learning Management Systems: Part 1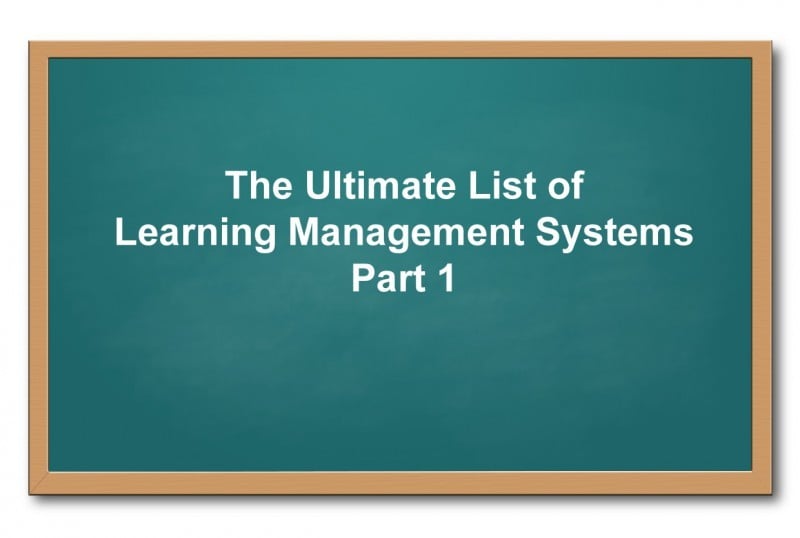 70 Learning Management Systems
This is why I begun a broad research to create the Ultimate List of Learning Management Systems. This blog post is the first of a series that will cover 300+ of Learning Management System Solutions, so stay tuned!
At the Learning Management Systems: Part 1 I have created a list of 70 Learning Management Systems in alphabetical order.
In case that you want to create a FREE eLearning portal in 30''
Accessplan LMSAffordable, scalable, web-based LMS containing all the core functionality; suitable for small to mid-size business.
Accord LMSEasy to use LMS at a price that can't be beat. Mobile enabled, Social tools, dozens of extensions, customizable skins and templates.
Acumen LMSPowerful, robust LMS solution for integrated enterprise learning management.
GO learn LMSFully-featured solution that performs internal training, manages training content, builds community, monitors training & certification.
ASCENT Aviation E-training SystemComplete web-based training system for aviation workplaces.
Aframe LMSOnline learning and assessment management system; manage content, learners, trainers and administrators.
ED Global LMSOn-demand ED Global LMS solution allows quick and easy connection with any popular browser.
AVANTI E-training SystemComplete web-based training system and learning management system for workplaces.
My Tutor LMSWeb-based LMS that enhances, monitors and reports on learning and development initiatives.
eLearningE-Learning Solutions offers targeted learning solutions that deliver results to support your specific strategic business initiatives.
Academe Suite LMSA combination of LMS, attendance management, video lecture delivery, and institute management system modules.
uLearn LMSOnline LMS with courseware catalogs creation, completions and assessments tracking, events/assessments management, ecommerce support.
AptechWeb-based interactive learning environment that brings intelligent, efficient learning solutions, loaded with features.
eCampusPro LMSLMS platform that enables you to launch an effective and low-cost eLearning solution.
My eLearning StoreA hosted learning platform in the cloud which brings affordable online training to organizations, wherever and whenever it's needed.
Aspire LMSAspire LMS is a Learning and Content Management System that allows you to train and track corporate learning.
AtHand Learning SystemA complete online learning solution includes a server, courses, and an LMS with an unlimited user license.
WeblearningAn online system that provides course, presentation and quiz creation, management, tracking, and integration.
AvacasterEnables live internet presentations and conferences that can be archived and made available over the web.
AvancertSaaS platform for creation, management, delivery of electronic exams, assessments. Video interview capabilities and traditional exams.
Virtual Class RoomInteractive, multimedia, live and on demand, web-based classes and learning management system.
WebMentorCourse authoring system that lets you build compelling and effective eLearning solutions.
Webcampus Tecnonexo LMSFlexible learning management system for corporations, government agencies, and educational institutions.
BeelineHost and deliver custom elearning, courses created by your own organization and even off-the-shelf courseware.
Contento Integrated system for the assembly and distribution of training content and the management of users.
CompanyCollegeAllows small and mid-sized organizations to deliver employee training programs that are cost-effective, convenient, results-oriented.
Blackboard Learning SystemWeb-based server software that offers course management and integrates with student information systems.
Absorb LMSSCORM compliant LMS specially designed for Flash and other multimedia based courses.
BloomfireGeared specifically for easily sharing knowledge and the discussions that surround it. Invite members to find and follow experts, ask questions, and share with others.
Wizdom WebOffers everything you need to deliver and manage live, self-paced and blended learning, as well as assessment and certification training programs.
Serebra Campus LMSVersatile LMS software that enables organizations of any type or size to create a centralized web-based community for learning.
BlueVolt LMSIncrease the effectiveness of your company's training process with BlueVolt's Learning Management System.
Brainshark Rapid LearningQuickly launch and manage on-demand web-based training and elearning initiatives and track the progress of learners and groups.
bvLMSManages both online and offline modes of learning delivery; multiple user roles with customization and integration options.
BrainX Talent Management SystemWeb-based talent management system used by corporate trainers to improve employee performance.
FOXEnables security, response forces and regulation compliant enterprises to assure proficiency of personnel.
BRAVO!Web-based training and e-learning solution; create, manage and track training game courses and learning programs.
verxacteLearning platform with course evaluations, messaging, orders/registration management. Customizable and adaptable to corporate image.
CapabilitiPlan and access instructor-led, online and on-the-job learning for accreditation, compliance and training and development purposes.
CapitalLMSCapitalLMS is our proven LMS / Learning Portal for the administration and delivery of learning via the web.
Coursewebs.comOnline assessment & learning content management system with online exams, progress tracking and controls, certificates, reporting, etc.
LMS SuiteCombines LMS, LCMS, authoring, virtual collaboration and CMS functions in a single platform.
ClickClass Hosted E-LearningOnline elearning tool; rapidly author, deliver and manage modular online learning content.
ClipTraining Company PortalCloud-based training portal with on-demand access, exams, quizzes, reporting, and assessment tools for MS Office and Windows training.
Cloud Education Management SystemA web-based school management software and college management software.
Cobent Learning and Compliance SuiteAward-winning, web-based system to create, manage and audit training for compliance and quality management.
Coggno LMSRobust and sophisticated learning management system with an extremely uncomplicated user interface.
Collaborize ClassroomA free online collaborative education platform that allows students and teachers to engage in an online learning environment.
Comartis' Human Performance SuiteProvides a comprehensive way to obtain timely and credible feedback from different sources in order to drive performance.
CGSFlexible platform to manage, schedule and administer your courses, assessments, participants and instructors.
eDuc Learning LMSWeb-based Learning Management System allowing you to disseminate and manage online and in-class training.
ConsensusManages the planning, scheduling, delivery, tracking, evaluation and budgeting of training within your organization.
Convergence Server EnterpriseA learning content management system specifically for businesses with large workforces and multiple sites.
CornerstoneManage all aspects of your instructor-led training with an array of tools to reduce administrative workloads and costs.
eTrainCenterLearning management system and learning content management system allows businesses to manage, organize, deliver online content.
Delta L Training Management SystemWeb based training management system: course, class and student management, training materials management.
Desire2LearnWe help teachers extend their classrooms, improve communication and reporting, collaborate with colleagues, and show student success.
Student Management SoftwareProcess student information through school and into alumni status, manage funds, register events, and maintain contact information.
Digital DefenseProvide relevant, easy-to-understand, web-based security training for two key audiences: your online patrons and your own employees.
Knowledge Direct LMSA multi-featured LMS that is customizable. Create & manage content, track, test, & report on learners. SSO, DB & eCommerce integration.
EthosCEA full-featured, hosted learning management system with social media features for continuing education and training.
Docebo LMSCloud-based multi-language solution with advanced reporting, messaging, competence management, gap analysis. Mobile features available.
Dokeos LMSOpen source elearning and course management web application.
dominKnow LMSLearning content management system for e-learning applications in corporate, government and non-profit organizations.
SymWriterMeant to help kids with autism, this software shows pictures and words side-by-side. Also if a word is typed, then the picture appears.
DOTS Learning and Talent Management SolutionA web based enterprise learning management system. . Experts in e-learning, learning management and talent solutions.
e-Learning ConsultingManage the delivery of self-paced, e-learning courses and track a learners' activities for each course with online reports.
Ecampus LMSEcampus LMS is a SaaS Learning Management System for mid-sized organisations that need to deliver and track employee training.
ECATTSA secure web-based education and monitoring tool. A real-time LMS customized to meet your requirements.
SMART Training ManagementEnables managers to set up requirements for each job category and view each employee's training records individually.
You may also find useful:
Ultimate List of Learning Management Systems
Ultimate List of Content Authoring Tools