Best Employee Engagement Software (2024 Edition)
Are you looking for the best employee engagement software in the market? You have certainly come to the right place!
Generally, organizations worldwide use employee engagement solutions to increase employee satisfaction and retain top talent. Is your goal set on helping your workers understand the mission and culture of your organization while performing at their best? By simplifying issues for Human Resources (HR) departments, these platforms empower workers to be more productive and effective.
What's the state of employee experience in your business at the moment you're reading this? You must find out.
Stimulating innovation, reducing turnover, and increasing profitability has never been easier. Thus, using one of the best employee engagement tools is your way to better engage permanent full- and part-time employees. And you can do so even if they are often on their smartphones or working remotely.
Although the biggest customers for employee engagement tools are companies like telephone, online contact, and service centers, other industries have started realizing the importance of such tools.
Do you aim to combat employee burnout, stress, and turnover for your business? In this list, you'll find top workforce engagement software to measure employee satisfaction and keep employees happy.
Let's see who won!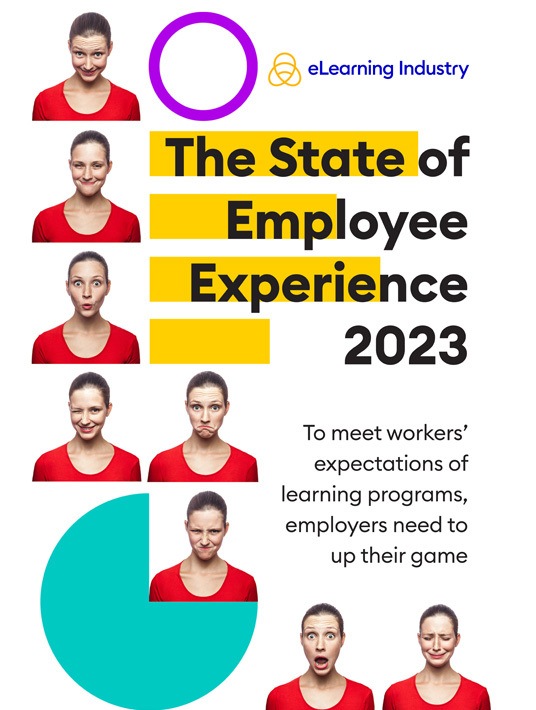 eBook Release
Get The Full Scoop On Our Latest Employee Experience Survey
Our recent State Of Employee Experience survey has uncovered a disconnect between employees' desires and what companies are offering. Download the survey to get the insights!
Here Are The Best Employee Engagement Software Ranked
Discover Your Ideal Employee Engagement Software
Save time and money. Compare top employee engagement software by features, reviews, and rating!
Top List Ranking: eLearning Industry's Engagement Software Selection Criteria
Globally recognized eLearning experts, including C. Pappas and our Editorial team, thoroughly reviewed each vendor's eligibility. After checking relevant content publications by vendors (articles, eBooks, webinars), our committee ranked the best employee engagement solutions based on the following nine criteria:
Customer support
Customer experience
Software features
Software innovation
Customer reviews
Economic growth potential
Company's customer retention
Employee turnover
Company's social responsibility
After having gone through our top best employee engagement software list rankings, you're one step closer to choosing the best platform for your business. We've added some tips and insights below to help you decide which is the best employee engagement software for your needs. Dive right in before making your final decision!
Main Benefits Of Employee Engagement Tools
Sure, you've seen the best employee engagement software ranked, but can you grasp the benefits of using such a tool?
Undoubtedly, work culture is one of the most critical factors regarding job happiness. But to have happy employees, you need to know how engaged they are with your business. And get feedback on how they feel about working for you.
What expectations do they have? Is there anything else besides improving employee experience and team culture? You can get all these answers by utilizing the right tools.
So, here are the main benefits of employee engagement software:
Gives employees a voice
Focuses on people analytics
Improves onboarding
Higher retention rate
Lower turnover rate
Increases productivity
Lowers risk of burnout
Less stress
Boosts creativity
Drives innovation
Having a thriving company culture is the nuts and bolts that get you results in money and innovation. Believe it or not, employee satisfaction and engagement may be simpler than you think.
Above all, every manager desires to lead employees who are committed and engaged. It drives better team performance, as individual engagement leads to team engagement. The same goes for productivity. To achieve team objectives and higher-quality work, you must check in on employee engagement. And remember, focus on creating strong ambassadorship and enhancing your employer brand.
However, as you explore improving retention and productivity, don't underestimate the value of an engaged workforce. You can help your employees unleash their full potential with the right software.
Best Employee Engagement Software Comparison, Evaluation, And Selection
Have you ever wondered what companies with the highest employee satisfaction do right? What about companies with high employee engagement? Indeed, there's one thing they have in common: they care about their employees and are set on getting feedback.
Many things play into this, but to have genuinely engaged teams means you need to go from being good to being great. Of course, there will be challenges along the way. But it's up to you to turn setbacks into opportunities. Evidently, for your people to give it their all, the employee engagement tool you choose must have certain features to get the job done.
So, which are the must-have features of the best employee engagement software?
Seamless integration and a growing solution ecosystem
Ease of use and automation
AI-powered functions
Flexibility and scalability
Training and expert support
In addition, apart from the features, here's what to look for when choosing tools for employee engagement:
Specify your needs and feature requirements
Explore what insights and analytics are provided
Request a free trial
Explore user reviews
Most employee engagement tools offer surveys, engagement analytics, and listening capabilities. This gives you the chance to capture and measure employee feedback. Ultimately, you can draw insights and drive engagement. However, sophisticated employee engagement platforms take it a step further. For example, the integration of predictive intelligence and Machine Learning will help leaders uncover insights never thought of before.
And, as you already know, engagement is just a single metric. Be that as it may, it is no longer enough. In fact, nowadays, it's all about improving the employee experience.
To conclude, we hope you've found all you need and are now ready to choose one of the best employee engagement software for your business.
Key Take Away
According to experts and recent research, the millennial and Gen Z workforce demand change regarding how they work. Not only do they want better work-life balance, but they are also looking for improved Learning and Development opportunities. Hence, companies with the highest employee engagement focus on what employees want and improve all the above.
With that in mind, your organization needs the right tools to improve engagement and act on employee experience gaps. In reality, you'll be able to understand employee sentiment and pulse.
Do you want to create a team of enthusiastic go-getters? What about fueling each other's brilliance? Thankfully, implementing one of the best employee engagement tools can take you there.