Sales Training Program: Measuring The ROI
How do you convince your company's leadership that your training budget is worth it? It's a question that almost every sales manager who has invested in training has had to answer at some point or another.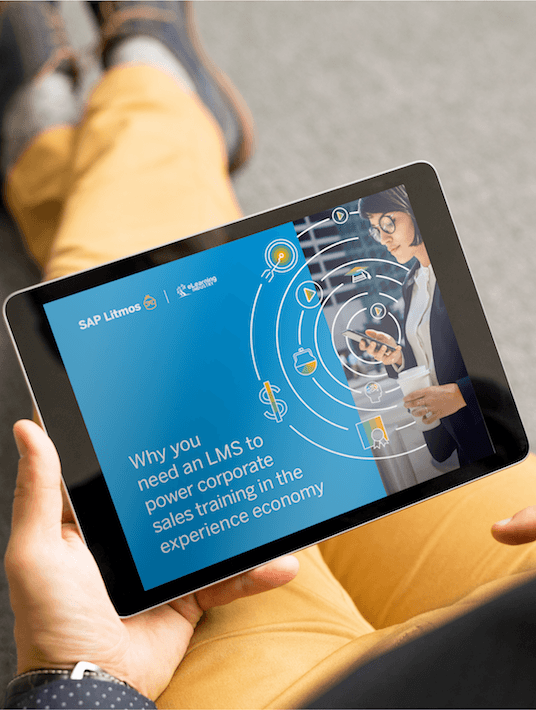 eBook Release
Why You Need An LMS To Power Corporate Sales Training In The Experience Economy
Discover the importance of training your sales teams with the help of an LMS.
Sales training is expensive. According to the latest report of the Association for Talent Development [1], sales training costs an average of $954,070, or $2,326 per salesperson annually for most companies. Often leadership will ask for proof that your training is worth the expenditure before committing to another year's training budget. They want you to show them results—or the ROI—of your training program.
What Is ROI?
For the uninitiated, ROI stands for Return On Investment. Simply put, it's proof that your sales training program—which your company is likely putting time and dollars into—is paying off. Normally, leadership wants to see that their training expenditures are increasing the company's bottom line through more closed deals, higher sales numbers, and more quotas met or exceeded.
That seems like a straightforward request, but unfortunately, it's often not that simple. Proving the ROI of something like sales training using a company's bottom line can be complicated because training is often not the only variable when it comes to a company's sales.
Sales training doesn't exist in a vacuum. Other factors affect a company's success, like market shifts, decisions made in other departments, or changes to existing product lines. Another complicating factor is that training is often a long game—it can take a while to see its financial results, as salespeople begin to use the information in training modules to close deals.
Does this mean you won't be able to measure the impact of your sales training at all? Of course not. You can gauge how effective your training is, but you'll also need to be picky about how you choose to assess its success.
Below are some ways to measure the ROI of your sales training program.
1. Make Sure You Know Your Baseline
Before you can start measuring the success of a training program, you need to know how your sales team is performing, so if possible, collect some data before you begin training. You'll want to collect information about the sales team's performance, such as the number of deals closed and revenue targets met, but you'll also want to look at the performance of individual reps. You may collect data on their behavior—how are they on the phone, for example. Do they come to work on time? Do they follow the call scripts? While this is anecdotal, it helps to have as much information as possible in the beginning. It will help you compare metrics after training and understand if your team has made any progress.
2. Decide What Success Looks Like
Define "success" at the outset of your training program. What result do you want to see at the end of a year of sales training? Is your goal purely financial? If so, try to define a number or a specific close rate as your target. You'll also want to get your leadership's involvement in setting, or at least signing off, this goal. The reason? It can be hard to determine success after the fact, especially if your organization is trying to trim budgets. If you've already set a target, you can show how close you came to meeting it.
Success, however, doesn't have to be financial, which brings us to the next point.
3. Set Expectations For Your Training
Writing for ATD [2], Instructional Designer Diane Valenti suggests that companies measure Return On Expectations (ROE) rather than ROI. That means setting behavioral targets for your training program. Maybe you want your team to have better phone etiquette, nurture customer relationships or stick to your sales process well.
Rather than trying to tie training to financial data, measuring ROE tells you whether your sales reps are actually doing what they were taught to do in training. If their behavior has changed, she says, you can then measure whether the activities they are doing are getting sales results—and that is tied to financial gain.
"Remember, if you don't get a ROE, you won't have a ROI," writes Valenti.
4. Find Out How Much Your Reps Remember
Measuring your sales team's behavior is one way to monitor the effectiveness of your training without relying on your bottom line as a metric. Measuring their retention of your learning content is another. When people take a course or training module, you can always expect them to forget at least some of the information they learned in that module—especially if they're not using the information they learned right away.
By measuring your reps' comprehension and measuring their "forgetting curve," you'll know how much of your learning your salespeople are understanding, and then you can better know how they're putting that new knowledge into practice.
5. Constantly Monitor And Analyze The Data
Just as it's important to choose sales KPI (Key Performance Indicators)—like conversions and close rates—before you start a training program, it's critical that you keep an eye on the data your LMS, or Learning Management System, is collecting on your learners. An LMS with a strong dashboard will let you keep tabs on your sales team as they take training; they'll let you see who is logging in, who is taking which courses, who is doing well in their training, and who may need an intervention.
Why is it so important to keep an eye on learning metrics if you set a financial or behavioral goal for your training program? Because although it's important to know if you're realizing a ROI—or ROE—it's also important to know how you got there. Maybe high-performing employees are spending more time in certain modules, or perhaps they have good learning habits that can be taught to the rest of the team. That information will help you duplicate successes and improve on failures as you move toward your learning goals.
Is Training Worth The Expense?
Training might be costly, but, according to the research, that expense pays off. According to ATD's report [3], 84% of organizations felt training helped them meet their sales goals. This may also be true for your organization.
However, if your company's leadership—which doesn't spend every day with your sales team or their training—may not see it that way when the time comes to review and approve your training budget. Involving them in goal-setting and having data on hand to show your sales team's improvement is an important step toward proving the ROI of your sales training.
Download the eBook Why You Need An LMS To Power Corporate Sales Training In The Experience Economy and keep your sales team up-to-speed on product and process changes as they happen. Also, join the webinar to find out more about how to have them selling at their best.
References:
[1] ATD Research Presents: 2019 State of Sales Training
[2] 5 Rules to Measure the ROI of Sales Training
[3] ATD Research Presents: 2019 State of Sales Training Webcast
SAP Litmos
The SAP Litmos learning platform enables thousands of global companies to deliver training for transformation.