Top LMS Marketing Tips On How To Host A Webinar
Looking to host a webinar to boost your LMS marketing game? You've come to the right place. Webinars offer a time-efficient and cost-effective method to promote your LMS. They give you the opportunity to connect with the eLearning audience and address their questions. Essentially, webinar marketing brings to life what LMS vendors have been saying about their product on paper. You can discuss your unique selling points, real-world benefits, and perks of ownership with prospects who are looking for a new LMS. Or even with those potential clients who are considering to change their LMS solution.
Though LMS webinar marketing may sound easy to set up on social media and company websites, they require ample preparation. With killer content and an excellent presentation, you can attract new clients and create long-term relationships with them. This also allows you to generate new leads, increase site traffic, and move prospects down the sales funnel. Here are 9 tips to host a webinar for a winning LMS marketing strategy.
Before Hosting Your Big Webinar Event
1. Familiarize Yourself With The Target Audience
Hosting an attention-grabbing webinar begins long before the actual event. The first step is creating a rapport with your LMS prospects to put them at ease. It is wise to do this weeks or months before you host a webinar for your LMS. It is important to get to know your potential LMS buyers and gauge their expectations in time for your webinar presentation. Conduct surveys or social media polls to identify your potential LMS buyers' current pain points. Then you can present effectively how your LMS product can help them achieve their objectives. The above will help you prepare for the questions they have and help personalize your approach.
2. Hosting A Webinar Needs Practice Before Your Event Goes Live
Perfect what you are going to say and how you are going say it. Practicing will give you the confidence you need to showcase your product in the most favorable light. Attendees will be able to tell if you're completely prepared and know your stuff. Have someone give you unbiased feedback on your delivery. Plus, you need to check if your tone and vocal pace are okay. Also, remember to time yourself. By doing so, you will avoid spending too much time on the first bit of the presentation and rushing through the remainder.
3. Get Conversant With The Webinar Technology And Tools
Don't wait until the last minute to realize that you do not know how to use the video conferencing software. Hosting a webinar is a serious deal. You have to make it right, without issues that would discomfort your attendees. Visit the platform and get familiar with all the available features and functions. Remember to test if everything is working. This will help you be comfortable during the actual presentation instead of fumbling with the controls. Not knowing how to use some of the tools disrupts your audience and diminishes the value of your presentation. If you have no one to walk you through the functionality, there are a lot of online resources you can utilize to master the nuances, such as online tutorials, community forums, and demo videos. Preparation is key before hosting a live event.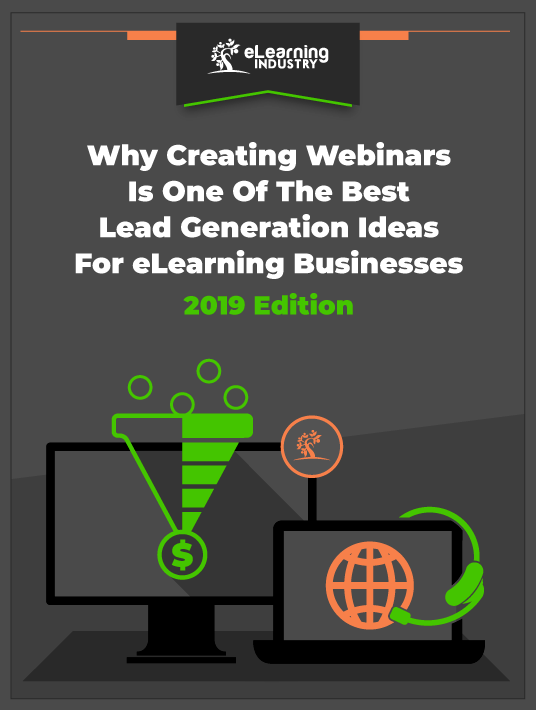 eBook Release
Download The Complete Webinar Marketing Guide For eLearning Companies
All you need to know about lead generation webinars and how they can help promote your LMS while getting new qualified leads!
During Your Webinar Presentation
4. Ensure That The Audio Is Crisp Before You Host Your Event
In order to host a webinar that actually delivers, you have to make sure that all technical aspects are taken care of. Bear in mind that many attendees will listen to your webinar while they're tackling other tasks. Or you may want to transform your recorded event into a podcast further down the line. Thus, you have to ensure that the audio is clear at all times. To do so, choose a quiet location such as a soundproof room or isolated space. In addition to this, have someone with technical knowledge to assist you in case of a hitch. Be sure to use a microphone that conveys your message clearly. Use a high-quality external microphone and avoid using your computer's built-in mic. For best results, eliminate distortion with the help of a pop filter.
5. Use Stories And Personal Anecdotes To Create Engagement
Summarizing the entire agenda of your LMS marketing webinar beforehand is boring. Being an excellent webinar host should be your main focus. How about you start with an immersive but brief story that is relevant to the features you will be promoting? Stories are a sure way to grab and keep the attention of the audience. They introduce every aspect of your selling proposition and form a connection with attendees. Just make sure that you don't include personal details or go off on a tangent, as this tends to make even the most interested prospects click away or disengage. Grab this opportunity to create an engaging marketing webinar by choosing an interesting topic. Don't forget, creating webinars is one of the best lead generation strategies for LMS vendors.
6. Mention Social Media Links And Hashtags
At the beginning of the presentation, mention social media links and hashtags. By doing so, you will give your audience enough time to comment on the discussion and ask questions. They can also share their thoughts and opinions about your LMS product after the fact. This gives you valuable feedback you can use to improve your LMS marketing strategy and possibly even the software itself.
7. A Good Webinar Host Should Maintain A Friendly Tone
Though your end goal is to inform your audience about your LMS, avoid being too formal when presenting the information. Humanize your content to allow your audience to relate to what you have to say. Nobody said that hosting a successful webinar is easy. However, knowing the best practices can lead you there. What makes a good webinar host? Being friendly and engaging. How can you maintain a friendly tone?
Talk to your audience instead of merely reading off a page, much the same way you talk to your friends or colleagues.
Use the Q&A approach to maintain interactivity. Too much talk will lose your audience's attention and/or make them feel like they're in the middle of a sales pitch.
Personalize the presentation for each member of the audience by using "you" in your sentences. Don't be afraid to use touches of humor that isn't offensive to their cultural beliefs or societal norms.
You might like to take a look at what a perfect webinar looks like by checking eLearning Industry's top-performing webinars!
8. Support Your Claims With Facts And Figures
So, you've made your preparations and you're ready to host your webinar. Make sure that you have your facts straight and can deal with questions upon the topic you've selected. Stay true to what the attendees should expect. Show off your LMS's features but please don't promise them what they can't have. No one wants to attend a webinar and feel like the speaker is lying to them or promising something they cannot possibly deliver. Use real-life examples and verified facts and figures to make your LMS promotion come to life. Where possible, include infographics and case studies.
9. Record Your LMS Marketing Webinar
Recording your webinar gives participants a point of reference. Also, those who are unable to attend still have the opportunity to hear what you have to offer. Invest in video editing software to add more multimedia and remove bits that are irrelevant for future viewings. For example, you can omit contests you hosted during the event that are no longer valid.
This is the ultimate cheat sheet for hosting a top-notch LMS promo webinar. Planning ahead and choosing the right software for the task is crucial. Once the presentation is done, don't forget to send out thank-you emails to everyone who participated. You might also consider a complimentary eBook or discount to show your appreciation.
Would you like to promote your upcoming LMS marketing webinar on eLearning Industry? Just follow the best practices to create a successful LMS marketing webinar that will boost attendance and reach hundreds of thousands of leads.