Best Microlearning LMS Software For Corporate Training
Are you looking for the best microlearning LMS software? Bite-sized is the best content type for long-term retention and reinforcement. For this reason, many organizations implement micro-content for performance management. But it's not as simple as curating content and launching a JIT library.
You still need a platform to deploy and track remote training as well as gather all the info in one convenient location. And that's where microlearning LMS platforms enter the picture. In other words, they're ideally suited for modern, mobile-friendly support.
The catch is that you must find the top tools without going over budget, which usually involves hours of online research. Even then, you're still left with a pile of RFP contenders. Fortunately, our top Microlearning LMS Solutions list takes the stress out of vendor vetting.
We've gathered all the leading LMS platforms for micro-content in one location. You'll even find product highlights and pricing overviews.
Check out eLearning Industry's Top LMS List for Micro-Content to:
Determine which LMS is best for your budget and use case
Evaluate standout features for the top LMS solutions for bite-sized content
Read user LMS reviews to gauge real-world performance
Compare LMS tools for micro-content based on features
Find the right LMS for your needs
In the following list, we've gathered the top Learning Management Systems for microlearning. Please keep in mind that this list is about microlearning LMS software. For all-around corporate training LMSs, you can check out our directory.
Here's eLearning Industry's Top Microlearning LMS Software List
Find The Ideal LMS To Implement Your Microlearning Program
Save time and money. Compare top LMS software for Microlearning by features, reviews, and rating!
What Were The Criteria That Determined Which Vendors Made The List?
Globally recognized LMS experts, including C. Pappas, and our editorial team did a thorough review of each vendor's eligibility and relevant published content (articles, eBooks, webinars). Our committee ranked the best Microlearning LMS software based on the following 9 criteria:
Customer support
Customer experience
Software features
Software innovation
Customer reviews
Economic growth potential
Company's customer retention
Employee turnover
Company's social responsibility
After exploring this top list, make sure to read our tips on what you need to consider when opting for an LMS tool to develop micro-content.
Benefits Of Microlearning In Corporate Training
Microlearning has its limitations. For example, more complex topics still require VILT courses. Likewise, you can't simply break long-form training into bite-sized assets. The benefits of developing micro-content rely on effective implementation. Namely, the tools and delivery methods you employ. When done correctly, your organization can reap the following rewards:
Prevent Cognitive Overload
Microlearning LMS software simplifies knowledge transfer because it involves small bits of information. In fact, one of the top microlearning content best practices is to focus on a single objective. That way, employees can absorb the takeaways, process info, and then move on to the next activity.
Improve Performance Behaviors
This bite-sized approach allows trainees to narrow the scope. To illustrate, they can access training tools that are ideal for micro-content creation to target personal gaps or even unproductive habits. As a result, employees improve performance behaviors and boost workplace proficiency.
Retain Top Performers
Employees are more likely to stay with your organization if they have ongoing support, like micro-content solutions that are self-paced and address skill gaps immediately.
Maximize Resource Allocation
Fortunately, your organization can reuse existing assets to create new bite-sized training activities. But, you can also reduce costs by targeting common pain points. For instance, develop microlearning animated videos to enhance product knowledge instead of creating a full-fledged course.
Provide Mobile-Friendly Support
Mobile learning and microlearning are a perfect pair, as they provide on-the-spot support for remote staff. For example, employees access the microlearning LMS training software to master new tasks or refresh their memory.
What To Consider When Choosing The Best Microlearning LMS Tools
First and foremost, choosing the ideal corporate LMS for micro-content requires detailed Training Needs Analysis. For example, evaluate current LMS metrics, assessment scores, and business reports. Then, determine which microlearning LMS features fill in the gaps. Another option is to hire an outsourcing partner who specializes in training audits. Here are a few things to consider BEFORE you begin the micro-content LMS selection process:
L&D Talents And Experience Levels
First and foremost, your team must be able to use the top microlearning solutions to develop and deploy training instead of dealing with a month-long learning curve. So, evaluate their level of tech experience and design talents before investing in a new platform.
Existing Assets And Authoring Tools
Additionally, the microlearning LMS must mesh with existing tools, like authoring platforms and web conferencing software. Furthermore, the system should support your preferred content format to prevent compatibility issues.
Development Timeline And Budget
Calculate an accurate budget to prevent overspending and identify platforms in your price range. Also, you need a realistic timeline for content development and LMS implementation.
Essential LMS Features And Functions To Bridge Current Gaps
Which features and functions do you need to warrant the investment? Above all, microlearning LMS tools should help you bridge gaps cost-effectively. Thus, you must determine which features tie into current pain points.
Define Objectives And Goals Before Making Your Microlearning LMS Decision
Sadly, there's no shortcut for writing effective goals, objectives, and outcomes. Plus, you need to reevaluate them regularly to ensure they're still relevant. But, a little prep work now and then goes a long way. Especially if you want to improve ROI and find the right feature-rich LMS. Use these tips to clarify microlearning objectives and get the best value for money:
Ensure All Your Objectives Pass The Measurability Test
Without a doubt, measurability is the key to microlearning training success. Or ANY training initiative, for that matter. You must be able to evaluate the results and track progress based on clear performance indicators.
Gather Feedback From Employees To Identify Hidden Gaps
Collect feedback from staff to disclose hidden areas for improvement. For example, conduct surveys and focus groups to identify task sticking points. Then, develop new micro-content training objectives that center on relevant skills or core competencies.
Create Role-Specific Goals To Personalize The Process
In addition to high-level training objectives, you should develop personalized goals based on job duties. For instance, customer service employees have their own microlearning plan that centers on interpersonal skills.
Incorporate Manageable Milestones And Short-Term Goals
Microlearning content solutions are intended for quick consumption. As such, they should involve niche topics and objectives. So, break your long-term objectives into manageable milestones with companion micro-content activities.
Discover The Ideal LMS Solution For Your Microlearning Needs
Save time and money. Compare top LMS tools by features, reviews, and rating!
Which Businesses Can Benefit From Microlearning LMS Solutions?
Every organization can make the most out of microlearning for on-the-spot support, regardless of your staff size or budget. As a matter of fact, SMBs are able to stretch available resources thanks to the versatility of microlearning tools. Simply expand your JIT library to address emerging gaps and goals. That said, there are certain warning signs L&D managers should look for, such as:
Staff Is Unable To Apply Training In Context
Employees might experience information overload or content that puts theory over practice. In either case, microlearning LMS software facilitates real-world application because staff can concentrate on one topic at a time and apply information right away.
Attention Spans Are Getting Short
Do your employees let distractions stand in the way of training success? Due to short attention spans and busy work schedules, microlearning is more popular than ever, as it gives employees quick and convenient bursts of knowledge.
Employees Make Frequent On-The-Job Mistakes
Frequent errors are usually a sign of ineffective training. For example, employees can't assimilate the info or see how it relates to their job duties. However, micro-content training solutions prevent costly mistakes and personalize the process.
Low Employee Retention Rates
If your talent pool is shrinking, microlearning strategies can help you reduce employee turnover. After all, top performers expect JIT support that's right at their fingertips.
What Are The Types Of Microlearning For Corporate Training?
One of the key advantages of microlearning is that there are so many options available. For instance, you can build interpersonal skills, tackle niche compliance topics, and assess practical know-how. As a matter of fact, bite-sized content can enrich EVERY aspect of your training strategy thanks to positive reinforcement; especially use cases that require self-analysis, memory refreshers, and ongoing evaluation. Below are just a few of the microlearning tools to populate your brand new LMS library.
Explainer Videos
Video-based microlearning is one of the most effective ways to improve employee engagement and simplify complex processes, while bite-sized animated videos are ideal for risky compliance tasks.
Infographics
These visual aids are ideally suited for microlearning content development because they're quick to consume. Case in point, employees need help completing a task, and the infographic maps out every step—complete with images, graphs, and bonus tips.
Bite-Sized Serious Games
Serious games take interactive videos a step further and immerse employees in the action. They must use all their skills and professional know-how to achieve the best outcomes, all while defeating formidable foes (AKA difficult customers) and advancing through levels.
Knowledge Checks
One of the most overlooked types of micro-content is self-assessment. As an example, employees check their knowledge after every module to gauge their proficiency. Remember, the best microlearning programs provide discreet opportunities for self-reflection.
What Are The Must-Have Features Of An Ideal Microlearning LMS?
First off, when choosing the best LMS for microlearning, you should narrow down the list of your must-have features. These are the core functions you need to maximize ROI and empower employees. For instance, offline support to provide stress-free remote training. Granted, you may not be able to check off every item due to cost constraints. However, there are certain microlearning LMS features that are non-negotiable.
Key Elements Of Top Microlearning LMS Software
Gamification Support
Gamifying microlearning gives employees the opportunity to earn badges and points for notable achievements. Essentially, your organization offers incentives for favorable performance behaviors. You can also incorporate leaderboards to fuel friendly competition and boost employee engagement.
Built-In Authoring
The best micro-content experiences are interactive and immersive. Even if they're designed to shorten seat time. As such, you should consider microlearning LMS software with built-in authoring tools. This reduces development costs without compromising employee engagement due to the fact that your L&D team can create and deploy content using a single system.
Interactive Video Support
Video-based learning is one of the top micro-content trends— and, for good reason. This LMS feature can rapidly enrich your JIT library. Given that employees don't just view a demo or tutorial, but step inside the experience, you can add hot spots and embedded storylines to draw them in.
Robust Reporting
No microlearning LMS solution is complete without advanced reporting features. Particularly, if you want to track employee performance and identify areas of improvement as well as develop timely training interventions. In addition, you should be able to customize reports, training delivery, and user groups.
Mobile Accessibility
Mobile learning is essential for training that focuses on micro-content. Modern employees need on-the-go LMS access, instead of being tied to a PC. The system should support seamless learning experiences. For instance, staff can move from one device to another with ease.
Summing up, the microlearning LMS software that you purchase needs to break down the accessibility barriers. Have in mind that modern employees expect training anytime-anywhere. Thus, LMS vendors must prioritize downloadable content, native apps, and other on-the-go features. On the whole, your new LMS platform for micro-content development should put employees in control. Every resource centers on personal gaps that tie into their job duties, as opposed to one-size-fits-all courses that force them to rearrange their busy schedules.
Evaluate And Compare LMS Vendors Before Starting Your New Microlearning Project
Despite the fact that microlearning LMS features are crucial, there are other factors to consider such as vendor background, reputation, and niche expertise. For example, companies with proven experience in micro-content creation must stand behind their product. Likewise, they should rise to the CX challenge and meet your service expectations. Here are a few qualifications to look for in your new microlearning LMS software vendor:
Insider Knowledge
At the top of the microlearning checklist for vendor vetting is industry know-how. In this case, it's tech expertise. Does this LMS vendor stay on top of microlearning trends? More importantly, do they incorporate the latest technology and offer regular updates?
Targeted Use Case
The best LMS tool for micro-content should help you deliver effective training for the specific use case of your interest. For instance, you might need a robust platform for workforce development or compliance training. And all the features are built around that. In short, the vendor must understand your sector and all the training challenges involved.
Proven Track Record
There's nothing wrong with startup companies. After all, every business has been there before. That said, you should look for a solution with an established track record in micro-content design. This may be in the form of user reviews, ratings, or social proof.
Active Online Presence
Finally, your new LMS vendor for micro-content should have an active online presence. Even though reputation is important, they must also engage with consumers and value public feedback. As an example, they should be responding to social media comments and frequently updating their landing page or portfolio.
Keep in mind that many microlearning LMS software vendors offer free trials or demos. You can test drive the platform before making your final decision. Admittedly, you only have a small window of opportunity to try the features and functions. So, enlist the help of your team to evaluate different aspects of the system. In this case, your L&D admin might focus on reporting, while your resident graphic designer concentrates on built-in authoring features.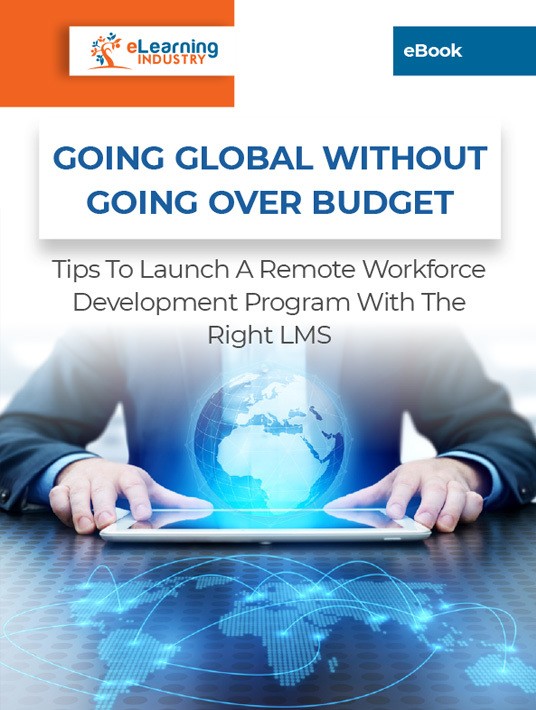 eBook Release
Find The Ideal LMS For Your Remote Teams
Maybe your organization is on virtual mode. Or you might be looking for a more effective development strategy for your external partners. In this eBook, you can explore the benefits a new LMS can bring to your business.
Next Steps After Checking eLearning Industry's Top List For Microlearning LMS Software
Choosing amongst the best microlearning LMS software requires due diligence if you want your training to be a success. As such, you shouldn't make hasty decisions or spring for the first LMS you stumble upon. In fact, it's usually a team effort. Gather feedback from employees, then ask for recommendations and invite them to test drive the tool. When all is said and done, Learning Management Systems should address your current AND future needs. Consider whether it's user-friendly for everyone and if it will evolve with your growing L&D demands.
Luckily, this top list featuring LMS tools for micro-content can help expedite the selection process and implement microlearning best practices. Also, why not peruse our Top Learning Management Systems directory for other training platforms. If you're looking for more insider secrets to select the right system, How To Buy The Right LMS: The Complete Guide is a must-read.
Yet another resource you can tap into, free of charge, is the rest of our Top Lists For eLearning solutions. They feature systems for virtually every use case and industry. Additionally, you can reach out to our in-house experts to find the LMS that matches your needs. It only takes a few minutes to sum up your project specs, and we'll send a personalized list of recommendations.
Last, but not least, LMS vendors are more than welcome to submit a free listing to eLearning Industry.