Picking Out The Best Remote Working LMS Software
Have you ever wondered which are the best remote working LMS software out there? The recent events of COVID-19 have set up a change management situation for all businesses around the world. Many organizations from different industries have already transitioned to remote work policy. This option will help your workforce offer their valuable services by also following the social distancing guidelines enforced by the government.
When managers have to deal with employees working remotely, there is one vital goal we should all be after. We have to ensure that any work activities will continue non-stop. The disruption of current work procedures must in no way interfere with the quality offered to customers.
This is why keeping your employee training and development plans growing is so important. An LMS can assist L&D in creating reliable and robust online training programs. Eager to learn more about the best remote working LMS software?
Sorry to keep you waiting! Without further ado, here's our top LMS list when working remotely. I highly recommend that you take a spin on each one by using the free trial options available. No matter how many tips you read, a personal take on each LMS software is what will give you a better idea.
So, go ahead and start those LMS free trials!
Top LMS List When Working Remotely
What Were The Criteria That Determined Which LMSs Made The List?
In an attempt to identify the best LMS solutions to help you manage and train remote teams, eLearning Industry decided to create this exclusive top LMS list. Global recognized LMS experts, including C. Pappas, and our editorial team did a thorough review of each vendor's eligibility and relevant published content (articles, eBooks, webinars). Our committee ranked the best cloud-based Learning Management Systems based on the following 9 criteria:
Customer support
Customer Experience
Software features
Software innovation
Customer reviews
Economic growth potential
Company's customer retention
Employee turnover
Company's social responsibility
Of course, this top LMS list for remote training is just the first step. Please make sure to read our tips on what you need to consider when deciding on an LMS to train your remote teams. So, for a detailed analysis on how to choose the best LMS for your needs, you're more than welcome to read our full LMS Selection Guide.
Discover The Ideal LMS Solution For Remote Working
Save time and money. Compare top LMS tools by features, reviews, and rating!
Which Organizations Can Leverage An LMS For Remote Training?
There is a vast difference between having to offer online training due to certain circumstances and doing it right. Now that you've taken the step to become an organization that can still deliver quality services and products even in a virtual environment, you have to think big.
By planning online learning experiences strategically, you can create meaningful training courses. For example, universities and colleges around the world are working hard to maintain course instruction by opting for virtual classes. Video conferencing tools are becoming a massive trend in L&D.
Every business that has to make the transition to training and managing remote teams should decide carefully on their LMS tool. Evaluation is critical when choosing to deliver online training. They say that desperate times call for drastic measures, but this doesn't mean you have to sacrifice online training quality.
As organizations try to adjust to managing global teams, an online employee training program can enable the flexibility of learning anytime, anywhere. The above applies to any industry; however, L&D leaders must consider the challenges of managing remote employees' training.
L&D teams will need to invest in onboarding, integrate gamification, and adopt intelligent reporting with an LMS in their attempt to manage and engage remote workers. The right LMS solution should fit the needs of the individuals you want to train but also be in alignment with your business goals.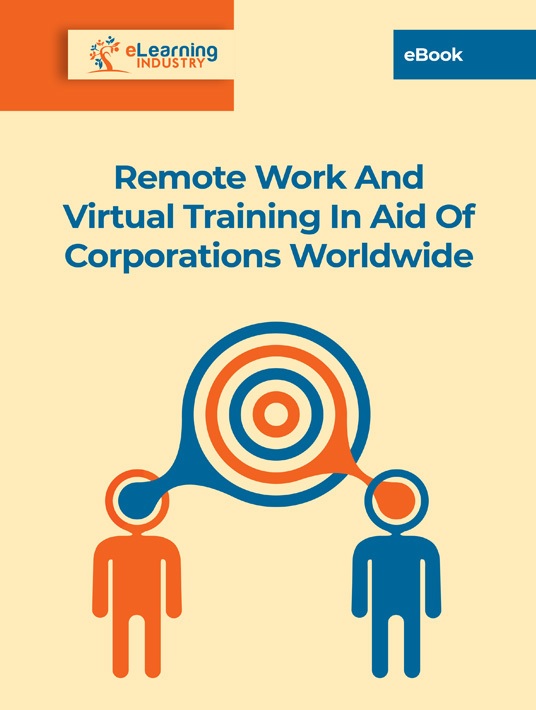 eBook Release
Remote Work And Virtual Training In Aid Of Corporations Worldwide
Explore how launching a virtual training strategy will help you get your L&D program back on track when your workforce has to work from home.
How To Effectively Manage Remote Employee Training With A Top-Notch LMS Solution
Showing empathy and understanding what the greater good demands are two factors that distinguish great leaders from everyday managers. Offering remote work and training opportunities for your workforce is imperative during these unprecedented times. Now, it is more important than ever to start your strategic LMS implementation plan.
Working from home is undoubtedly not a new thing. Yet, some businesses are afraid to make the transition. In a recent study done by Global Workplace Analytics based on telecommuting, a significant percentage of employees (80 to 90%) state that they would like to work remotely, at least part of the time, if not regularly. Now that's an attractive figure.
Did you know that working from home increases productivity? That's surprising to read, I know. In fact, according to Forbes and Fast Company, remote teams are no longer seen as a privilege. They are considered the new normal. To me, this means it was always the right approach to make the transition to online training and remote working. COVID-19 made this transition enter our lives faster.
Please note that an ideal remote working LMS should:
Offer interactive features
Include instant communication tools
Have easy accessibility and integrations (mobile-ready, web conferencing tools, etc.)
Allow you to use virtual classrooms without fuss
If you are interested in virtual classes, you may also like to read our 7 Tips To Choose The Best Virtual Classroom LMS For Your Organization.
What L&D Managers Should Do During A Remote Work Policy
Although transitioning to a remote work environment is a means to increase productivity in the workplace, many managers have difficulty in leading teams to success. It is not that you, as a manager, don't have control over the situation. Trust issues sometimes get in the way. So, the most important of all is to build a company culture that focuses on cultivating trust.
Furthermore, remote management offers a chance to test several different tools to make your job more efficient. A Learning Management System (LMS) can help you overcome distance challenges. One of the essential features of an LMS is its ability to help you create online training fast and easily.
By using an LMS, you can handle remote learning effectively while saving time and fighting against the distance barriers. An LMS solution enables L&D teams to offer employees access to valuable learning materials at their convenience while at the same time, it enhances employee retention by assisting your workforce in acquiring new skills and evolving further.
No wonder the most successful businesses already use an LMS for online training. It is a valuable tool that can help provide personalized learning experiences that are flexible and user-centered. By opting for an LMS, you can reduce training time. Your whole learning process will rely on automation, giving you the tools to bring business growth while boosting employee performance.
Benefits Of Using An LMS For Remote Teams
Your business might have already been using technology as a means to interact with employees and clients. Or maybe you're on a transitional stage to a remote work policy. Today, technology and mobile devices give users the chance to be only a click away from getting their job done. Spending more time to communicate through tech (e.g., laptops, smart devices) has made our everyday life easier for sure. Some people prefer this type of communication in comparison to face-to-face interactions.
Telecommuting opens doors to marketplaces of short-term contractors and freelancers to get your projects going. You'll need to train those new assets and help them understand your brand and company culture. An LMS is a great tool for onboarding new employees but also for offering compliance training. Remember, how tech-savvy your workforce is will define which LMS you should choose to fit online training needs and accomplish business goals.
The Positive Impact Of Managing Remote Employees With An LMS
By using an LMS when working remotely, training managers get to be more organized and can manage reporting tasks easier. This is a win-win case for you and your remote teams. Isn't better work/life balance what we've all been looking for?
Convincing your employees to work from home might not have been a piece of cake before, but look at you now! Remote teams manage to avoid the hassle of waking up extra early and save time since they no longer have to use commuting to the office. The result? Your workforce feels less stressed and is more productive.
Plus, to make things even better for your company, you can set up personalized employee skills development plans. With the assistance of an LMS, you can bring business growth fast and at a low cost. Investing in your workforce is like finding a hidden treasure, you just haven't tried it yet. Top talents are thirsty for knowledge. Provide them with the means to become better and they'll thank you for their performance. This is the gift of giving and receiving.
Training your remote employees will prove to be a strategic move in the near future. See it as a tactic to plan ahead. Using an LMS will help you keep your employees engaged and also give them the incentive to evolve. By cultivating their skills, you will add value to your business and you'll be able to go after new projects you wouldn't imagine touching before.
An LMS Helps You Train Top Talent And Boost Employee Satisfaction
When it comes to professional training, remote working arrangements have proven to be cost-effective and much easier to implement. Instead of having all employees remain on-site for a business workshop, you can provide them with access to online training programs. This is an excellent way to overcome challenges when face-to-face meetings are not possible. An LMS is extremely valuable for extended enterprises, companies that are keen on staff augmentation, or have recently gone virtual.
Your remote workforce can use LMS software to access online training courses—live or on-demand. This makes training more flexible since you're helping them take online courses at their own pace. Once you create a workshop, you can use your training module to train future employees with no extra cost. This is super effective for companies who have their workforce scattered all over the world, or even for businesses that have recently moved to a remote team transition.
What's more, remote work policy gives you the opportunity to pick the best out of a global pool of employees. That's a treat for HR managers who are looking to enhance their workforce with top talent. Plus, an LMS gives you the means to continuously train and retain top talent in your company, even when working remotely.
Using A Cloud-Based LMS When Working Remotely
Training your teams remotely with an LMS is certainly worth exploring. Remote working arrangements can be a blessing in times of struggle and social distancing. This is where technology becomes our deus ex machina. When your workforce works from home, you'll notice productivity boosts and measurable savings. Plus, your employees will be happier, and this can result in lower job turnover.
Hiring and training new employees need a fair amount of time, investment, and resources. Using a cloud-based LMS allows you to manage teams that work from home, while it also reduces HR costs. Telecommuting and online training bring extra savings to the table, for example, you may have reduced costs regarding training facilities and office maintenance. Plus, your workforce gets to enjoy your online training course anytime, anywhere while you also get to manage and evaluate the online training process at your convenience.
Consider An LMS That Also Offers Offline Access
Whichever the case, sometimes internet connectivity may become a burden. Especially when the demand has gone up like crazy since everyone is using bandwidth due to working remotely. So, yes, we love technology, but we can't always rely on it. An LMS vendor that supports downloadable content is an ultimate solution even when you experience issues with your WiFi connection. Consider the ability to have offline training resources as a backup plan.
To sum up, training leaders and their remote employees can benefit immensely from an LMS that is cloud-based or offers offline access.
Where L&D Leaders Should Focus On When Training And Managing Remote Teams With An LMS
Training managers need to adapt to this remote work environment, even though it is a bit challenging at first. Here's what you should consider for embracing better a business transition to remote team management.
Set Up Regular Meetings With Your Team And Keep Them Engaged
You can have a daily or weekly catch up with all your remote team members. For an online meeting to be successful, you need to have an agenda set beforehand. A presentation or screen sharing could also work miracles. However, to make this happen, your remote working LMS solution should allow video conferencing. It could, for example, have a Zoom LMS integration.
When talking about employee engagement, there are several approaches you can use. If you are considering ways to incentivize or excite your learners, choose an LMS that can help you implement a gamification strategy or even deliver immersive experiences.
Check Out LMS Integrations Like Google Apps, Microsoft Teams, And More
Producing high-quality online training content for remote learners is one of the most significant LMS benefits. In order to create amazing online training experiences, everyone in your L&D remote team should have the chance to share skills and training expertise.
A standard LMS solution offers features such as discussion forums, chats, related apps, an online calendar, and several widgets. Depending on your business needs, you can either implement an LMS locally or in the cloud.
When a distance learning scenario is knocking on your door, your LMS should obviously make your team's life easier no matter where their location is. It is crucial that your LMS offers—alongside its robust features—fluid support to external apps that are vital to your everyday work. Productive collaboration is what you should aim for. From online documents to virtual training and discussion forums, the LMS you choose should offer those partnerships.
Don't forget that the ideal LMS is all about the features and functionality it can offer to fit your online training needs. Before finding the ideal LMS tool, make sure to do your research for options that also suit your eLearning budget.
Focus On Employee Skills Development
Working from home gives an opportunity to further develop your workforce's skillset. You can use an LMS to streamline the learning process for your business. You will be able to manage online training sessions efficiently, even when your employees work remotely.
By offering employee skills training, you'll boost your employees' morale and satisfaction. Using an LMS can help take your L&D procedures to the next level. Change management to remote working gives your company the opportunity to establish a culture of continuous learning. Take advantage of it by focusing on your online training strategy. Now is not the time to reduce your training budget.
Use Reporting Tools Wisely For Training Evaluation And Optimization
Learning Management Systems that focus on remote working are valuable tools for training and L&D managers. You can find LMS solutions that feature robust reporting and analytics capabilities. Training managers and HR leaders can track every aspect of the online training process. From evaluating online courses to investigating learners' performances, you get an all-in-one "control room."
By using LMS reporting tools, training managers can streamline their whole online training strategy. They can also identify which areas they need to improve. For instance, you can modify or even delete an outdated online training course.
By tracking the whole learning process, you can assess your online training programs and decide if it is worth investing in them. During your LMS market research, look if any vendors are offering extra add-ons, which may make your online courses cost-efficient and effective.
Choose An LMS That Can Help You Access Training Anytime, Anywhere
The LMS you choose when working remotely shouldn't be challenging. Consider opting for one that has a user-friendly interface. Also, decide if you need it to have a low learning curve as well. Maybe a SaaS LMS could be the best choice if you're looking for the above.
Your LMS tool should also help you through every step of the learning process. From implementation and setup to deploying your online training course, all should work smoothly.
By getting an LMS that offers access to training anytime, anywhere, you can use it from your workplace, your mobile phone, or the convenience of your own home set-up office. A cloud-based LMS stores data on the cloud, making it accessible from any device and from any place in the world.
This offers a variety of side benefits, in addition to making work outside of the office easy and accessible. From increasing productivity to checking online training content, SaaS LMS platforms are perfect for offline viewing. Plus, such LMSs automatically sync when you go back online.
Remote Work Transition LMS Budgeting: Setting Realistic Goals
It is true that several businesses have considered cutting training budgets. However, this is not the right approach. Training your employees to face change management issues is the number one hurdle organizations have to overcome. Working remotely gives the opportunity to help your employee skills development start sooner than expected.
Businesses all around the world need to prepare their teams for the new reality. Nothing is black and white. Now is the time to prove we can adapt to new ways of offering our services. Taking a leap of faith is not enough. Your remote team needs to know where your business is going. If you're aiming for business growth even during a crisis, training your workforce should be a number one priority. Don't hesitate to reach out to us for an LMS consultation.
Think about the ongoing maintenance, content development costs, and upgrades you might have to purchase in the future. This will help you calculate the most accurate cost of ownership and avoid spending more than you can afford in the long term. Request a detailed estimate from the LMS vendor, so that you're able to add everything up and choose the ideal LMS for your budget.