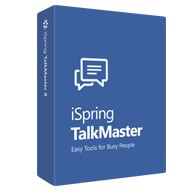 iSpring TalkMaster
A dialogue simulator for practicing communication skills in a safe environment. The program allows you to create dialogues with voice-overs that imitate real-life conversations. You can choose ready characters and backgrounds, or upload your own.
iSpring TalkMaster Reviews
Read iSpring TalkMaster reviews and discover how other eLearning Industry community members have experienced the software.
Usefulness

Usability

Customer Experience

Likelihood to Recommend
Fast and easy branching dialog development.
What do you like best?
How straightforward it is, the fact that our writers can create branching dialog without needing to work with our development team is a huge help.
What do you dislike?
Lack of customization options, although it does include the ability to upload your own images and characters, which works great with the iSpring content library!
TalkMaster - So much coolness in a tiny pkg!
What do you like best?
Seemingly created to make 'dialogue simulations' easy to create, TalkMaster is quite robust and allows one to create very interactive branching scenarios. It leverages a 'node-based' editing interface and allows for custom images, audio, and video to extend these branching scenes.
What do you dislike?
Some development tools showcase the ability to insert custom triggers for added interactivity. While you can certainly achieve similar triggering and even inject custom code (i.e., JavaScript) in iSpring, it would be nice to see this functionality 'front-and-center' in the UI.
The best software ever i met
What do you like best?
Easy to use
What do you dislike?
nothing much