Learning Management Systems
The 20 Best Learning Management Systems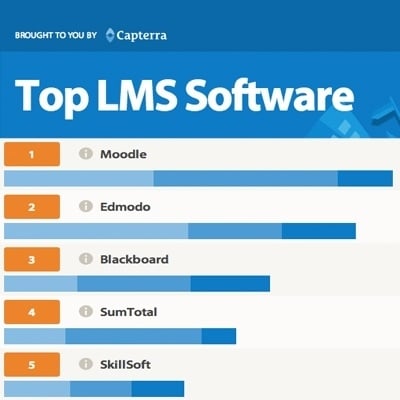 The Best Learning Management Systems
Today, e-Learning is a $56.2 billion Industry, and this number is going to be doubled by 2015. 41.7% percent of global Fortune 500 companies now use some form of educational technology to instruct employees during formal learning hours.  By 2019, roughly half of all college classes will be eLearning-based. For more info please see Top 10 eLearning Statistics for 2014.It is more than obvious that eLearning has revolutionized and changed the way that we look at knowledge and skill acquisition. As a result, there is a great interest for Learning Management Systems to systematically implement and manage eLearning. However, there are a thousand plus LMS vendors and too many Learning Management System's Features to choose from. This is where Capterra comes!
Capterra helps people find and compare the best software for their business. One of Capterra's greatest categories is the Learning Management System Directory.
The 20 Best Learning Management Systems Infographic
Check the 20 Best Learning Management Systems infographic that was created based on the most popular options as measured by a combination of their total number of customers, active users and social media presence. Enjoy and do not forget that Capterra can help you choose the best LMS software for your business!
Find more
education infographics
on e-Learning Infographics